As an industry where innovation is always first, biotech attracts many young entrepreneurs whose ideas could change the world. Here's our list of some of the most inspiring leaders behind the new generation of biotech companies in Europe.
Europe is full of promising young minds in the field of biotech. Though it was difficult to choose only 10, we managed to narrow it down with the help of other seasoned biotech entrepreneurs.
This is definitely not an exhaustive list, and there are many more people that clearly deserve a mention. Have a look at our previous edition of this list and feel free to send any suggestion for other top-line candidates our way.
Just so you know, the list in no particular order.
Thomas Ybert
Co-founder and CEO of DNA Script, France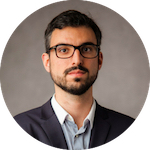 Thomas founded DNA Script in 2014, when he was only 30 years old. After completing a PhD in biotechnology, he worked at Sanofi and then on developing biofuels for the companies Amyris and Total. From his experience in the industry he noticed that the technology for writing DNA was lagging behind that for reading DNA.
Thomas co-founded DNA Script along with two other exceptional young entrepreneurs, Sylvain Gariel (COO) and Xavier Godron (CTO). Together they decided to develop a new, biological method that can synthesize DNA faster, more accurately and much more affordably than the current chemical technology. The company is doing very well so far, having raised €11M in a Series A round in 2017.
Laura Soucek
Co-founder and CEO of Peptomyc, Spain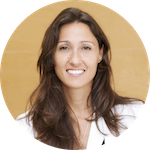 With a successful career as a cancer researcher, Laura founded Peptomyc in 2014 with the intention of translating her own research into a new generation of cancer treatments. She met her co-founder and CSO, Marie-Eve Beaulieu, when she joined Laura's research group at the Vall d'Hebron Institute of Oncology in Barcelona.
Peptomyc is developing a peptide drug that can penetrate cancer cells and kill them. What's most important is that the therapy shows promise to treat cancer without the serious side effects commonly associated with cancer treatments such as chemotherapy. Last July, the company raised €4.2M from the Spanish VC Alta Life Sciences.
Thomas de Vlaam
Founder and CEO of Amylon Therapeutics, Netherlands
After studying medicine, Thomas started working as an intern for the Dutch biotech company ProQR, which develops RNA therapies. There, he quickly went on to lead research on the central nervous system, and in less than three years he was founding Amylon as a spin-off company of ProQR.
Founded in 2017, Amylon Therapeutics focuses on developing RNA therapies for disorders of the central nervous system. Its most advanced program targets Katwijk's disease, a rare genetic disease that causes brain hemorrhage.
Veronika Oudova
Co-founder and CEO of S-Biomedic, Belgium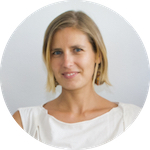 Having worked in business and market research for years, Veronika was introduced to the science of the skin microbiome through her co-founders, Bernhard Pätzold (CSO) and Marc Güell (Scientific Director). The idea was so enticing that she gave up her job to create S-Biomedic in 2014.
S-Biomedic has developed a cosmetic product with bacterial species that help prevent the appearance of acne. The company raised €2M last July and is now working with Beiersdorf, the manufacturer of Nivea creams, to complete the development of the cosmetic product and commercialize it.
Ryan Cawood
Founder and CEO of Oxford Genetics, UK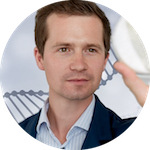 Ryan founded Oxford Genetics in 2011 after completing a PhD at the University of Oxford. He convinced his advisor to put some money into the company, took a bank loan, and managed to find lab space in the facilities of a company in exchange for making DNA for them.
Today, Oxford Genetics is an accomplished company that designs and optimizes custom solutions for companies developing biological therapeutics. The company recently opened offices in Boston and had to extend its current facilities in Oxford.
Noor Shaker
Co-founder and CEO of GTN, UK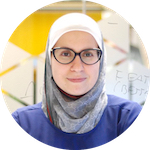 With a successful academic record in artificial intelligence, Noor founded GTN in 2017 to apply her knowledge into the field of drug discovery. Noor and her co-founder Vid Stojevic, a theoretical physicist, aim to screen huge amounts of possible drugs using quantum computing.
The technology that GTN is developing could massively cut down the time and money it takes to develop a new drug. The company is also tackling the challenge of developing medicines that can cross the blood-brain barrier to treat neurodegenerative diseases. Last year, GTN raised €2.4M (£2.1M) and signed a partnership to start working with a drug developer.
Francesco Gatto
Co-founder and CSO of Elypta, Sweden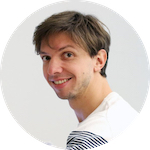 Francesco came up with the idea behind Elypta while doing a PhD at the Chalmers University of Technology in Gothenburg. After seeing his results in the lab, his advisor encouraged him to take the path of entrepreneurship, and Francesco founded Elypta in 2017.
Elypta is developing a diagnostic method created by Gatto to diagnose cancer from just a sample of blood or urine. This 'liquid biopsy' technology has shown unprecedented accuracy in diagnosing and monitoring the severity of renal cell carcinoma, the most common form of kidney cancer. The ultimate goal of the company is to develop a test for all types of cancer.

Teresa Tarragó
Co-founder and CEO of Iproteos, Spain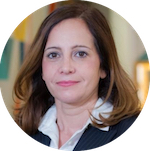 Teresa founded Iproteos in 2011 based on the science she developed during her career as a researcher in Barcelona along with her co-founder Ernest Giralt. She helped her company get a jump-start through equity crowdfunding, raising €100,000 in 2014 to fund preclinical studies.
Iproteos develops drugs for cancer and neurological diseases. The company can create drugs that cross the blood-brain barrier and the gastrointestinal tract to act on hard-to-reach targets. Iproteos has so far raised €3M in funding.
Ali Afshar
Co-founder and CEO of Cytera Cellworks, UK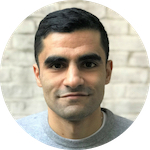 Ali met his co-founder, Ignacio Willats, during his studies at Imperial College London. Together, they founded Cytera Cellworks in 2016 with the goal of automating biology labs. Soon, they found that cell culture was what takes up most of a biologist's valuable time.
Today, Cytera focuses on automating the culture of small and medium batches of cells typically used in academic labs and in the early R&D stage of biotech companies. The company is working with several partners to make the handling of cell cultures easier and faster.
Tomas de Wouters
Co-founder and CEO of PharmaBiome, Switzerland
After years studying the gut microbiome, Tomas set out to exploit its potential to develop medical applications. In 2015, he founded PharmaBiome as a spin-off of ETH Zurich with the goal of building a platform to develop therapies based on microbiome science.
PharmaBiome already has some promising preclinical data for a treatment designed to restore a healthy gut microbiome in people with gastrointestinal diseases. The company is developing a combination of bacteria optimized to transplant all the necessary bacterial species to help the patients recover.