Deep human connections are the key to success in business, and biotech is no exception. The secret to amplifying this effect? Women.
Commenting on the personal dimension of business usually comes as an aside in broader discussions, but at the ON Helix conference in the Cambridge area last Thursday, Sharon Vosmek, CEO of Silicon Valley-based fund Astia Angels, framed it as a key focus in the success of a biotech company in her keynote speech. "Investment, particularly early-stage, is personal," she remarked. "It will never be about your pitch — our investment will be about us talking and about changing the world."
The importance of personal networks is obvious. For its part as a top quartile investment fund, Astia Angels counts with a pipeline built on referrals from a global network of expert advisors. When it comes to attracting investors, startups need not just the money but also expertise from a VC, as Partner Allan Marchington of Touchstone Innovations pointed out later in the day. And Tony Kouzarides, Director of The Milner Institute, remarked separately, "If you know your partners, you're more likely to make a deal…versus seeing them as running away with the bacon."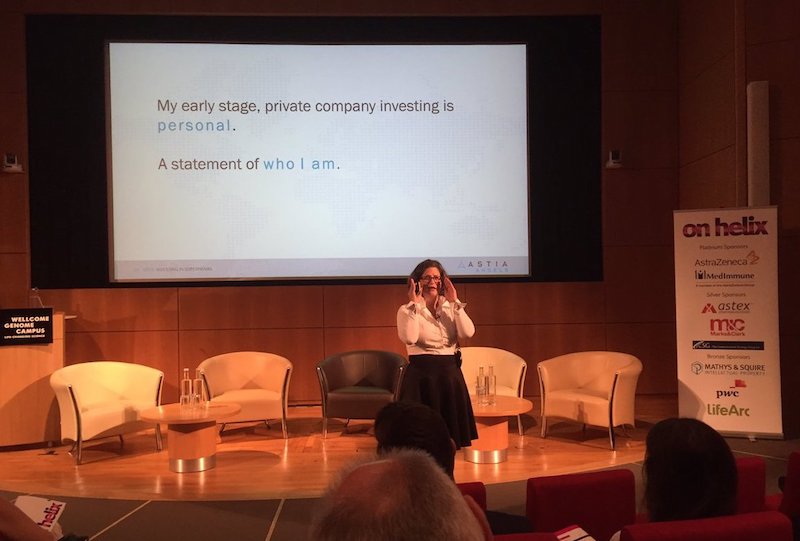 But the human depth beyond what might be a mechanical crank-through of a contact list is undeniably important, because "investment, particularly early-stage, is personal," said Vosmek. Jane Dancer, CBO of F-star, echoed this later in the day when she recalled company wisdom at Cambridge Antibody Technology, where she directed business development.  "Chemistry is as important as human chemistry," she recalls.
For Vosmek, 'human chemistry' is so important because "innovation to market is a team sport" — most problems are solved with an interdisciplinary approach. Citing the research of Tom Malone at MIT's Center for Collective Intelligence, she argued that a team's efficacy may have little to do with the individuals: "Group intelligence has very little to do with the individual intelligence of the people on the team," she remarked.
"No matter how smart we are, something else needs to occur," she said. That 'something else,' according to Malone, is actually three things: social perceptiveness, even (not unilateral) conversation, and a proportion of women. Specifically, Malone's research shows that teams of men and women are more successful than those composed exclusively of men; indeed, boards with women outperform those without them by as much as 63% in terms of returns.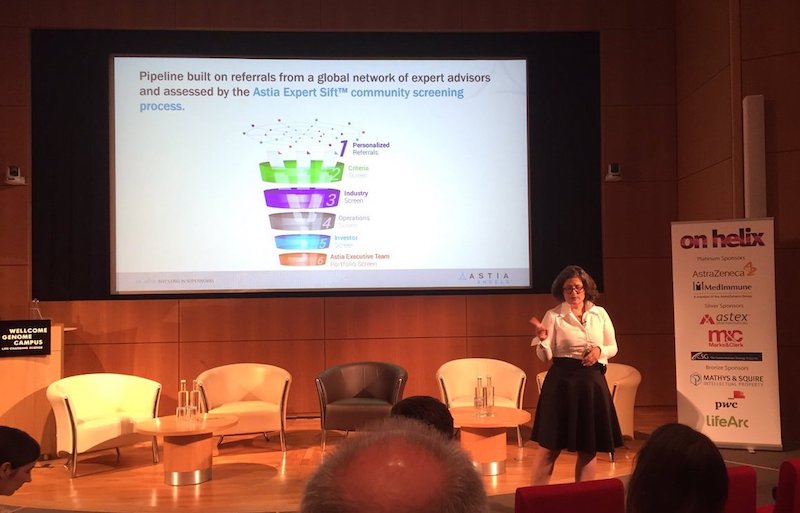 For investors, it should be a no-brainer to support a team that includes at least one woman, ideally more than one. Yet, as little as 2% of investment goes into companies (co-)founded by a woman. Bucking this trend, Vosmek noted that at Astia Angels, "We invest in teams only if they have a woman on the founding team." Perhaps as result of this policy, Astia Angels has earned a spot in the top quartile of performing funds.
It's no secret that biotech has a gender diversity problem, though more than half the PhDs in life sciences go to women. Vosmek sees a gap between the bench and business, noting that "[women] are often present in the lab, but often absent in commercialization." 
Vosmek blames culture: "Who do you have a beer with at the end of the day? If it's only people of the same gender, the network is broken." She also pointed out a similar divide along racial lines, as people tend to hang out with others from their same background. The bad news is that culture is hard to change, but the good news is that we can start immediately by involving women and other minorities to break these barriers. "Sign the check [to invest], go out for dinner with them," Vosmek advocated.
A member of the audience asked, is there anything that can be done structurally beyond quotas? Vosmek laughed, "I hate quotas, but I love the results. Until you find me something better, I'm counting."
---
Images from author, jamesteohart / shutterstock.com