Today is the First International NASH Day, and to mark the occasion, we bring you an update on Europe's efforts to tackle this largely unrecognized liver disease that currently has no treatment and affects almost 12% of the adult population in developed countries worldwide.
NASH: The Silent Killer
NASH or non-alcoholic steatohepatitis is the most severe form of non-alcoholic fatty liver disease (NAFLD), characterized by an abnormal buildup of fat in the liver. In some people, this progresses to inflammation, hepatocyte degradation, and fibrosis. NASH is very often brought about by lifestyle choices, for example, chronic high sugar and high fat intake and lack of exercise. Unlike other fatty liver diseases, NASH is not caused by alcohol abuse or side effects of medication.
NASH is a chronic yet silent disease, meaning that most patients live with it for many years without experiencing symptoms. However, undiagnosed NASH can progress to more severe conditions, including advanced fibrosis, cirrhosis, liver failure, or liver cancer. The consequences of NASH also extend far beyond the liver, affecting in particular the cardiovascular system.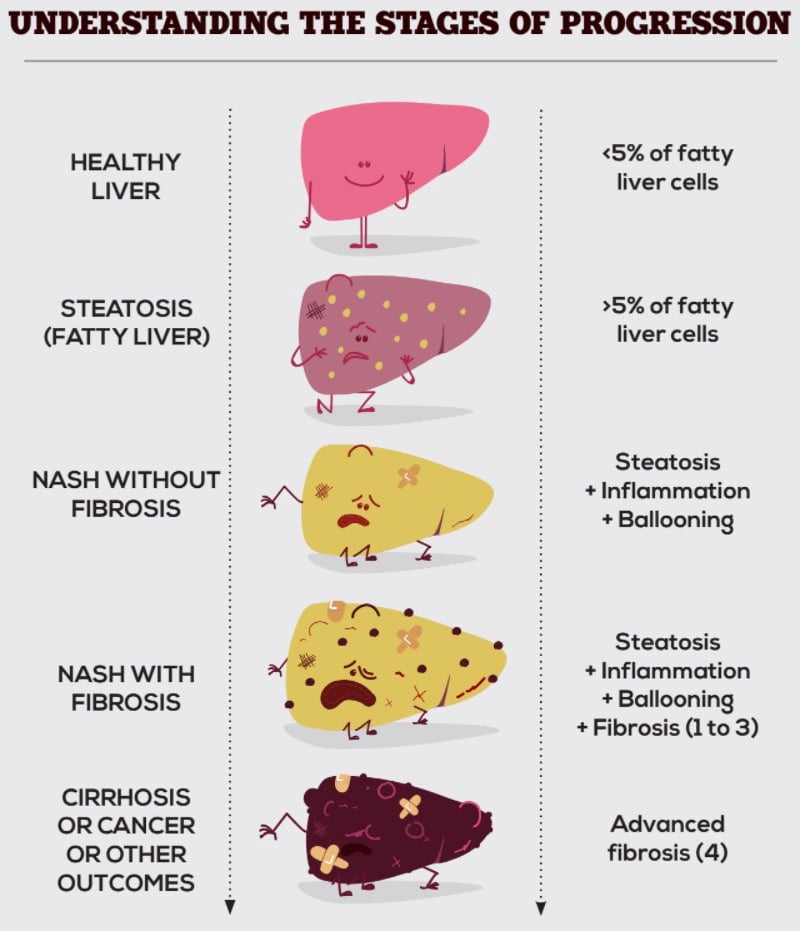 Current approaches to managing NASH involve lifestyle changes such as significant sustained weight loss and exercise, as well as the use of diabetic and cholesterol-lowering medications. In severe cases, liver transplantation may be the only hope. However, this is a risky surgery, and not all patients can access it.
Obesity and type 2 diabetes are by far the greatest risk factors for NASH, and in parallel with these epidemics, the worldwide prevalence of NASH is expected to increase by 63% between 2015 and 2030. NASH is also expected to be the number one indication for liver transplantation worldwide by as early as 2020. These scenarios will further increase the prevalence of cirrhosis, end-stage liver disease and hepatocellular carcinoma, worsening the burden of NASH on national healthcare costs.
What is European Biotech Doing?
NASH is a multifaceted disease with several stages that occur along a continuum, characterized by metabolic dysfunction, inflammation, and fibrosis. While most previous attempts to treat NASH have targeted the metabolic aspect, for example, through the repurposing of insulin desensitizers such as metformin, many of the current efforts address inflammation and/or fibrosis, and this may be because these stages of the disease represent the patients with the greatest unmet need.
Let's take a look at the most advanced or unique strategies currently underway in the race to develop the first ever treatment for NASH, whose annual market is estimated at a whopping €37B.
Inhibition of Fibrosis and Inflammation
Targeting the fibrosis and inflammation aspects of NASH is expected to slow down or halt disease progression. Several companies are exploring this approach in a number of different ways.
French biotech Genfit is seen to be leading the fight against NASH with its peroxisome proliferator-activated receptor (PPAR) agonist Elafibranor. PPARs are a group of transcription factors that regulate cellular differentiation, development, and carbohydrate, fat, and protein metabolism. Elafibranor is positioned as a first-in-class drug to treat NASH, regardless of disease severity. It prevents the progression of fibrosis and inhibits cirrhosis, and was granted fast track designation for NASH by the FDA in 2014.
Following positive results from a Phase IIb study in adults, Genfit recently obtained FDA approval to test Elafribanor in children. The company is also running a Phase III clinical study called RESOLVE-IT, which it hopes will lead to conditional marketing approval sometime in 2020.
Other players in this category include Inventiva, in France, with its next-generation panPPAR agonist Lanifibranor. Although it lags behind Genfit in the race to cure NASH, Inventiva believes its approach to be more holistic given Lanifibranol's activity on all PPAR isoforms, whereas Elafibranor activates only the alpha and beta isoforms. Lanifibranol has demonstrated safety and efficacy in Phase I and IIa studies, after several preclinical studies revealed its ability to inhibit fibrosis progression in liver tissue.
Genkyotex, another French biotech, also has its eye on NASH with its NOX1 and NOX4 inhibitor GKT831, which significantly improved inflammation and liver enzyme levels in a previous clinical trial for diabetic nephropathy. The company hopes for promising results from an ongoing Phase II study in another liver disorder, primary biliary cholangitis, to strengthen its position in the NASH race by demonstrating that it has a novel clinically effective solution for liver fibrosis.
Neurovive Pharmaceuticals, in Sweden, recently entered the game with its non-immunosuppressive cyclophilin inhibitor NV556, which showed promising anti-fibrotic activity in experimental models of NASH, and is currently undergoing extensive preclinical development.
Immunotherapy
By manipulating the immune system of individuals with NASH, players in this category are exploring new ways to control the inflammation and downstream fibrosis associated with NASH.
London-based Tiziana Life Sciences plans to take the NASH field by storm with its monoclonal antibody NI-1201, which it in-licensed from Novimmune last year. NI-1201 targets the interleukin-6 receptor, which is believed to be an important player in autoimmune and inflammatory disorders. Tiziana hopes to tackle NASH-driven inflammation by combining NI-1201 with foralumab, an anti-CD3 antibody also in-licensed from Novimmune.
By binding CD3, foralumab prevents T cell activation, thus dampening the immune response and relieving inflammation. By creating a stomach-acid resistant formulation, Tiziana has overcome one of the greatest hurdles associated with oral antibodies, and is about to initiate a Phase II clinical study in NASH.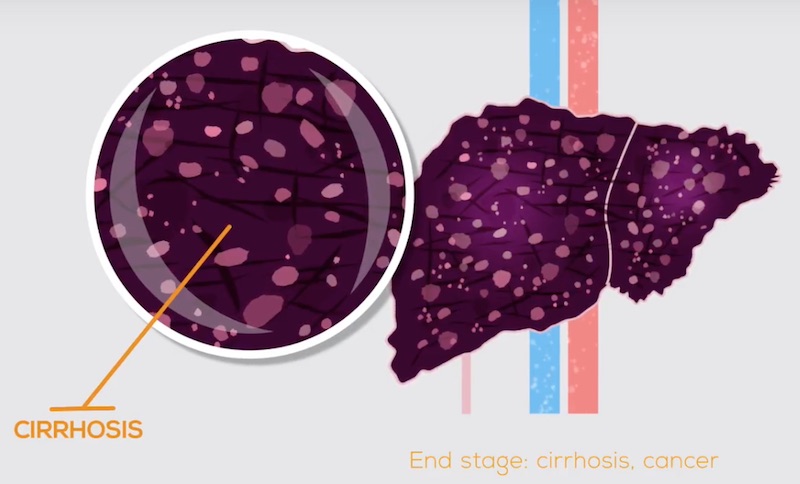 ChemomAb, in Israel, is also noteworthy when it comes to immunotherapy efforts against NASH. It has developed CM-101, a humanized antibody that targets a newly discovered protein that appears to be instrumental in the inflammation and fibrosis components of NASH. CM-101 is currently undergoing evaluation in a Phase I clinical study.
Farnesoid X Receptor Agonists
The farnesoid X receptor (FXR) is a transcription factor that is expressed in the liver, intestine, kidney, and adipose tissue. It regulates triglyceride, cholesterol and bile acid metabolism. Selective synthetic FXR agonists can lower triglyceride levels, thus improving the cholesterol profile, and animal models of liver disorders have shown that these compounds can also slow NASH progression.
GS-9674, the lead candidate in German-based Phenex Pharmaceuticals' FXR program, activates FXR to combat the abnormal fat metabolism seen in NAFLD and NASH, and is expected slow or even halt disease development. GS-9674 is currently undergoing Phase II evaluation in partnership with American drugmaker Gilead Sciences as part of an out-licensing deal made in 2015.
French biotech Enyo Pharma recently raised €40M to take their FXR agonist EYP001 into a Phase II study for NASH.
Fatty Acid Modulation
Dutch-headquartered biotech NorthSea Therapeutics recently joined the party with icosabutate, an omega 3 fatty acid whose structure has been engineered to target key pathways involved in NASH. Icosabutate was in-licensed along with a library of other structurally engineered fatty acids (SEFAs) from Pronova Biopharma (Norway).
SEFA technology is expected to bring novel and unique ways to treat metabolic, inflammatory and fibrotic diseases, and icosabutate has proven preclinical ability to modulate key pathways associated with inflammatory liver disease, including NASH. With an established safety profile from other non-related Phase II trials and recently secured funding to the tune of €25M, isosabutate is anticipated to enter a Phase II trial for NASH by the end of 2018.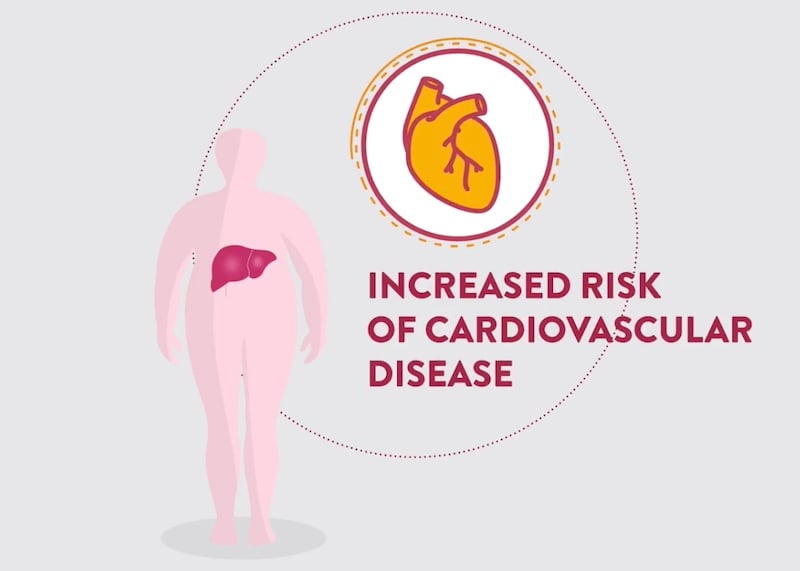 Irish-based Afimmune, a spinout of DS Biopharma (Ireland) has a similar approach with its bioactive lipid technology platform. Its lead candidate, AF102, was granted fast track designation by the FDA last year as an investigational treatment for NASH with liver fibrosis. AF102, which can be administered topically or orally, replenishes the body with semi-synthetic forms of certain fatty acids that are implicated in metabolic liver disorders and fibrosis.
Stem Cell Therapy
Belgian biotech Promethera hopes to use stem cell therapy to cure advanced NASH. With its mesenchymal stem cell platform, HepaStem, it generates stem cells from healthy donated livers for intravenous administration. The injected cells enter a patient's liver via the bloodstream, where they have the ability to counteract inflammation and inhibit cellular processes that lead to fibrosis.
Promethera further boosted its efforts against NASH earlier this year, with the takeover of Swiss biotech Baliopharm. This move gives it access to Baliopharm's TNF receptor 1-specific inhibitor Atrosimab, which Promethera believes will augment HepaStem's effects by specifically inhibiting TNFR1, leaving TNFR2 function intact. This is critical given TNFR1's proven role in liver fibrosis, and TNFR2's proven role in liver regeneration. Promethera will now test this drug in combination with HepaStem in animal models with hopes of creating a treatment that accommodates the complexity of NASH more than either drug can alone.
Although Promethera is far from marketing approval, their novel approach to curing NASH is intriguing, and we are looking forward to seeing the preclinical results of their combination therapy approach.
How Soon Can We Expect the First Treatment for NASH? 
This is the €37B dollar question! Given the multifactorial nature of NASH, the lack of a treatment, and the market size, there is room for many players with different strategies in this field.
As Europe's first company to initiate a Phase III trial in NASH, Genfit are clear frontrunners in the race. However, European biotechs are not the only ones in the running. US biotech Intercept is currently testing its FXR agonist Ocaliva in Phase III trials for NASH. However, the same drug was associated with 19 deaths in its first year following FDA approval for primary biliary cholangitis. This setback puts a question mark over the safety of Ocaliva and its future in NASH treatment, and gives Genfit an edge in the global race for the first ever NASH treatment.
The world's First International NASH Day aims to increase public awareness about the disease, so that more at-risk individuals are diagnosed in its early stages. With the ever-increasing prevalence of NASH, the need for a treatment is more urgent than ever before, but which company or what strategy will be first to the finish line is anyone's guess! If all goes well with Genfit's Elafibranor trial, Europe might just win the race, and we could be looking at the first dedicated NASH treatment by 2020!
---
Karen O'Hanlon Cohrt is a Science Writer and Editor with a PhD in biotechnology from Maynooth University, Ireland. She can be found on Twitter @KarenOHCohrt and you can check out her other work on her portfolio.
---
Images via the NASH Education Program