Today we celebrate women and promote a more gender-inclusive industry. Biotech is infamous for its divide, but what are the numbers?

Whether it's launching the next generation of insulin or running the business arm of one of Europe's leading immuno-oncology biotechs, women have made major strides in biotechnology as some prominent leaders on the scene.
"I was at JP Morgan in January, and the phenotype hasn't really changed," says Jackie Hunter, CEO of BenevolentBio, the life science arm of BenevolentAI.
Liselotte Hyveled, a Board Member at Novo Nordisk and lead developer of the company's new generation of insulin, sees the problem as rooted in traditional family roles, as "Women are still forced to choose between families and careers, and women are more willing than men to give up their careers for their families."
She and Hunter agree that "We have to get men on board with this," as Hunter told me. Hyveled suggested in our interview that "Men can help by contributing an equal amount, but there are different expectations because of these traditional roles. To resist them, you have to really organize who picks up the kids and who does which chores."
For Hunter, "The way to bring it to everyone's attention is through data." A report from LiftStream provides exactly this data, which makes it clear that biotech is still appallingly imbalanced with respect to gender. Here are the numbers represented in infographics, provided by the firm.
1. Women still make up only about a quarter of leadership positions in progressive countries like Scandinavia, while the rest of Europe lags even further behind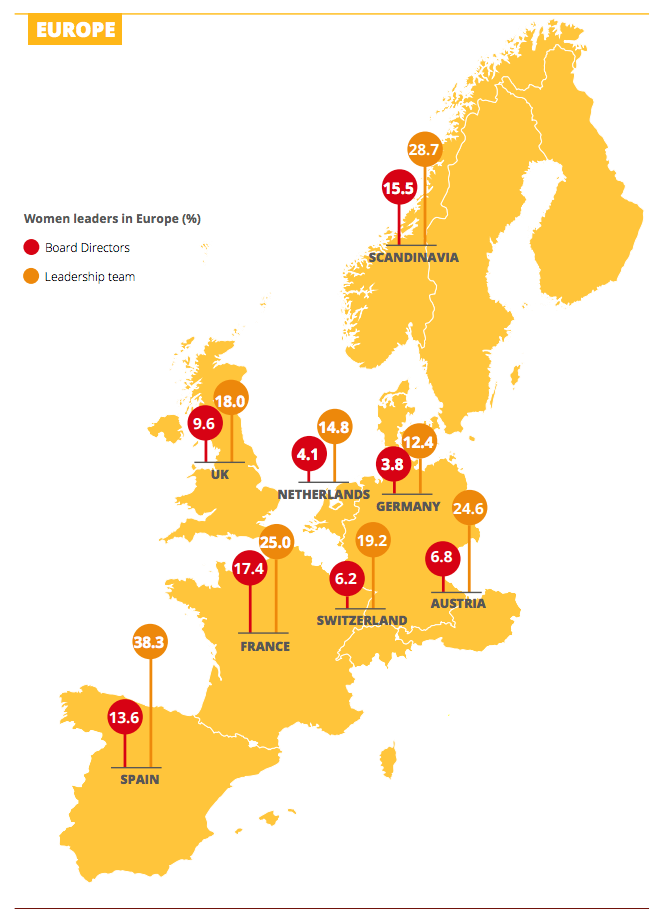 2. This low percentage leaves space for a shocking proportion of all-male cohorts

3. Things are not much better in VCs, though corporate ones seem to have more modern attitudes

4. Networking culture may be part of the problem, as women aren't as actively recruited for leadership positions as men are

5. …and it ain't because women don't want those jobs: there is virtually no difference in ambition between men and women

We all have to be more positive about sponsoring and helping women to succeed. When we don't do that, fewer apply, fewer are successful and it only gets worse going up the chain. We should challenge people where don't have diversity, and biotech is undeniably one of those areas." Jackie Hunter, CEO of BenevolentBio, Director at BenevolentAI
Stay tuned for our full interview with Jackie later this month!
---
Here's what Rafaele Tordjman of Sofinnova Partners had to say about gender diversity in biotech.
Has it improved? "No," she says, but Sofinnova is doing more than its part as one of the most woman-friendly VCs in Europe, and perhaps the world.
---
Images from LiftStream & Heidi Besen / shutterstock.com