In our last BIO Europe interview, I caught up with CEO Timm Jessen of Topas Therapeutics to hear about the company's nanoparticles.
Founded in 2013 as a spinout from Evotec, Topas Therapeutics is developing nanoparticles for a whole range of diseases and with CEO Timm Jessen at the helm. He told me the story of how the company sprouted from a consortium working on multiple sclerosis and where it's going now.
Topas has its lead candidate in MS, which as Jessen describes, "is a very difficult disease [because] even the nature of the antigen isn't fully elucidated, and there's high competition." In fact, he said investors were initially reluctant to join what turned out to be a €18M Series A for the company: "They asked me, the hurdle is so high, why do you start in this area?" he recounted. The first drug for primary progressive MS, Ocrevus, was only approved this year, and a number of biotechs are already racing to develop more.
"Instead we've pushed the orphan disease candidate forward because strategy-wise, it's important to have clinical validation [before] competing in MS," he continued, describing Topas' candidate for . "Our technology is also clearly better-suited indication is the orphan disease: we have a very clear and validated antigen, an antibody for a biomarker, and the clear symptoms of lesions."
Originally, the technology came from three different academic institutions, "so getting the exclusive IP license was quite some work," chuckled Jessen. He described how Evotec historically let go of a project when it gets to the IND stage, but Topas was the first company that Evotec saw through to the clinic.
"We are kind of a front-runner," said Jessen. Further, "I have to say that behind the contract there are no privileges for Evotec like buy back rights. For me, it has been very helpful with the name and commitment, and I enjoy the freedom of a growing biotech."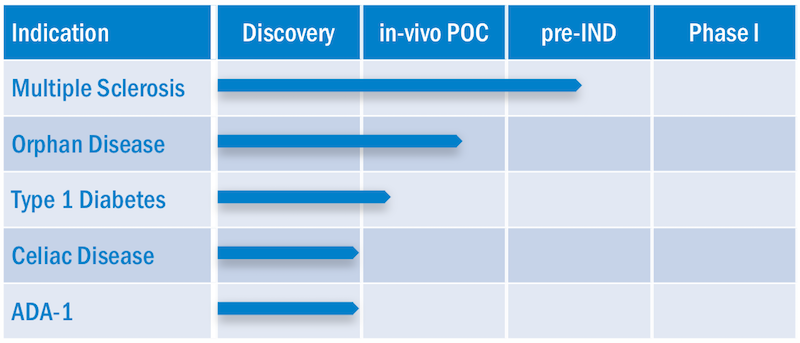 Jessen was working at Sanofi before he joined Evotec as CSO in 1997. At that time, the company was 40 people — "I loved it," he said. When he left in 2004, the company had grown to 650, "which was already for my taste a little too large. I like small groups with swift hopefully right decision-making."
He also loves platforms for their multiproduct opportunities. "Not all assets deserve a company," he said. "You can do very good project funding and development." For its part, Topas is "a typical platform company,"  as he described it. "If we do it right, we can apply ours to autoimmune diseases, allergies,…so you really have a multiproduct opportunity, and that deserves a company."
So what sort of technology is at the heart of Topas? Its platform is based on the liver's natural process for taking care of blood-borne antigens. "The body has to take care of foreign proteins which are different from viruses, bacteria or fungi," he explained. "The immune system is immediately alarmed and has to fight them bc they can replicate. But foreign proteins can't, so the body needs to keep the immune system calm, so the liver generates tolerance against these blood-borne proteins by generating regulatory T cells with the exact specificity of the protein. So we're essentially mimicking that blood-borne protein." 
The protein is, of course, tiny and has a certain charge, and a nanoparticle loaded with proteins fit the bill as a mimic. "If it were something else, I wouldn't mind, because what I'm after is the mimic of this natural process, and in our case, it works with nanoparticles very well," Jessen remarked. He's also confident in the relative uniqueness of the technology: "Therapeutic nanoparticles are still rare but not unknown," as their applications are mostly in diagnostics. The EMA and FDA have regulatory frameworks in place, so "I'd say regulatory offices are prepared" for when Topas' candidates are clinic-ready, said Jessen.
And fresh off its Series A, that could be as early as next year: Topas' next steps will be to conduct two Phase Ib trials in autoimmune diseases beginning in 2018.
---
Image from Topas
SaveSaveSaveSave
SaveSave