ADC development has progressed to the fourth generation. Serial entrepreneur Ulf Grawunder told me what NBE is doing differently from its predecessors.
Ever since the first antibody-drug conjugate (ADC) was approved in 2001, there has been a lot of excitement about the technology. "Some people even referred to ADCs as a 'magic bullet,'" recalls Ulf Grawunder, Founder and CEO of NBE Therapeutics. But since Adcetris and Kadcyla were approved in 2011 and 2012 respectively, no more have followed. Grawunder believes that with respect to the Gartner hype curve, "the industry is a little bit in the trough phase because there are still a lot of second- or maybe third-generation ADCs that have certain liabilities, like inadequate toxins or inappropriate targets."
Grawunder has been an entrepreneur working on antibodies since he started his first company, 4-Antibody, in 2004, and he moved on when it was acquired by Aegnus in 2014. He started a new company, NBE Therapeutics, in Basel to move into ADCs and iron out the kinks. "From the newest generation of ADCs, I expect – especially with site-specifically conjugated ADCs with improved linkers and novel payload modalities like ours, I think there will be success stories coming in the next 3-4 years," he tells me, as most have reached either late-stage preclinical or early-stage clinical stage.
"History has proven that the concept is simple, but the realization is immensely complex and I think it was only recently that people figured out how complicated it is," he continues.  There are three components — the antibody, the drug, and the linker — that have to be optimized, and the inadequacy of one can render the entire thing ineffective or worse, toxic.

"That requires, really, some novel concepts involving site-specific conjugation," says Grawunder. "If you do all of that right – which I think we have done with our molecule – then I think it's a pretty transformative principle, even if some investors see it as old hat at this point."
Nevertheless, NBE Therapeutics was able to convince Boehringer Ingelheim Venture Fund to support its efforts. The R&D group at the core of the startup, as Grawunder described it, was mostly biologists: "We were used to working with enzymes in all kinds of experiments, and choosing them to do the linking chemistry that became NBE's core technology was therefore a natural progression."

The technology, as it has been developed, performs novel site-specific conjugation known as SMAC: it's enzyme-mediated and combines antibodies with a highly potent anthracycline-based toxin platform recently published in Molecular Therapy and various patent applications.
"The platform works extremely well with the enzymatic SMAC conjugation technology so that we get extremely high conjugation efficiencies — close to 100%, meaning quantitative conjugation — with very stable peptide bonds," says Grawunder. "So we have very stable ADCs that are stable in circulation, or in the blood serum of animals."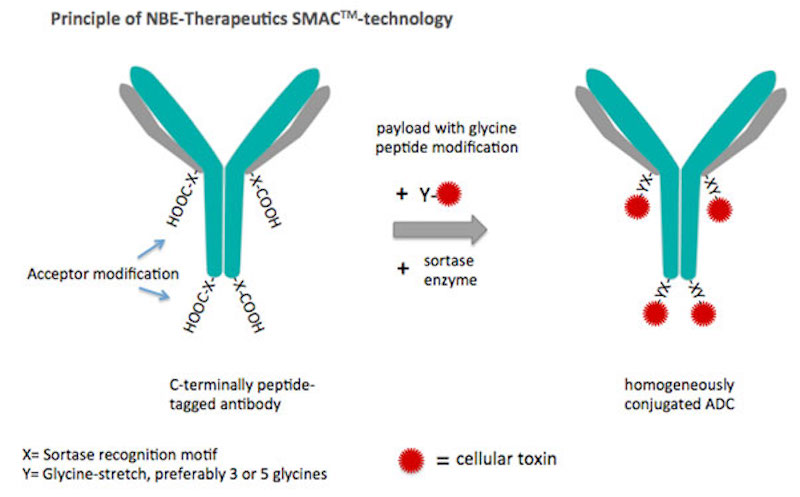 He also highlights a yet undisclosed strong immune stimulatory effect of these toxins — "an immuno-oncology function, if you wish. We have evidence for this, now, which will soon be published in more detail," building on a study published two years ago.  
Without going into too much detail, he describes how it leverages the adaptive immune system via infiltration of activated killer T cells into the tumors. Further, mice whose tumors have been eradicated with NBE's therapy develop immune protection such that the animals are challenged again with the same tumor, it doesn't grow back.
But why publish this, rather than keep the positive results as a trade secret? "We do have a strategy to publish in peer-reviewed journals as quickly as possible to get our peers in the industry and the academic community excited about our developments, as well as to attract talent to our company," says Grawunder.
"If you have a smoke screen around all your experiments and data, then nobody will get excited about it," he continues. "There has to be a balance between publicly sharing exciting data and making sure that the intellectual property that is the basis for inventions is filed before the information is shared."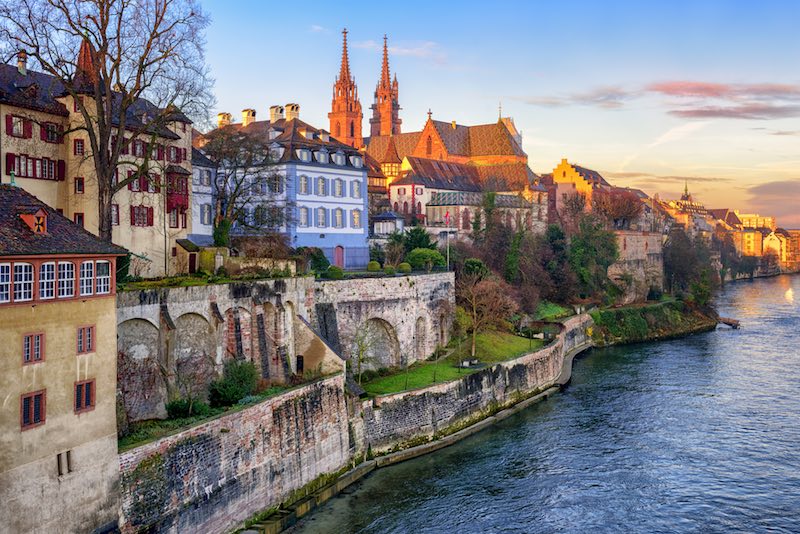 Of course, never sharing it carries the risk that someone else will claim the technology as inventor, and the first to file always has priority. "Relying on trade secrets is a dangerous thing," concludes Grawunder.
For now publishing-oriented, NBE is still hammering out its IP as an early-stage company, but Grawunder is looking ahead to the clinic. "So far, we haven't been in humans yet, but it's of course where we want to go," he says. "The animal trials show we have very stable conjugates, which is required if you work with a very potent toxin to minimize toxicity effects."
He says the mice can tolerate roughly 50-fold higher doses of the ADC than the concentration required to kill the tumors, which is "a sweet spot to be in." Grawunder credits the SMAC technology as a stable linker that "is not part of competitors', or other people's, ADC strategy."
If it works, the field of ADCs might attract investment and R&D enthusiasm anew: "Hopefully it's at the beginning of an upward trajectory," says Grawunder.
---
Images via Capricorn Studio, molekuul_be, Boris Stroujko / shutterstock.com
SaveSave
SaveSaveSaveSave