How did biotech finish last year on Euronext? The exchange has released its report for H2 of 2017 for the 49 biotechs listed on the markets, including giants Galapagos and Ablynx and CAR-T notables Cellectis and Celyad among others. The bottom line of the biotech barometer? It was a good semester!
---
Stock Performance & Market Capitalization
The BiotechBourse increased by 46% between the start of 2013 and the end of 2017, with Dutch companies driving much of this effect with an increase of 100.9%. Belgian companies similarly saw an increase of 47.1%, while their French counterparts saw a decrease of 23.5%.
The Dutch and Belgians can thank positive clinical results from Kiadis, Pharming, argenx, TiGenix, Celyad, Ablynx, and Galapagos, as well as their dual listings on Nasdaq. French biotechs suffered some disappointments, however, as DBV, Erytech, Onxeo and Innate Pharma all reported clinical trial failures.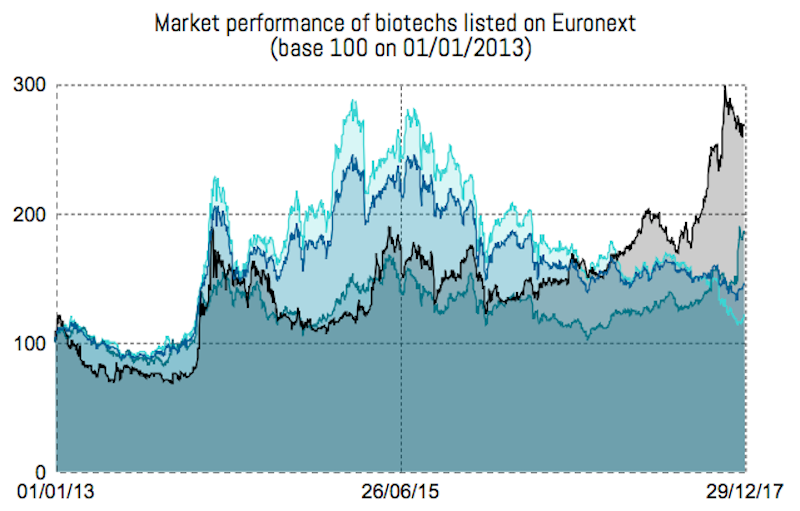 This overall performance contributed to a net increase of €3.65B in market capitalization for biotech companies in H2, bringing the total to a record €15.6B. French biotechs represent the largest slice of the pie and compose 40% of this total, while Dutch and Belgian companies represent 31% and 29% of it respectively.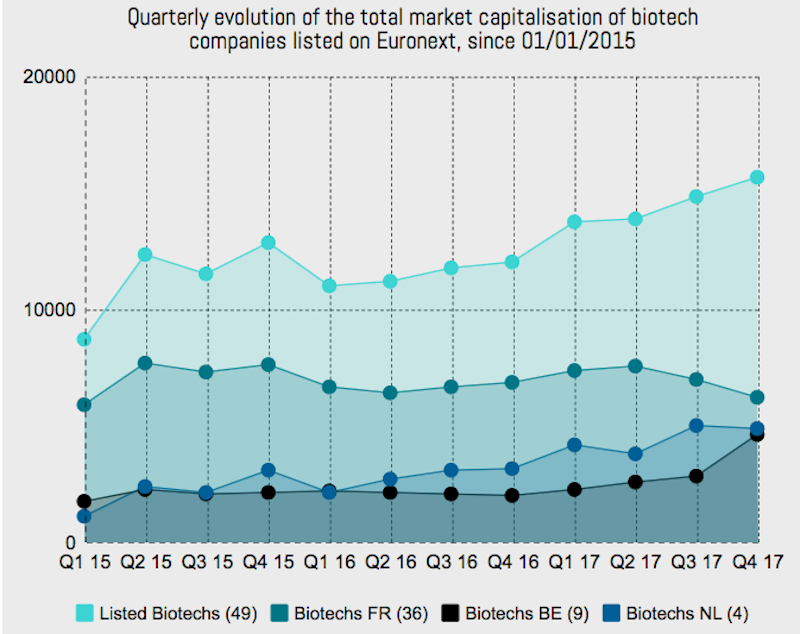 ---
Investor Interest
The interest of institutional investors held steady in H2, increasing slightly from 354 investors with declared holdings in biotech companies in H1 to 366 in H2. Most of them are from Europe; an even fifth of the investors comes from the US and Canada, and 4% hail from the rest of the world.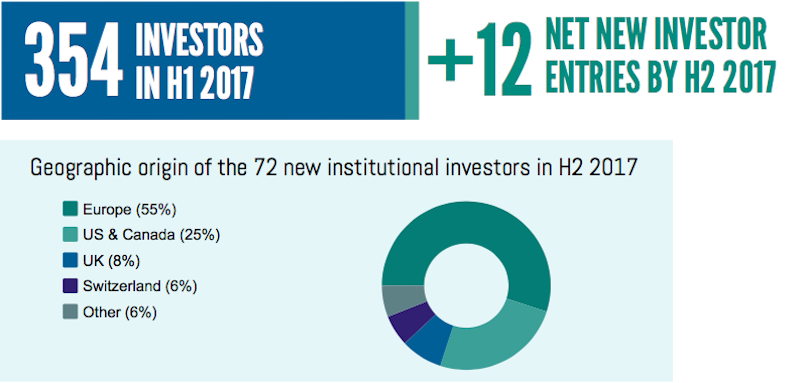 Their holdings represent roughly one third of the total market capitalization, an increase of 7.3% since the beginning of the year. Investment trended towards portfolio expansion rather than reduction, as 88 of the 366 institutional investors went for the former and 56 went for the latter. The net cash flow was +€84M.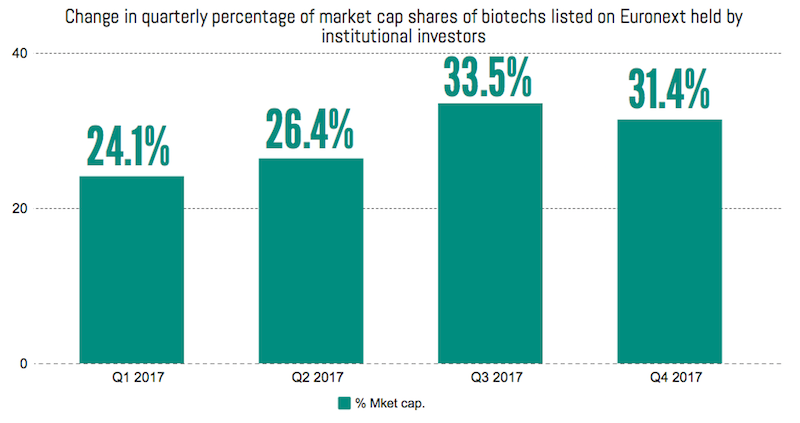 ---
Public Fundraising
While the year had a promising start for IPOs with Lysogene and Inventiva (and Avantium, which is not included in the report) going public in Q1, the pace dropped off by the end of 2017 such that the total funds raised were less than those raised in 2016. While the EU may not have suffered as much as the US, 2016 remains the worst year for biotech in a decade so this year was somewhat underwhelming. In particular, Lysogene has been underperforming, as its shares are now worth just over half of their initial value in February 2017.
In contrast, 2017 as a whole was a good year for subsequent public offerings on Euronext: The total came to €1.7B, up from 1.1B the year before, and nearly a billion of this year's figure came from H2.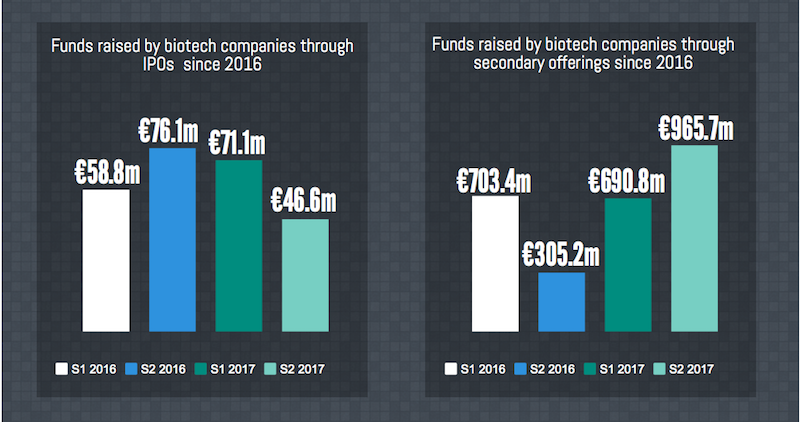 ---
These are the highlights, read the whole report here.
---
Featured Image via Ha Jing jing / shutterstock.com
SaveSaveSaveSave
SaveSaveSaveSaveSaveSaveSaveSaveSaveSave