Carbios has teamed up with TechnipFMC in order to move Carbios' enzymatic recycling process for PET plastics from the laboratory to the pilot scale.
French Carbios is looking to combat the limits of current thermo-mechanical recycling processes using an enzyme-based degradation process that paves the way to infinite recycling of PET. The annual production of PET, one of the most widely used components of plastic, is set to reach 100M tons in the next 10 years and Carbios is working to make its life cycle much more sustainable. Now, the green biotech has teamed up with TechnipFMC, a global player in the energy industry, to take its PET recycling process to the next scale.
Carbios' technology hinges on enzymes, which are able to depolymerize all PET-containing plastics to yield monomers that can be used to regenerate virgin PET directly from plastic waste. "In the future, we expect to have enzymes for each type of polymer. So we could have an iterative process to recycle any type of plastic, without the need for sorting, and we can recover the monomers that interest us," Emmanuel Maille, director of Strategy and Development at Carbios,  told us in an interview.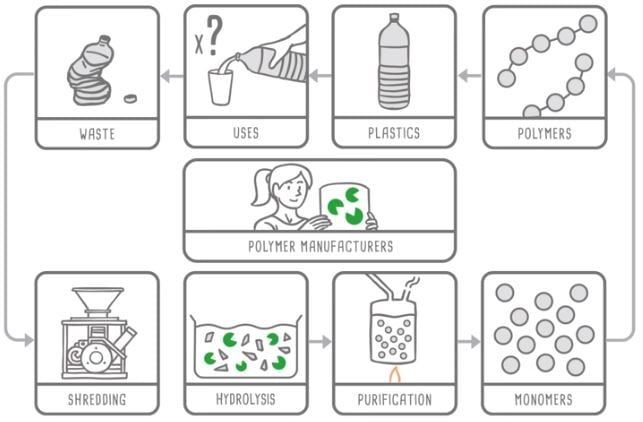 Meanwhile, Carbios is also working on a process for the production of plastics made from biomass, alongside companies like Dutch Avantium, or Italian Bio-on. Yet, the current production capacity of bioplastics remains limited to below 1% of the total market, making Carbios' recycling process a more tactile solution.
We have gained a solid experience in process engineering and we are very enthusiastic at the idea to assist CARBIOS in shaping the industrialization of this innovation. It's a premiere in the world of green chemistry to which we can bring our expertise and know-how in the fields of process industrialization, engineering and project management," commented Alain François, General Manager of the TechnipFMC Operating Center in Lyon.
Check out our review on bioplastics to learn more about biotech's efforts to generate sustainable plastic. 
Images via shutterstock.com /  MOHAMED ABDULRAHEEM and carbios.fr