Kunstformen der Natur, by Ernst Haeckel, is a beautiful series of prints that have influenced scientists and artists alike. A Dutch exhibition shows them like never before. 
In the fashion of the 19th century, Ernst Haeckel was simultaneously a biologist, philosopher, physician, and artist. A Darwin contemporary, although Haeckel supported Lamarckist and other evolutionary theories that are not considered to be accurate today, he is considered to have greatly contributed to the advancement of the biological sciences of his time.
His best-known work is Kunstformen der Natur, a series of 100 prints published between 1899 and 1904. The prints beautifully depict multiple organisms, many of which were described for the first time by Haeckel himself (though some of them have actually never been found). Collectively, the illustrations explore how symmetry appears in nature at all levels, from the tiniest microorganisms to large mammals.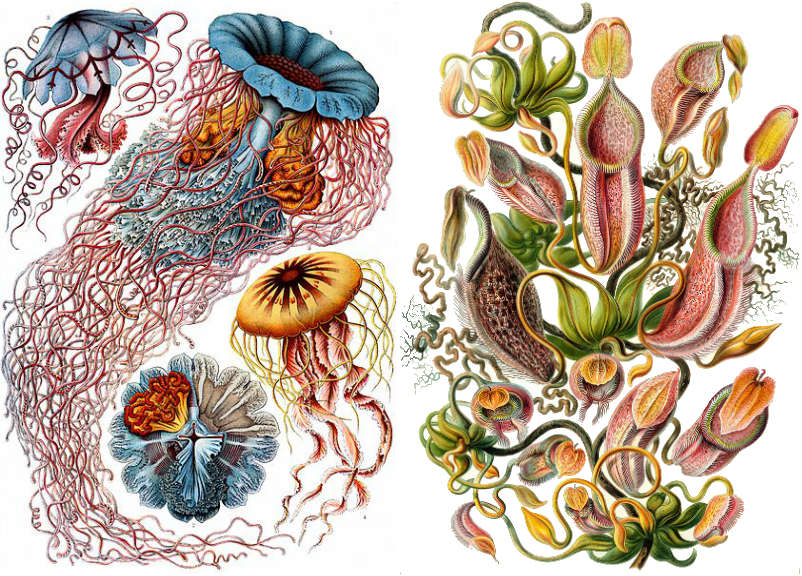 His work was not just taken up by biologists, but are also considered a big referent for the Art Nouveau movement of the early 20th century. Over a hundred years ago, Kunstformen der Natur managed to bridge the gap between science and art, architecture, and design.
To honor such a beautiful work of art and science, the Dutch cultural institution Mediamatic has taken Haeckel's original lithographs, made them 5 times bigger and put them on exhibition. You can find them at Radboudumc in Nijmegen, the Netherlands, until the 31st of December.