Lunaphore Technologies has launched a device for automated testing of cancer tissue samples that gives results in under 30 minutes.
Lunaphore has developed a piece of next-generation equipment to perform immunohistochemistry (IHC) tests, a common technique used to find specific cancer biomarkers in tissue samples from cancer patients after a biopsy. The equipment, called LabSat, will be available for research applications in most European countries.  
"Most academic laboratories carrying out IHC stainings currently use manual protocols, which involves lengthy turnaround times of many hours, most often requiring overnight incubations," Irene Tamayo, Communications Manager at Lunaphore, told me.
"With LabSat a regular IHC test can be performed in 10-30 minutes. This can have a huge impact in the planning of research studies, especially when there is a need to optimize many different protocols. LabSat allows doing small modifications of conditions to be tested rapidly one after another."

Lunaphore is aiming to get the approval to launch the device for diagnostic procedures — something that is expected to happen later this year.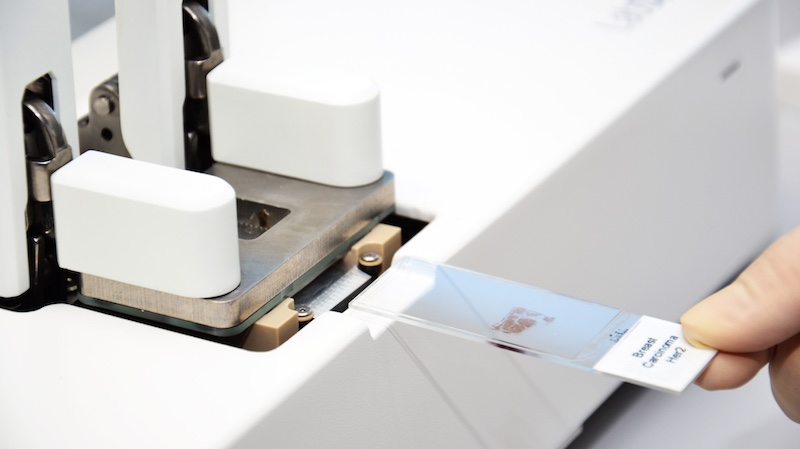 "In research laboratories within the hospital setting, it is more common to find automated stainers," explained Tamayo. "However, the shortest turnaround times available are around 2.5h, while we are able to reduce it by 10 times."

The company has big ambitions for its clinical diagnostic test, aiming for it to become the first standardized test to be able to perform this kind of tumor analysis during surgery rather than after. Currently, the tests that can be performed during a surgery provide limited information about the type and state of the tumor.
"The implications are very relevant for the patient, as it may reduce the reoperation rates," said Tamayo. "Until now, IHC tests were performed after the procedure, and sometimes revealed information that suggested a new intervention was required." This could allow patients to be diagnosed earlier and start the treatment as soon as possible. 
---
Images via Lunaphore Technologies