UPDATE (07/03/2017): ObsEva has announced the start of its Phase III trials for nolasiban, an oral oxytocin receptor antagonist. It is under evaluation for improvements in pregnancy and live birth rates following embryo transfer (ET).
UPDATE (26/01/2017): ObsEva has disclosed plans to release 6.45M shares at $15 (€14) each, for a total of €90.3M. This large total reflects the massive though perhaps underserved market of reproductive health. 
Original Publication 18/01/2017
---
ObsEva is making a bold move and going public in the US in order to advance its pipeline of reproductive health treatments.
ObsEva is a Swiss biopharma located in Geneva that develops therapies for conditions that compromise reproductive health and pregnancy. To give its pipeline a push, the company announced in October an IPO in the US in October and has now set the terms. ObsEva is aiming for €81M ($87M) but it could reach up to €112M ($120M).
The company has already made plans for every euro they bag in the IPO. First of all, €46M ($49M) will be directed at its lead candidate, OBE2109. The drug is an oral gonadotropin-releasing hormone (GnRH) receptor antagonist currently in Phase II to treat pain in endometriosis and heavy menstrual bleeding in uterine fibroids. The funds will support two Phase III trials due to start in the first half of this year.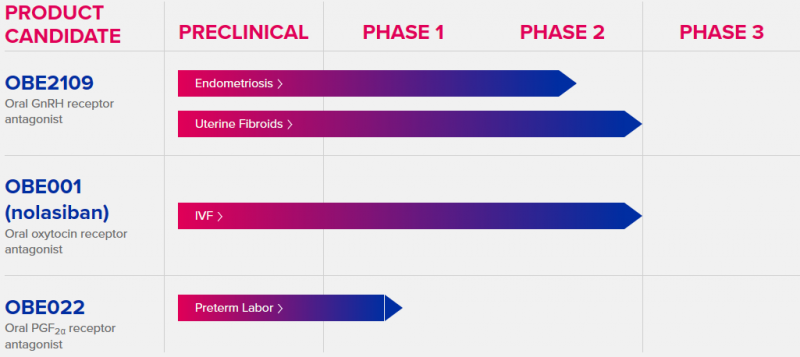 The next €10M ($11M) are allocated for Phase III trials with OBE001 (nolasiban), a therapy to increase pregnancy rates in IVF. Despite a failed Phase II due to efficacy, ObsEva is advancing the program and plans to start the new study in the first half of this year. The drug is intended for increasing pregnancy rates in IVF. Finally, €7.5M ($8M) will go to the preterm labor treatment OBE022.
Even if the IPO is successful, the Swiss company will have to watch out for competitors. AbbVie, Astellas, Myovant and Allergan have programs in their pipelines that overlap with ObsEva's lead candidate indications.
In addition, going public after the worst year for biotech finance in a decade is a brave move, since some investors are still uncertain about what the Trump administration means to biotech. However, the company is counting with existing investors that plan to contribute with a total of €28M ($30M), half of which will come from Medicxi, one of the top European biotech investors.
Fortunately for ObsEva, experts are confident that 2017 will be a better year for biotech finance. Could the young Swiss biopharma be one of the first to demonstrate it?
---
Images from Magic mine /Shutterstock, ObsEva