Germany has long been seen as one of the flourishing life sciences hubs in Europe. With its numerous hotspots – Berlin, Heidelberg, Munich, Mannheim just to name a few – it presents the perfect breeding ground for every young biotech company.
But what does it take to become a successful biotech company? How does a brilliant idea create a venture that will change lives? How long does it take to become a success? Questions, that all startups ask themselves at the beginning of their development.
In 2017, for example, 20 biotech startups were founded in Germany, all of whom probably asked themselves these questions. So in order to find some answers, we have caught up with four successful German biotech companies who have told us their secrets to success. After all, starting small doesn't mean you can't end big.
MorphoSys

Founded in Martinsried near Munich in 1992, the biotech company MorphoSys focuses on fully human antibodies for cancer therapy. It started off with three co-founders, but has grown to employ more than 300 people.
"Success does not come all at once, it comes in stages," says Simon Moroney, co-founder and CEO at MorphoSys. "26 years ago, who would have thought that MorphoSys would become one of the leading biopharmaceutical companies with more than 29 drug candidates in clinical development."
In fact, the first breakthrough came in the second half of the 1990s with the establishment of MorphoSys' technology HuCAL, Human Combinatorial Antibody Library, which allows the in vitro generation of optimized, fully human antibodies. "Our HuCAL technology, which we have continuously improved over the years, and our next generation antibody library Ylanthia, have become the basis of our achievements," Moroney explains.
MorphoSys' next steps towards growing into a successful company, was to form its first partnerships with pharmaceutical companies in the late 1990s. These collaborations not only validated their approach, but also provided additional, much needed funding.
A key achievement in that respect, was the collaboration agreement MorphoSys signed with Novartis in 2007. "Our agreement with Novartis resulted in one of the most successful antibody collaborations in the industry," Moroney says. "So far, 14 antibodies from this collaboration are in clinical development and we expect more to come."
Approximately 10 years ago, MorphoSys decided to develop drugs for its own account, with the goal of growing into a fully integrated biopharma company with the ability to commercialize its own products.
Under this scope, MorphoSys is currently working on the approval of its first proprietary product candidate, MOR208, for the treatment of aggressive lymphoma. In October 2017, the company received the FDA Breakthrough Therapy Designation (BTD) for MOR208, which helps to accelerate the approval of drugs that treat serious conditions.
Of course, every company has its own success story, and its own tips on how to become successful. "For MorphoSys, I think it's been a mixture of persistence, passion for great science, and a strong belief in providing a great workplace for our people," Moroney reflects.
"In hindsight, I think one reason why MorphoSys has developed so dynamically and so successfully, was that we were never content with what we had achieved so far. Instead, we are always setting ourselves new goals and raising the bar each time."
Evotec

"A handful of visionaries with different backgrounds," that's how one of Germany's most successful biotechs started, in Hamburg, in 1993. Today, Evotec employs more than 2,500 people at 14 sites across Europe. Three of these sites are found in Germany: Hamburg, Göttingen and Martinsried near Munich.
"In many ways, Evotec had everything a successful biotech startup needs right from the start," says Dr. Werner Lanthaler, CEO at Evotec. "It had a groundbreaking scientific idea with an industrial application, charismatic leaders capable of winning over investors, and of course top-scientists."
When it first started, Evotec was a drug development technology provider, soon building up a pipeline with its own development candidates. However, in 2009, the decision was made to develop drug candidates in partnered models. "This risk-and-reward-sharing approach was the foundation for our steady growth, which eventually made the company profitable. And today we are in a position that allows us to fund substantial investments from our operative cash flow," Lanthaler explains.
Evotec's secret to success is, well… not a secret. "At Evotec we strive for a combination of scientific excellence and operational excellence," says Lanthaler. "We have top-class scientists working with state-of-the-art equipment. Operationally, we are committed to creating mutual win-sets for both our customers and ourselves. And our services are designed to match the value chain of our partners."
BRAIN AG

In 1993, three young scientists who had just finished their PhDs in biology, rented some labspace from the Technical University Darmstadt and founded BRAIN. Three years later, in 1996, the team moved into its own facilities in Zwingenberg. These headquarters remained, but the team has grown and now has more than 300 employees, 130 of whom are working at Zwingenberg.
"BRAIN Group develops and brings to market novel biological ingredients for the improvement of product applications in B2B markets for nutrition and health, skincare and industrial biosolutions," says Dr. Jürgen Eck, CEO at BRAIN AG. "Key R&D activities include the identification and production of bioactive natural compounds, customized enzymes and high-performance microorganisms."
For example, together with the University of Mannheim, BRAIN AG is developing a 3D skin model within a joint R&D project which started in 2017. Using unique skin reporter cells and screening compound libraries developed by BRAIN AG, the model aims at better understanding skin physiology for healthcare and cosmetics applications.
In collaboration with others, the team at BRAIN AG is also currently working on identifying natural-based sweeteners for sugar and calorie reduction in foods and drinks. Just recently, the collaboration, which calls itself DOLCE program, identified and characterized their first natural-based sucrose sweet taste enhancers as well as natural-based high intensity sweeteners.
When it first started, the team at the biotech company BRAIN worked hard to establish the company as a preferred R&D partner for the industry. "Based on the success of the first 15 years, we started to pursue a growth strategy in 2008, with the goal of establishing the company as a fully integrated bioeconomy player with its own production, marketing and sales,"  Eck explains.
Their success, says Eck, is based on 25 years of experience in the areas of sustainability and biodiversity. "We also have an exceptional innovation culture as well as a creative working atmosphere that is perceivable throughout the BRAIN Group and our global network," Eck explains. "Part of our special expertise is our BioArchive, a 'toolbox of nature' and one of the largest collections of natural resources with innumerable traits, which we can translate into industrial applications."
BioNTech AG

It might be the youngest of the four listed companies here, but it's no less successful: BioNTech AG. Founded in 2008, the company started with a handful of employees, but has grown to employ more than 850 people as Europe's largest private biotech company working in immunotherapies.
Dr. Ugur Sahin, an accomplished immunologist and experimental cancer researcher, is one of the founders of BioNTech. His research as a professor at the Johannes-Gutenberg University Mainz in the fields of oncology, hematology and immunology, laid the foundation for BioNTech's success.
Although scientific knowledge and experience are a prerequisite to success, another important aspect is funding: "In order to further pursue research in cancer immunology, to further develop Dr. Sahin's promising research in the field, and to bring new drug candidates to clinical development, funding was critical," explains Sean Marett, Chief Business and Commercial Officer at BioNTech.
In January 2018, for instance, the company secured $270 million (€237 million) in a series A financing round. The biotech company will use this capital to work on its clinical pipeline of individualized immunotherapies, which covers novel approaches such as mRNA and CAR-T for the treatment of cancer and other diseases.
And just this August, BioNTech signed a collaboration agreement with Pfizer for the development of prophylactic mRNA-based vaccine candidates against influenza. Together, they will jointly conduct research, and BioNTech is set to receive a total of $425 million (€374 million) in research, R&D and commercial payments in case a product should be brought to market one day.
Marett sees BioNTech's secret to success in its "broad scientific knowledge base, and a diverse and experienced team, which brings different perspectives together." Only then, says Marett, can a biotech company become successful.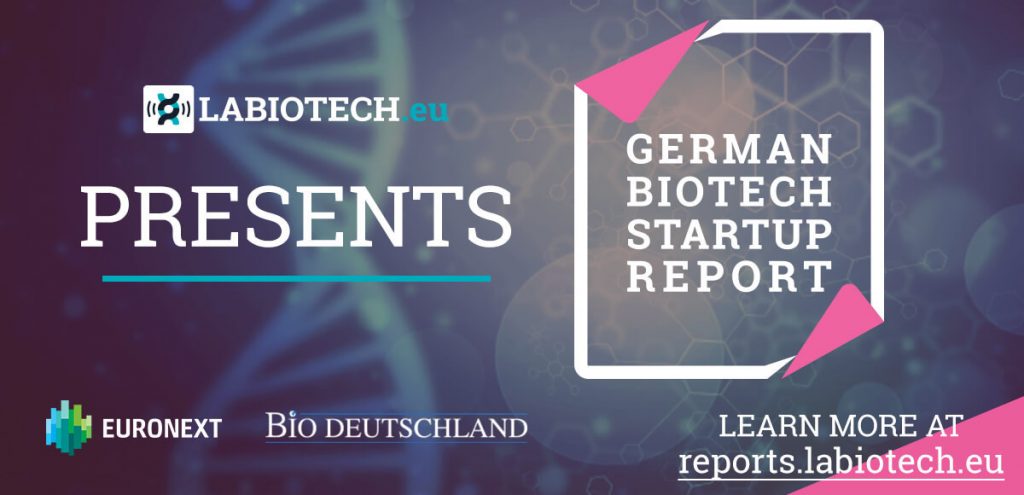 ---
Header image via kentoh/Shutterstock.com
---
Author: Larissa Warneck, Science Journalist at Labiotech.eu