Since Swiss physician and biologist Friedrich Miescher first extracted nucleic acids in 1869, the process of DNA and RNA extraction from samples has become a cornerstone of molecular biology. However, there are still many challenges associated with traditional extraction methods. One company has addressed these and created a nucleic acid extraction technology that can be used by everyone.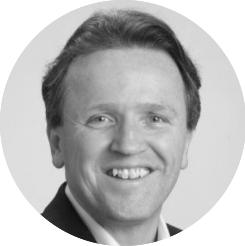 "Any research that involves a living thing ‒ be it a plant, a person, a microbe ‒ begins with the genome," says Jeff Chapman, CEO of biotech company MicroGEM. "Everything starts with DNA, transcribed into RNA, and then translated into proteins. If you think about it, most life science research has a nucleic acid component to it."
While research often starts with a complex sample, such as blood, tissue, a plant stem, a whole insect, or cultured cells, the aim is often to extract the nucleic acids – the DNA and RNA – from it. It lies at the core of almost all biological research.
Addressing the challenges of traditional nucleic acid extraction methods

MicroGEM has developed a nucleic acid extraction technology that uses a temperature-driven enzymatic approach to avoid many of the challenges of traditional nucleic acid extraction methods. Conventional methods can take hours to complete, use harsh chemicals and require multiple purification steps. The company's ultimate goal is to create a technology that can be used by anyone in- and outside of the laboratory. "We build upon the idea of bringing nucleic acid extraction from the hands of a few to the hands of many," Chapman explains.
MicroGEM's approach uses a single tube, which cuts the overall process time, lowers costs, and reduces the risk of contamination, an issue that many researchers struggle with when using the multiple steps of traditional extraction methods. The single tube can also be used in a standard thermocycler. Moreover, MicroGEM's nucleic acid extraction method reduces the potential for sample loss, which can occur during conventional extraction processes, enabling the use of very small sample sizes. 
"We've perfected the step-by-step process," Chapman explains. "The first step was to simplify sample preparation and address those challenges of traditional extraction methods faced by many labs, whether they are in food, agriculture, forensics, medical research, or biopharmaceutical R&D. Thereby, we have established the potential to create devices that can be used outside of the lab by non-molecular biologists."
Watch a video about the use of portable genomics for the detection of plant viruses and pests
Using extremophiles for nucleic acid extraction

MicroGEM's single-tube nucleic acid extraction method works with the help of enzymes found in extreme environments, such as hydrothermal vents. "Our story starts with a small group of scientists from Waikato University in New Zealand that comprised an enzymologist, mycologist, and a molecular biologist," says Chapman. "These explorers went across New Zealand and Antarctica in search of extremophiles, which could then be used as tools for molecular biology."
Over a period of 20 years, the researchers built a proprietary collection of more than 2000 extremophiles. Their expeditions resulted in the development of a purely enzymatic nucleic acid extraction method, which integrated sample preparation into the process.
"The 'micro' in MicroGEM refers to microfluidics and the 'GEM' refers to genes, enzymes, and microbes," Chapman explains. "These genes, enzymes, and microbes are at the core of our abilities to extract nucleic acids and create content for molecular assays. The microfluidics, on the other hand, provide the technical foundation upon which we can integrate sample prep, analytics, and informatics into devices that anybody can use."
Democratizing science: moving from the bench to the field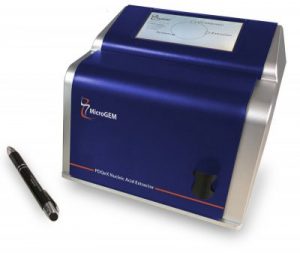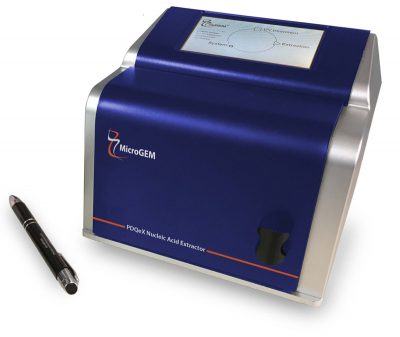 While sample preparation had to traditionally be done in a laboratory because of the need for complex tools, MicroGEM's vision is to enable sample preparation and nucleic acid extraction out of the lab. For this reason, the company developed a portable device called the  PDQeX Nucleic Acid Extractor, which can be integrated into an existing lab's workflow or outside the laboratory.
"The customer literally only has to place their sample into the extraction tube, add the enzyme, and then simply place the tube into our nucleic acid extraction device, PDQeX, where temperature is used to extract the nucleic acids within 10-20 minutes," explains Chapman. "Once the extraction is complete, the nucleic acids can be used for a number of different molecular assays, such as PCR, qPCR, STR, and next-gen sequencing. The PDQeX can be battery powered or plugged in and is so small, it can be used pretty much anywhere."
Just recently, an international group of researchers representing the Cassava Virus Action Project used the PDQeX in Uganda, Tanzania, and Kenya to identify the presence of cassava viruses in cassava plants and whiteflies carrying the cassava virus. These viruses can greatly impact the yield and destroy the cassava plants.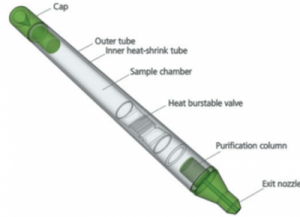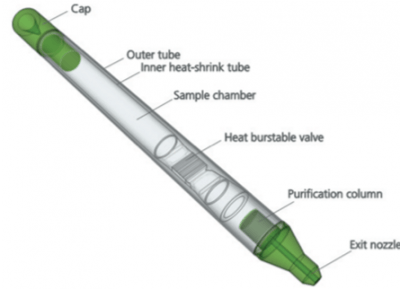 "The scientists literally went to the field and set up the technologies under a tree on a blanket," says Chapman. "They were able to identify the presence of cassava virus using our nucleic acid extraction technology and the collaborator's nanopore sequencing device. As a result, they were able to show the farmers which plants were clear of infection and which ones were infected and had to be discarded."
This example shows that MicroGEM's technology was able to address a point of need outside of the laboratory. "This was in the field, in low-resource countries, where not a lot of molecular techniques are available," says Chapman. "Another similar situation would be, for example, checking for pathogens in the food industry."
The future of nucleic acid extraction
MicroGEM is democratizing molecular biology by developing devices that will allow anyone, whether researcher or layperson, to tackle complex biological problems such as measuring gene expression, detecting specific viruses, or authenticating food attributes or components. 
"The drivers for our nucleic acid extraction method are speed, preventing contamination, improving extraction efficiency, and allowing the analysis of small sample quantities," says Chapman. "All of these properties are enabled by temperature-driven enzyme reactions in a single tube. This means that the process is simple, which opens the door for non-technical personnel to process complex samples. In the future, nobody will need technical expertise or the laboratory to do nucleic acid extractions and analytics."  
Are you working with nucleic acid extraction and often feel frustrated by lengthy timelines, costs, or contamination? Discover how MicroGEM is helping researchers address these challenges and check out the latest publication and video here!
Images via Shutterstock.com and MicroGEM
Author: Larissa Warneck, Science Journalist at Labiotech.eu