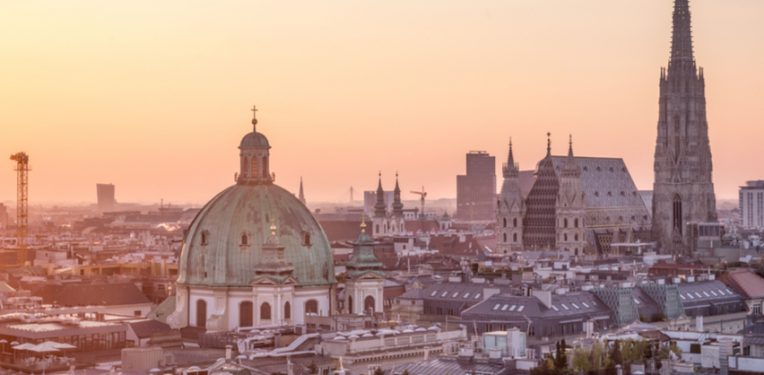 We've just finalized our next stop for Refresh, so watch out Vienna, we're coming for you!
Vienna is a hot spot for vaccine development in Europe and is home to some great biotech companies such as Arsanis, Hookipa, and AFFiRiS. Importantly, it is also home to some outstanding beer and the world famous Wiener Schnitzel.
We are inviting you to join us and the rest of the Viennese biotech gang for a relaxed biotech meetup on the 24th January 2018. Get ready to meet some great people, listen to some awesome speakers, and enjoy some free beer. You will be able to find us at the Vienna BioCenter looking super cool in our Labiotech t-shirts 😎.

What to expect?
Relaxed after work event
2 fireside chats with awesome speakers (one local, one not)
Networking opportunities with the biotechnologists in your area
130 attendees
Free entry
Free beers and snacks
The unique Refresh vibe
Speakers
Our first speaker is Joern Aldag, CEO Hookipa Biotech. Joern has definitely not had a dull career. Not only is he the CEO of Hookipa Biotech, but he is also Chairman of Molecular Partners AG and a member of the Board at Unum Therapeutics where they are both developing next-gen immuno-oncology therapies. Before all of this, Joern was the CEO of uniQure N.V in which time they received the first-ever approval of a gene therapy product by the EMA, the President and the CEO of Evotec-AG where he listed the company on the Frankfurt Stock Exchange and NASDAQ, and the co-founder of G7 Therapeutics which was sold to Heptares in 2016.
Our second speaker is Peter Llewellyn-Davies, CFO, and CBO of Apeiron Biologics. Peter is a Brit who escaped Brexit by moving to Vienna and joined Apeiron last October. Apeiron is one of only 3 Austrian companies to have a product approved and the only Austrian immunotherapy product from a Biotech on the market. Apeiron also develops next-gen checkpoint inhibitors. Peter is also a member of the board at Shield Therapeutics plc in London where they IPO'd in 2016 and also a board member of Sygnis AG, who transformed their business model with a reverse merger. Before this, Peter was CFO and CBO of Medigene AG, who successfully transformed their business model to immuno-oncology, CFO of Wilex AG where he listed the company on the Frankfurt Stock Exchange, and the founder of Accellerate Partners which has been supporting Biotech growth since 2012.
---
Remember to leave your tie/blazers at home so you can chill out and be a biotech nerd in comfort.
To reserve yourself a spot, subscribe to our Meetup page and click attending. You can also add a plus one (or two) if you have a nice friend 😉 Spaces fill up really fast so you have to get in quick.
Check out what happened last time:
What happens if I miss out on this Refresh?
That is very sad. But we will definitely try to come back as soon as possible! Send us a request and we will see if we can make it work. Alternatively, feel free to sneak into one in a different city 😉
Do you want us to come to you? Don't hesitate to tell us! You can send in a request by filling out this form.
If you have any questions then feel free to send me a message at katherine-at-labiotech.eu.