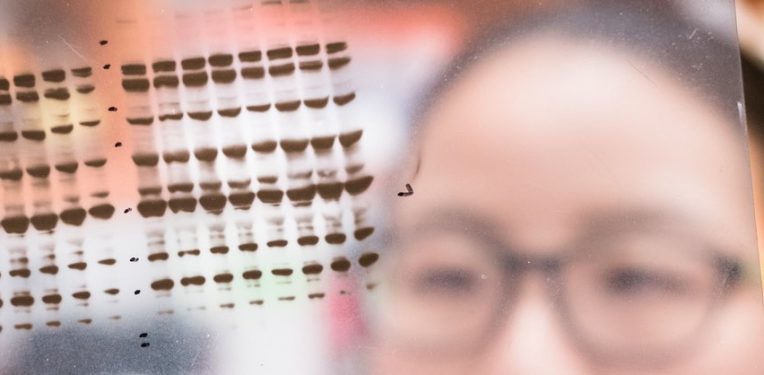 Even if you have a protein profile, you still need its activation pattern. A new technology of bead-based phosphoprotein immunoassays can map a lot of them.
Despite the massive effort to understand disease on a genomic level, it doesn't seem to be paying off. The number of research papers published on the topic has been steadily increasing, but the number of new drugs hasn't kept up; in fact, it has been decreasing. At least in part, the gap seems to arise from the poor predictive power of genomic analyses.
Much as we know that having a certain gene doesn't doom a person to a certain biochemical fate, expressing this gene doesn't necessarily guarantee that fate either. What happens in the space between the gene and the disease is still largely shrouded in mystery, and it is now the subject of intense proteomics-based research efforts.
After a protein is translated, it can be marked in a variety of ways for everything on the spectrum of degradation to activation. These marks, known as post-translational modifications (PTMs), thus play important roles in cellular signaling and the processes that eventually drive pathogenesis and a patient's response to a medicine.
Expression of proteins is traditionally investigated with Western blots, but this method is not scalable. It is only practical for the analysis of a dozen proteins at most. Global mass spectrometry profiling, on the other hand, is not yet ready for routine profiling from low sample amounts.
NMI TT Pharmaservices has come up with a solution to this problem — DigiWest, a proprietary immunoassay technology for comprehensive mapping of protein signatures. As a subsidiary of the Natural and Medical Sciences Institute (NMI) at the University of Tübingen, the company provides contract research services around cell-based models, bioanalytics and electrophysiology. Out of their strong protein profiling unit, NMI scientists have published the progress of the technology in Nature Communications, and the company has now launched DigiWest.
DigiWest's capabilities hinge on a smart combination of the good old Western Blot with the Luminex bead technology. The technology builds on traditional gel electrophoresis and blotting and then uses beads to retain the proteins' molecular weight information and 'multiply' the assay. This capacity translates to such that up to 600 antibodies per sample can be analyzed at the same time.
While a Western blot can give you data on only a handful of proteins, this assay yields data on hundreds. Clients can take advantage of this technology to map multiple pathways, to gain insight into a drug's mode of action or to identify biomarkers.
CPO, a biotech company based in Berlin, applied DigiWest in the context of their primary patient-derived 3D cell models (PD3Ds), which they use to test drug candidates. The company sent samples to NMI TT, who then analyzed 122 total and phospho-proteins in different patient tumor-derived cell models. The result? NMI TT characterized individual and distinct protein signatures that CPO can now combine with further drug testing and NGS sequencing to eventually identify individualized precision therapies.
NMI TT Pharmaservices has focused on translating research in signal transduction to a comprehensive picture of these pathways by capturing key players in the activation space. As the company scales up to include new antibodies, its capabilities of analyzing other PTMs are also expanding.
DigiWest is combining the best of both worlds of sensitivity and complexity, to generate comprehensive cell signaling patterns. For those working on new therapies, this information offers a leap ahead and beyond genomics, to better identify the mode of a drug's action, possible side effects and its most suitable patient populations.
For more application data and an online webinar, please head to the DigiWest website, or simply drop the company a line.
---
Images from DigiWest and SINITAR / shutterstock.com