We're traveling to Glasgow, UK, this week. The biotech 3F BIO is using fungi to convert plant sugars into proteins in a process that uses less than half of the water and feed that farming animal meat requires.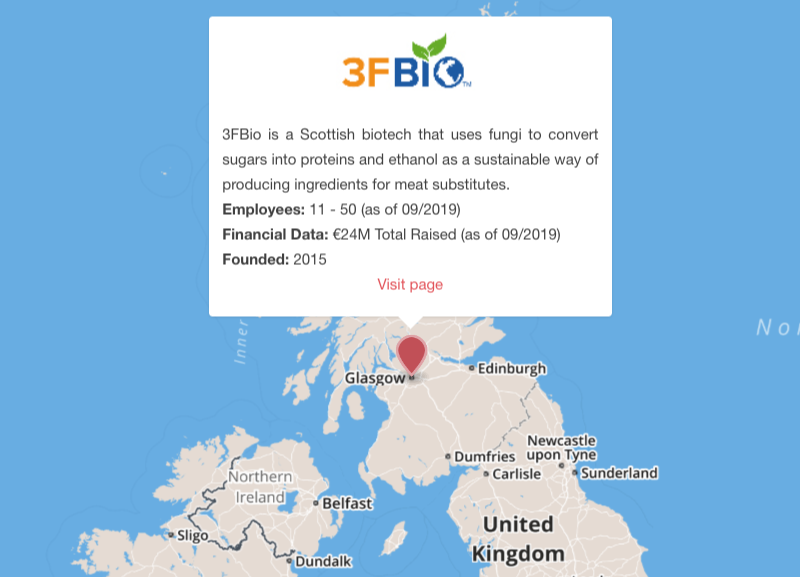 Mission: To turn plant sugars into proteins using fungi, which could help to feed the growing world's population more sustainably than traditional agriculture. Moreover, 3F BIO aims to use the waste products from its fermentation process to make ethanol, reducing waste to zero. 
The worldwide demand for meat is ever increasing thanks to the growing world population, and increased prosperity in developing countries such as China and Brazil. The livestock industry is expanding to cope with the demand and global meat production is expected to hit 376 million tons by 2030. However, producing meat through traditional farming requires huge amounts of water and feed. This creates a need for protein alternatives that can meet the growing demand more efficiently.
3F BIO is developing a method to produce an efficient alternative for animal protein. The company takes sugars from food crops such as maize and wheat, and feeds them to an undisclosed species of fungi to grow a protein-rich ingredient called Abunda mycoprotein. According to 3F BIO, the process uses over 90% less feed and water than beef production, and over 50% less than chicken meat. When Abunda mycoprotein launches, 3F BIO plans to sell it as a protein ingredient for client companies to add to their meat substitute products. 
According to the CEO of 3F BIO, Jim Laird, the company chose to make mycoprotein rather than other types of protein because mycoprotein is already a common ingredient in popular meat substitute foods. "This is because of its natural meaty texture which is due to the combination of both high quality protein and fibre," he told me.
3F BIO is part of a pan-European project to get this technology off the ground, along with other companies including the Dutch Mosa Meat, which grows meat from animal cells in the lab. The technology is currently at the pilot scale, and the partners aim to construct an industrial plant by 2021. According to Laird, this plant will begin producing 16,000 tons of protein per year and could have the capacity to eventually increase production to 50,000 tons per year.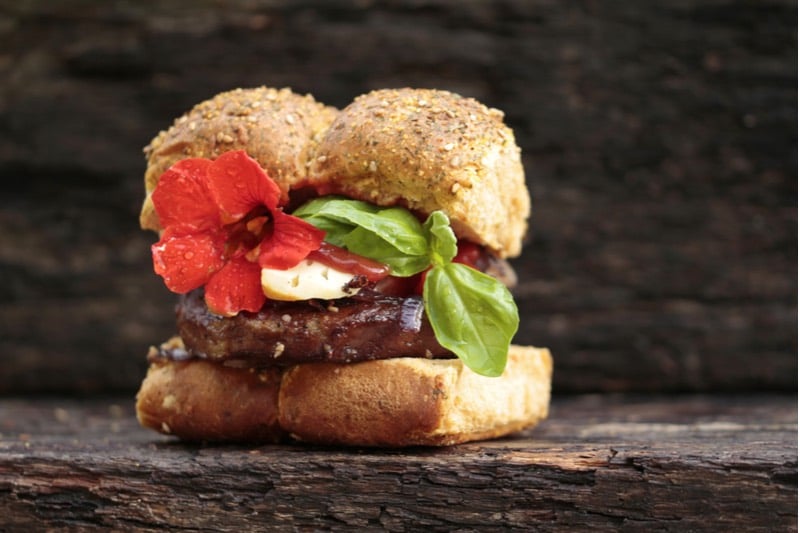 "The real challenge for sustainable protein is to be scalable to meet the growing plant-based meat demand," Laird said. "Recent examples of plant-based products in restaurants such as KFC and Burger King have highlighted the need for scalable supply chain solutions, which can produce millions of tonnes per year."
What we think
Traditional meat production requires lots of water, energy and land, especially in the case of beef. It is also a huge source of greenhouse gases such as methane. 3F BIO's protein alternative could help food industries around the world to become more sustainable. Given the sheer size of the meat industry, the company has a lot of work to do before its 16,000-ton plant can make a dent in this market.
One advantage of 3F BIO over other companies using microbes to produce meat alternatives, such as the Finnish biotech Solar Foods, is that its technology has the potential to reach the market faster, as mycoprotein is already used in many meat substitute products around the world. Furthermore, 3F BIO is working on a 'zero waste' fermentation system. In essence, instead of throwing away unfermented waste sugars from the fermentation process, 3F BIO captures them and refines them into ethanol and feed products in a parallel process.
Like 3F BIO's partner Mosa Meat, many companies are working to reduce the need for animal farming by culturing animal muscle cells in the lab. While this technique has historically been pricey, the costs are beginning to fall with advances in technology. In the future, 3F BIO could be involved in the production of 'cultured meat' using its mycoprotein as an additive to make it taste more like meat.
"Abunda mycoprotein's natural texture can provide a scaffold which, when combined with the cultured cells, creates a product that is both delicious and delivers the taste profile that consumers are familiar with," he explained.
---
Images from Shutterstock