Today we're in Ghent, Belgium, home to several successful biotechs, including Ablynx, to visit ADx Neurosciences. The biotech specializes in biomarker assays for the detection of neurodegenerative diseases.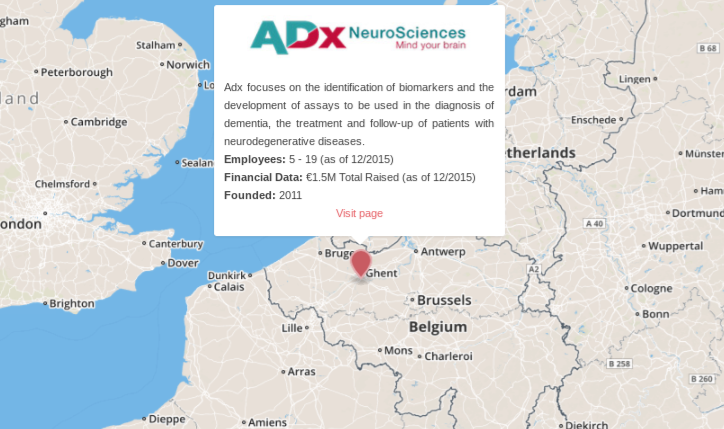 Mission: Founded in 2011, ADx Neurosciences focuses on the development of antibodies to detect biomarkers in the diagnosis of neurodegenerative conditions from Alzheimer's and Parkinson's to traumatic brain injury. The anitbodies identify molecules involved in neurodegenerative diseases such as amyloid beta and α-synuclein, which could help diagnose diseases before the symptoms appear.
ADx is developing assays for its biomarkers in collaboration with in vitro diagnostics companies. The technology can then be used to help pharmaceutical companies determine which drugs are worth moving into clinical trials from preclinical studies.
Comment: The potential of ADx's technology to expedite the diagnosis of neurodegenerative conditions comes at an opportune time, as biotechs increasingly consider whether targeting the disease early is the key to getting treatments to work.
Biomarkers do have limitations, such as the high cost of CNS biomarkers or invasive procedures associated with them. However, the technology could improve diagnosis and treatment for patients for which few or no alternatives exist, as is the case in Alzheimer's. An effective biomarker may help bring a successful drug for Alzheimer's disease to the market.
---
Image by ANADMAN BVBA/Shutterstock