This week we visited the Scandinavian summer and had a look at the Swedish biotech Oxthera, which is developing cell- and enzyme-based therapies to treat hyperoxaluria.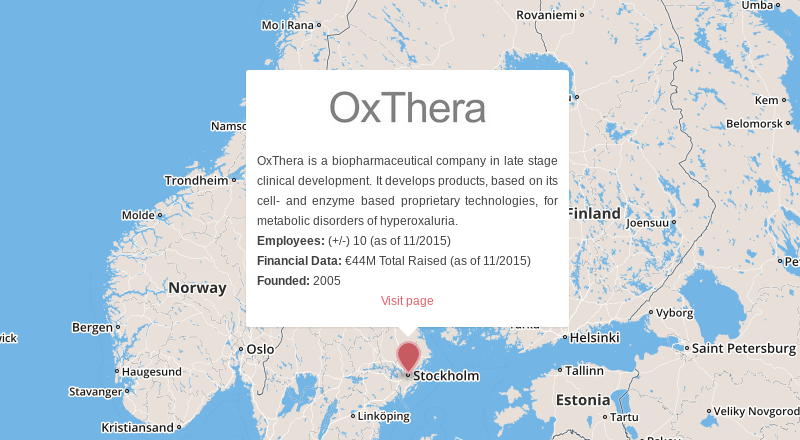 Mission: Stockholm-based Oxthera is currently advancing two late-stage clinical products for the treatment of primary and secondary hyperoxaluria, a kidney disease that is caused by the build-up of oxalate in plasma and urine. Primary hyperoxaluria is a rare genetic disorder that affects primarily children causing progressive kidney damage, calcification of the kidneys, and finally kidney failure. Today there is no curative treatment available.
Oxthera's lead asset Oxabact consists of an orally delivered composition of live bacteria, Oxalobacter formigenes. This natural gut bacterium relies exclusively on oxalate as a substrate to obtain energy and is able to promote the removal of endogenously produced oxalate in the intestines.
Comment: Oxthera's Oxabact is currently completing Phase II trials and the biotech recently raised a massive €32M from investors like Dutch LSP and Spanish Ysios Capital to fund a Phase III pivotal study for Oxabact. In addition, the biotech holds orphan drug designations from both FDA and EMA.
Oxthera's main competitors include US-based Alnylam Pharmaceuticals and Dicerna, which are both using RNAi approaches to tackle primary hyperoxaluria and are in early-stage clinical trials.
---
Images via shutterstock.com /  leoks and CHIARI VFX