This week we visited the Norwegian PCI Biotech. Based in Oslo, this company has developed a light-sensitive technology, which allows to activate cancer drugs at specific sites of the body by targeted illumination.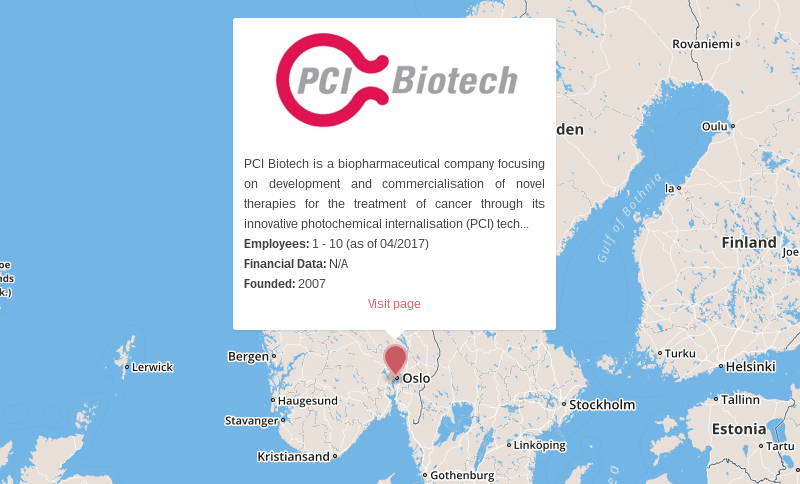 Mission: PCI Biotech focuses on the development of new therapies for the treatment of cancer based on its photochemical internalisation (PCI) technology. The PCI technology consists of a photosensitising compound. During uptake of therapeutic drug molecules by endocytosis, the photosensitiser becomes incorporated into the endocytic vesicles. Following illumination with light, the photosensitiser becomes activated, which disturbs the integrity of the endosome and causes the drug to be released into the cytosol where it can reach its target of action.
The company is applying its PCI technology to chemotherapeutics as well as therapeutic vaccines and nucleic acids. Its most advanced project is in Phase II development for bile duct cancer and teams up its PCI technology with the chemotherapeutic agent Gemcitabine.
Comment: With its unique technology, PCI Biotech can tackle a major obstacle of drug delivery – namely the release of endocytosed drugs and nucleic acids into the cytosol. PCI has been shown to potentiate the biological activity of a large variety of macromolecules, which usually don't readily penetrate the plasma membrane. The biotech is also planning to move into the clinic with its immuno-oncology program, which combines PCI with anti-cancer vaccines. Sounds like PCI Biotech's technology holds high promise to unlock the full potential of existing and new cancer therapeutics.
Check out the video below to see how the technology works.
Images via shutterstock.com / Vadim Petrakov