Each year, BIO Philadelphia awards the Everyday Superheroes of Biotech Industry. Here's the story of Bernard Muller, co-founder of Treeway, a Dutch biotech company focused on the treatment of Amyotrophic lateral sclerosis (ALS). Bernard Muller is an extraordinary person, being himself a ALS patient and an entrepreneur who started his own Biotech company.
Last week, we were talking about the world's biggest biotech congress, which took place in Philadelphia. Besides organizing conferences, meetings and shows, BIO also awards the key actors of the industry. The Everyday Superhero Biotech prize offers members of the biotech community the opportunity to nominate their best and brightest colleagues striving to heal, fuel, and feed the world through groundbreaking innovations. Finally, the lucky nominated are submitted to a public vote. This Award is a prize giving the winner and his company considerable visibility.
This year, in the Pharma/Biotech group challengers were:
Neal & Louisa Carter for the creation of the first biotechnology-based tree fruits delivering product innovations that benefit the whole supply chain, including consumers.
J. Joseph Kim for being a leader in the development of DNA vaccines.
Bernard Muller for his contribution in the fight against Amyotrophic lateral sclerosis (ALS).
Melinda Richter for her contribution to reducing cost and infrastructure barriers commonly faced by biotech entrepreneurs, enabling passionate individuals to bring better solutions to succeed in their business.
George Savage for being a leader in digital medicine with the goal to improve treatment outcomes that are both affordable and scalable.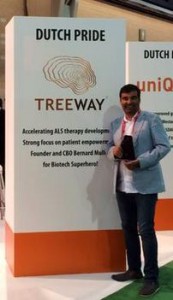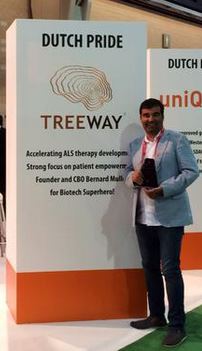 This year, the Everyday Superhero Biotech 2015 prize went to Bernard Muller. This entrepreneur is a so-called PATIENT 3.0. He is simultaneously a patient, advocate, fundraiser, researcher and drug developer… Bernard Muller was a successful entrepreneur in the maritime & oil industry before he was diagnosed with ALS back in 2010.
Taking his diagnosis as a challenge, in 2012, he co-founded the world's largest genetic research project for ALS, project MinE. The same year, he also launched Treeway, a Dutch biotech company. The company is trying to bring successful treatments to ALS sufferers. In a short period of time, it managed to bring its lead candidate TW001 to Phase III clinical trials.
ALS may be classified as a rare disease, but is the most common motor neuron disease. Today, in Europe, the disease affects about 2.2 people per 100,000 every year, and more than 5 600 people are diagnosed each year in the US. ALS is characterized by the death of neurons, not only leading to muscles stiffening and twitching, but also to a gradual weakness increase due to muscle wasting, leading to an average survival of three to four years after diagnosis of the disease.
By looking at this unmeet medical need, we can only wish the best success to Treeway. As a front fighter of the disease, Mr. Muller deserve his title of Biotech Superhero!