MD Anderson is expanding its Immatics sharehold to spawn new Houston-based subsidiary Immatics US through investing into a $60M (€54M) pot. Also partnering up with French CAR-T pioneers Cellectis, and collaborating with German Merck, MD Anderson is seemingly wanting to immerse itself in the European immuno-oncology field.

As a shareholder in the German cancer immunotherapy company, Immatics, MD Anderson has siphoned off $40M into a pharma-baby, Immatics US. This is to be combined with a solid $19.7M grant from the Cancer Prevention and Research Institute of Texas (CPRIT) to focus their research on broad-spectrum adoptic cellular therapies (ACT). Also planted in MD Anderson's Texan territory, Houston, Immatics US is to utilise Immatics XPRESIDENT; a super-sensitive Tumor associated peptide (TUMAP) detection system dubbed the 'target discovery engine' capable of detecting TUMAP presence down to 10-18 Moles. XPRESIDENT combined with MD Anderson's ACT expertise has been used to develop the following ACT methods, which are hoped to be practiced in-clinic during 2016:

---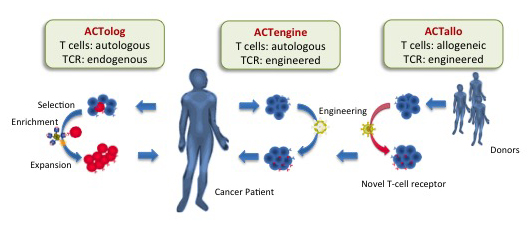 ACTolog – functions by using autologous T-cells harvested from the patient to target specifically identified TUMAPS
ACTengine engineers the autologous T-cell harvest to express specific TUMAP targeted receptors
ACTallo is the novel approach attempting to program non-patient specific cells (allogenic gamma-delta T-cells), a method developed by MD Anderson's Professor Laurence Cooper.
.
---
MD Anderson is also looking to involve itself in Cellectis pipeline development of CAR-T candidates which target specific cancers such as lymphocytic leukemia (ALL) and multiple myeloma (MM). Cellectis is indeed THE frontline for CAR-T dating back to 1999, and in fact the first biopharmaceutical company to approach gene editing. CEO of Cellectis, André Choulika, fronts that their approach to CAR-T is arguably more effective than other research pipelines, removing the requirement for harvesting of specific patient's T-cells first and thus making the treatment more efficient.
The downside is that this approach remains at the pre-clinical phase awaiting a breakthrough to lead onto human trials. It is for this reason MD Anderson has elected to once again get involved in order to really help Cellectis recover their umph after their 2014 brush with bankruptcy, and finally progress their CAR-T candidate series (UCART) forward to clinical trials.
---

---
Indeed, MD Anderson is also conducting some combinatorial studies on Merck's checkpoint inhibitor Keytruda, the first FDA approved prescription immunotherapy used to treat advanced melanoma, which works by blocking the cancer cells masking-mechanism (aka the program death receptor-1 pathway).
By supporting European biopharmaceuticals such as Immatics, Cellectis and Merck, MD Anderson is looking to really make advances in the Immuno-oncology field as part of it's global-mission. It is encouraging to see more of these practical partnerships spring forward, rewarding these proactive acts of academic solidarity in the battle with Cancer.
---
As part of Labiotech tour, we interviewed the CEO of Immatics for a profile on the Biotech Map (here).