What was AbbVie thinking? Backing out of a $1.4Bn deal to support Belgian biotech Galapagos' rheumatoid arthritis candidate through its phase III, means NASDAQ stock is plummeting in value since Friday. With plans to work on its own phase II candidate instead, AbbVie is losing out on the potential of filgotinib, which will surely have a new biotech sponsor in their place by the end of the week.

The Galapagos story has been very positive until recently, with a €1.2Bn investment coming from US AbbVie for their JAK1 inhibitor, filgotinib. With strong phase II results for treatment of up to 900 patients with rheumatoid arthritis, filgotinib stirred an initial rush from pharma giants AbbVie and Johnson&Johnson, both of which who has rheumatoid drug patents due to soon expire.
This investment followed a more-than successful IPO launch into the US market, which smashed the IPO target of €134.3M in a public 'bubble' to become the largest Euopean biotech IPO on the US market ever at €240M. So, after Abbvie sealed the deal to collaborate with Galapagos on this new rival to Humira (AbbVie's rheumatoid patent soon to expire), it has committed an unprecedented U-turn on its word, causing Galapagos stock to drop by 39% (in Amsterdam) following its announcement to jump ship on Friday.
What could be the logic behind AbbVie's decision to pull out?
AbbVie has justified its decision as a cost-saver, instead moving on to develop its new phase I candidate for rheumatoid (ABT-494). Also a JAK1 inhibitor, it is not exactly clear how opting to wait longer for a phase II candidate is better than pushing an already well-established phase III filgotinib to the finish line – especially regarding the time constraints over Humira's patent expiry.
This isn't necessarily a disaster for Galapagos though, who have bounced back from flaky collaborations before (e.g. GSK in 2014). Also, Galapagos has shown that filgotinib is actually 3 times more selective than AbbVie's ABT-494, so this appears to be AbbVie's loss. Indeed, despite share value price dropping as much as 39% in Amsterdam (NL – one of the two EU countries in which Galapagos are listed), and 18% on NASDAQ, Galapagos is sure to re-build what it has (temporarily) lost.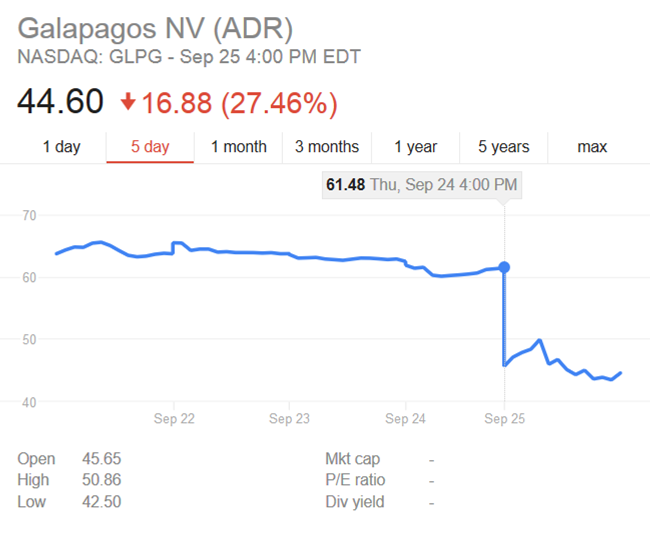 Galapagos says that discussions are underway with up to half a dozen potential new collaborators, who are eager to get in on their filgotinib drug. So, don't freak just out just yet – the stock market should level out soon.