This is what the founder & CEO Jean-Paul Clozel of Actelion (Switzerland) said at the announcement of the 2015 financial results for the company. And it's definitely true.
Actelion is the only European born biopharma to have over 1K employees (in fact over 2,547 of them). This is already a big achievement but not their greatest…
For example, in 2015, Actelion made over 2Bn CHF (€1.82Bn) of sales – a growth of core earnings grew by 14% since 2014. All these results have been driven by the excellent sales of Opsumit (25% of the results) and its other historic product Tracleer (bosentan), amounted to 1.2M CHF (€1.09M).
Tracleer however, faces a decrease of 11% in regards to last year because of a 'sharply' decreased enrolment of new patients. This is due to an increase competition of generics even though Actelion extended its patent protection in most of the EU countries.
Actelion also got other smaller products approved (all under €100M in total sales) with all products either having stable or decreased sales.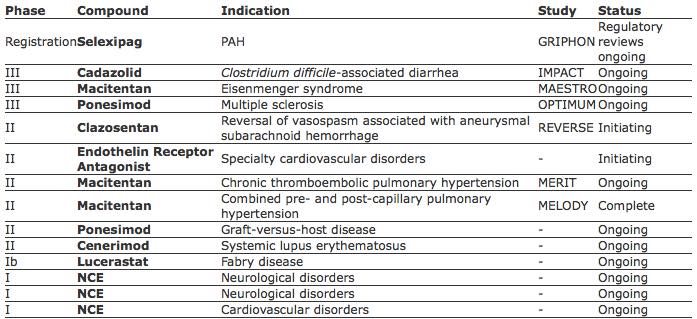 Overall, the Swiss hypertension specialist generated most of its revenues from Opsumit and Tracleer, with one increasing and another decreasing respectively.
This could be a problem if the pipeline of the company was weak. But that is not the case.
The company has one drug in registration phase on this specialty market, Pulmonary Arterial Hypertension (PAH), as well as three Phase III compounds..
All these positive numbers leads the company to flatter its shareholders. The market cap of the company increased by 20% over the course of the year to be at 15.9Bn CHF (€14.47) by the end of 2015. Even better for shareholders, the Board of directors will propose an increased dividend payments.
The stock markets positively welcomed the results – the stock price increased by 4% after the announcement.
This is great news for this Swiss company. When I talked with an executive at Actelion (for the review on Rare disease), he told me how the company was driven by staying independent and growing. Actelion showed this in June when it refused a €16.8Bn offer from Shire and it now has the results/data to grow even further.