GSK has backed Adaptimmune in the development of their adaptable NY-ESO SPEAR T cell cancer therapy, causing an 11% jump in their premarket value.
Adaptimmune has received support from GlaxoSmithKline (GSK) for the development of their NY-ESO SPEAR T cell, which will hopefully treat a range of different cancers. The British pharma giant will pay milestones of up to £48M (€52M) during the transition period, with further payments planned for successful continued development and commercialization.
T cells struggle to identify cancer cells, but Adaptimmune's technology engineers T cells to recognize cancer proteins and increase their affinity for cancer cells. Adaptimmune selects cancer proteins and modifies the variable regions of T cells by producing new sequences in the complementarity determining regions (CDRs).
In the case of Adaptimmune's NY-ESO SPEAR T cell program, T cells that recognize the cancer peptide, NY-ESO, are engineered. The T cells kill cancer cells expressing NY-ESO, and off-target effects to normal, healthy cells are reduced.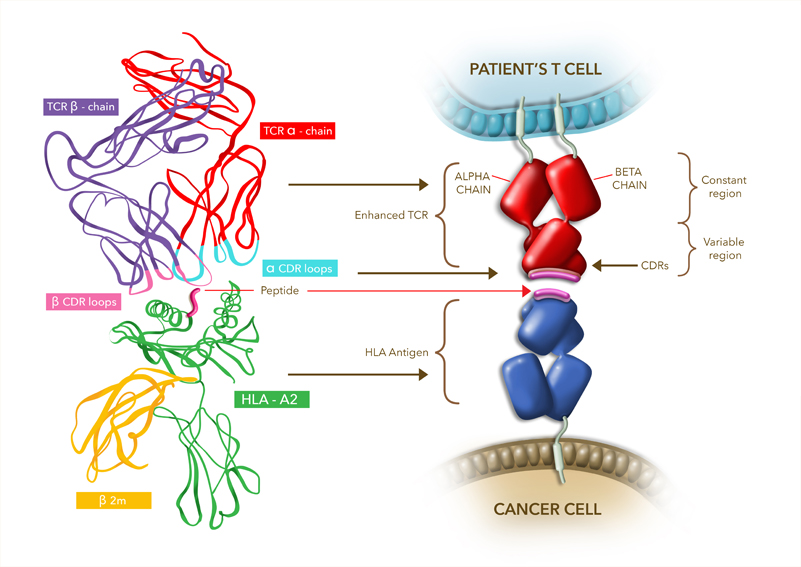 The interaction between a T cell and a cancer cell, highlighting the regions targeted by Adaptimmune's technology.
Despite an exciting concept, there have been a number of bumps along the way for Adaptimmune. The FDA put a partial hold on their clinical development in August 2016, and their decision to include fludarabine did not go down well with investors later the same year. However, it will hope that things are on the up, with a number of clinical trials underway and initial results showing a positive risk/benefit profile.
The field of cancer therapies leveraging the immune system is very busy. T cell techniques are particularly popular and could be key to finally tackling cancer safely and effectively. FDA approval of Novartis' CAR-T therapy, Kymriah, will only increase attention on the field. Kite Pharma, recently bought by Gilead for $11.9B (€9.9B) is another big player that is not far behind.
The ability of Adaptimmune to tweak their T cells to particular cancer proteins will help them to find niches within the field. They will have to hope that results from clinical trials continue to support their technology as a potential player in the future of cancer therapies.
Images – Christoph Bergstedt / Shutterstock.com; Adaptimmune.