Adaptimmune has initiated a phase I/II safety and tolerability study of its affinity enhanced T-cell therapy targeting the NY-ESO-1 cancer antigen in patients with non-small cell lung cancer (NSCLC).

Adaptimmune is developing the affinity enhanced T-cell therapy targeting the NY-ESO-1 antigen under a collaboration agreement with GlaxoSmithKline (GSK). Located in Oxford (UK) this clinical stage biotech is investigating around 30 intracellular target peptides (preferentially expressed in cancer cells), of which 12 are currently being progressed through unpartnered research programs.
Their NY-ESO TCR therapeutic candidate will be trialed in an open label clinical study for up to 10 patients with locally advanced or metastatic Stage IIIb or Stage IV NSCLC. To be eligible, the patient has to be of a certain allelic type to express the NY-ESO-1 tumor antigen, which will be targeted by the autologous T-cell therapy.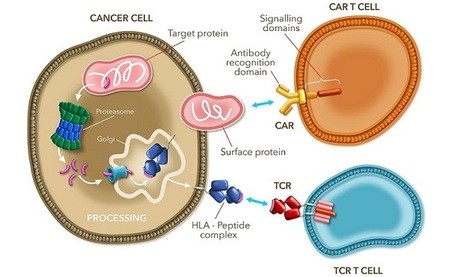 However, not all is bright and clear for Adaptimmune's future, despite a massive IPO of €156.7M in May. At the 14th BIO Investor Forum in San Francisco last month, Luke Timmerman (probably one of the best biotech journalists in the US writing for Forbes and his own 'Timmerman Report')  interviewed James Noble, the CEO of Adaptimmune. Noble mentioned that despite the hype surrounding TCR & CAR-T, stocks on the NASDAQ still hadn't been that great for Adaptimmune, and it isn't entirely clear why…
Indeed, the last year has proven to be a slightly discouraging trend for the €595M Oxford biotech, with prices hitting an all time low around mid-October (shares going for $7.28). This was surprising given its announcement of a brand-new expansion plan for the companies' Milton Park site in Abingdon (Oxfordshire) just 10 days beforehand.
I'm not so sure the dramatic impact on the whole of the Biotech NASDAQ scene (following a tweet by a certain someone..coughHilarycough) is the full-reason for this low…
Adaptimmune has also been listed as one of the most volatile biotech stocks to watch by News Oracle.
Perhaps in the coming weeks, the announcement of this trial for NSCLC (and the NY-ESO-1 therapy) will help it recover from the October dip, particularly seeing as this TCR platform has already pushed phase I/II trials for Synovial Sarcoma and Myeloma forward with promising results.
---
Feature Image 'It's Just Waves!' (Addition of TCR, Lungs and Euro Clip Art onto Art by Frits Ahlefeldt / Hiking Artist) @ www.hikingartist.com