Adaptimmune Therapeutics, an oxford-based company focusing on the use of T-cell therapies to treat cancer, announced today that data from its Phase I/II study in patients with multiple myeloma has been published in Nature Medicine. This is the first report on TCR engineered T-cell therapy that shows durable persistence in patients!
After its successful intoduction on the US stock exchange NASDAQ, where it grabed a huge €156.7M, Adaptimmune is now proving the superiority of its technology in a scientific paper.
The publication describes the results of a Phase I/II trial to evaluate the safety and activity of engineered T-cells expressing an affinity-enhanced T-cell receptor (TCR) targeting the NY-ESO cancer antigen. All enrolled patients had symptomatic myeloma, a terrible form of cancer with a low survival rate.
Encouraging clinical responses were observed in 16 patients having participated to the study. Out the 20 patients, 14 had a complete or a near complete response, and another two had a very good partial response  three months after the treatment still. A really good result compared to the 40% average response current treatments provide.
Even more encouraging was the proof of persistence of this therapy. The study demonstrated that a long term persistence of engineered cells in the peripheral blood was detectable in 90% of the patients who reached a two year follow up. These results are extremely promising as previous studies with engineered T-cells, were not able to demonstrate persistence and expression beyond one month.
The method of T-cell manufacture may be the key to unlock this persistence. Adaptimmune has induced a double stimulation of the T-cell receptor (through CD3 and CD28) to select younger T-cells and also to program them for a longer lasting expansion. Adaptimmune holds an exclusive license from ThermoFisher for this method.
On top of that, Adaptimmune has also demonstrated the safety of the therapy. Infusions were well-tolerated without clinical apparent problems. The safety observation is of significant importance for this kind of therapy. Previous studies led to significant safety concerns related to cytokine release syndrome (known as cytokine storm), or macrophage activation syndrome that over-activates the patient's immune system against its own body.
Adaptimmune is surfing on the immuno-oncology wave, a crowded field involving many different approaches. Where some companies, like Adaptimmune, Medigene or Immunocore -which by the way made the largest Europe's fundraising ever- have chosen TCR, others like France-based Cellectis or Celyad decided to develop CAR-T based therapies.
The two approaches are quite similar to one another, as they both harvest and engineer T-cells t before reintroducing them into the patient. Also, both techniques strive to same goal, namely to use the patient's own immune system to take on the disease. But TCR differs to other approaches on the antigen recognition. Unlike CARs, which use an engineered antibody fragment to switch on the T-cell, TCR therapeutics can target both intracellular as well as extracellular cancer target proteins. The capacity to do so takes the technique to an other level by significantly increasing the scope of targets.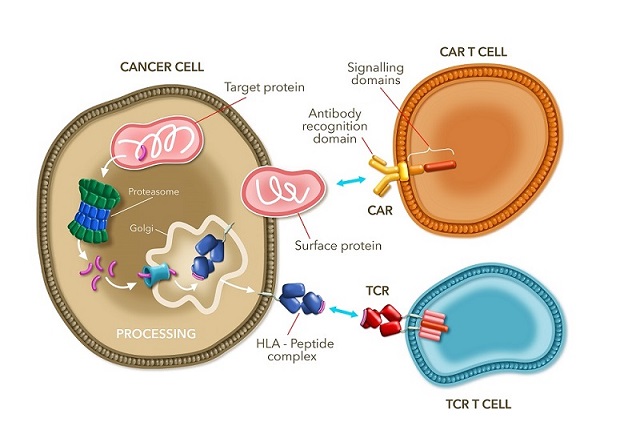 Withe this study, Adaptimmune has proven that its approach is well tolerated, safe and that patients are showing an immune response over a long period of two years. This can only give new hope to patients with advanced cancers. The next step for Adaptimmune now is too show the same results on a much larger population and prove once again its superiority over its immuno-oncology competitors.