ADC Therapeutics has received massive private funding to progress two of its lead candidates for cancer through clinical trials.
ADC Therapeutics, based in Lausanne, Switzerland, specializes in developing antibody-drug conjugates (ADCs) for the treatment of cancer. The technology uses the specificity of antibodies to deliver a therapeutic agent to target cells only. The biotech has announced that it has raised $200M (€170M) in a private fundraising. The biotech's offering was oversubscribed with both existing and new investors including Redmile and AstraZeneca, providing support.
The company's ADC technology combines highly specific monoclonal antibodies with pyrrolobenzodiazepine (PBD) dimer toxins. Once the ADC has bound a target cell and has been internalized, PBD is released and it binds DNA. It forms cross-links between the two DNA strands to block cell division and kill the cell. Importantly, PBD dimers do not distort the DNA structure, which helps them to escape repair mechanisms, giving lost-lasting activity.
Within 18 months, ADC Therapeutics hopes that the funding will help it to have 8 programs in clinical development. Among these, two candidates, ADCT-301 and ADCT-402, will enter Phase II trials in 2018. At the moment, both are being tested for use against lymphoma and leukemia. Additionally, ADCT-301 will be progressed into a combination study for solid tumors.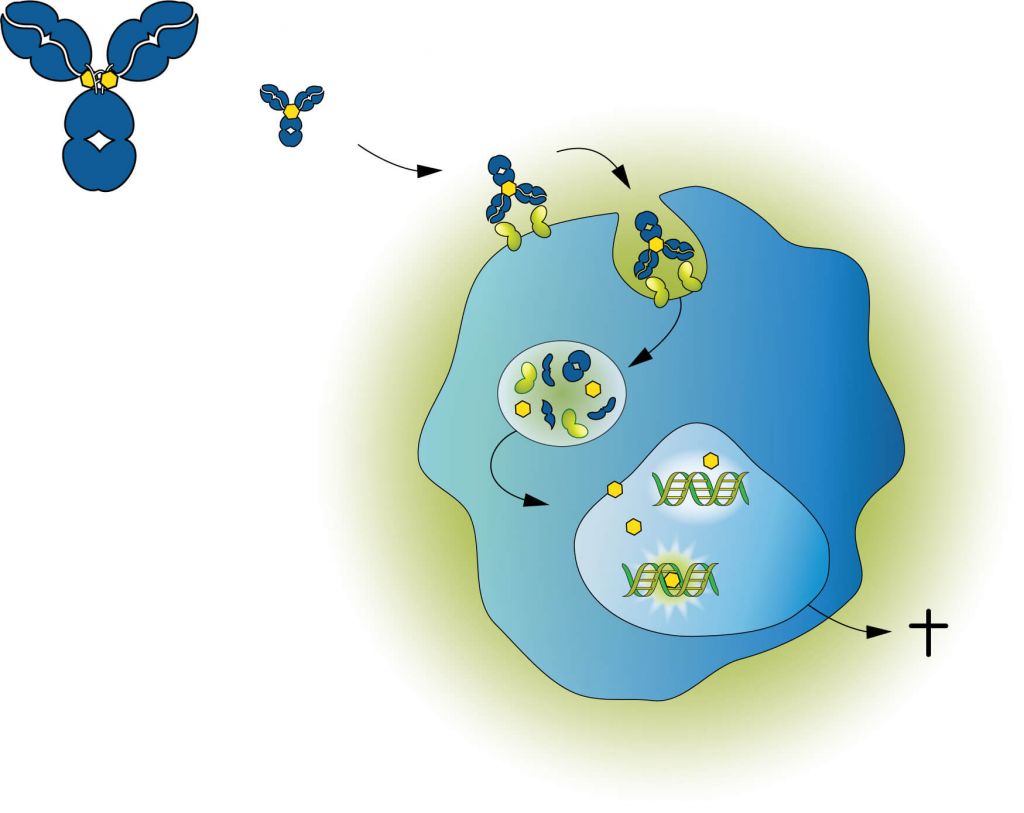 It has been a good few days for the cancer therapies field, with Kite becoming the second company to get FDA approval for its CAR-T therapy, Yescarta. ADCs are relatively well established, with a number of products on the market, including Kadcyla and Adcetris. Although ADC Therapeutics target the same cancer as Yescarta, diffuse large B cell lymphoma, the biotech believes that there is room for its alternative approach in the market, thanks to its easy delivery and cheaper price.
Chris Martin, CEO at ADC Therapeutics, highlighted to us what is so exciting about ADC technology: "They're more of a guided missile, where the antibody is the guiding system of a cytotoxic payload… ADCs combine the best of two modalities, toxic efficacy and antibody specificity. The result is an improved therapeutic window with fewer side effects."
While ADCs are well established as effective cancer treatments, the field is evolving with antibody development. Bicycle Therapeutics is developing a new generation of ADCs, but the use of antibodies does not stop there. Numab is developing multi-specific antibodies – which attracted  €241M from the Japanese company, Ono Pharmaceutical – and  Alphabodies' tiny proteins could drug the undruggable.
---
Images – media point inc / shutterstock.com; ADC Therapeutics