ADC Therapeutics has tested its antibody-drug conjugate technology in drug-resistant cancers, yielding encouraging results.
Swiss biotech ADC Therapeutics is one of our top biotechs of the year after it brought in a massive $200M (€170M) fundraising round. The company develops antibody-drug conjugates (ADCs) for the treatment of hematological cancers and solid tumors. Results from two Phase I studies assessing the candidate, ADCT-402, in tough-to-treat lymphomas and leukemias were presented at the annual American Society of Hematology (ASH) Meeting. The candidate has shown potential in the treatment of Diffuse Large B-Cell Lymphoma, demonstrating 60% overall response rate including a 35% complete response rate.
There are 2 main types of lymphoma: Hodgkin and non-Hodgkin lymphoma, the latter making up around 80% of all lymphomas. Diffuse large B-cell lymphoma (DLBCL) is the most common malignant lymphoma, which develops from B cells in the lymphatic system, accounting for around 30% of all non-Hodgkin lymphomas. Between 30-40% of all patients with DLBCL either fail to respond to initial treatment or relapse, highlighting the need for new and effective treatments.
ADCT-402 is composed of a humanized antibody that targets CD19, which is expressed on newly diagnosed and relapsed DLBCL, bound to a potent pyrrolobenzodiazepine (PBD) dimer toxin. The ADC binds and is internalized by cancer cells, before releasing PBD which binds DNA that forms cross-links between the two DNA strands to block cell division. Importantly, PBD dimers do not distort the DNA structure, which helps them to escape repair mechanisms, giving lost-lasting activity.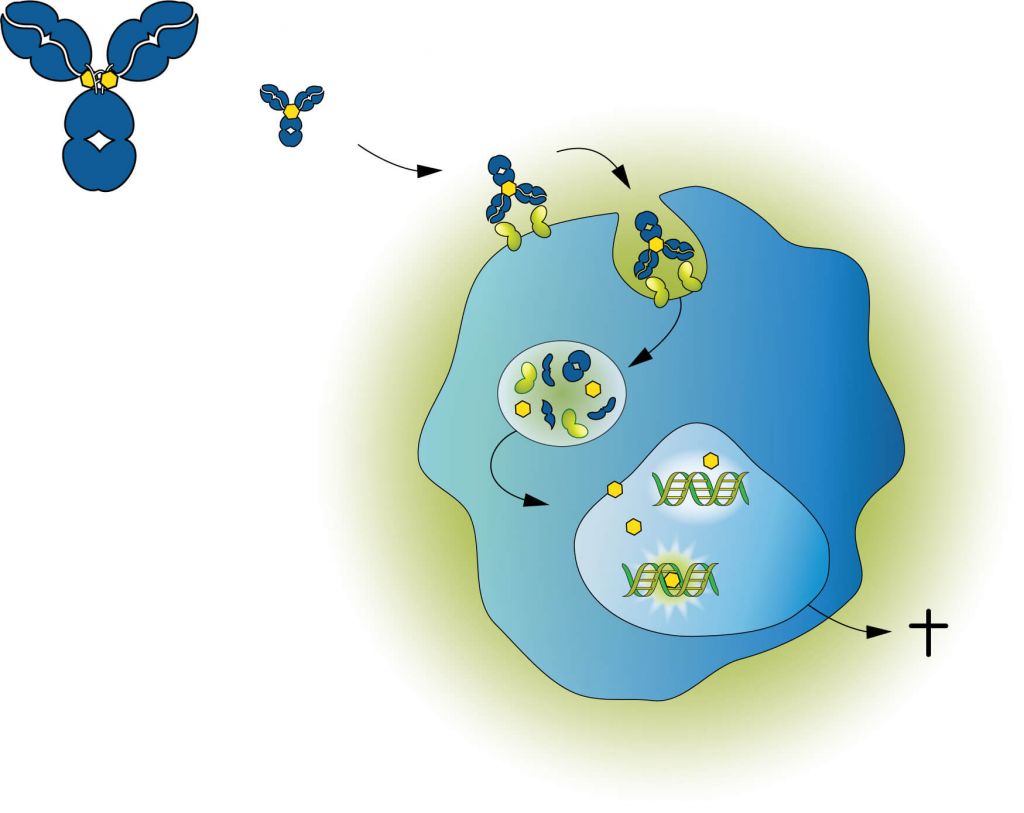 The study investigated ADCT-402 in a particularly difficult group of patients where previous treatment had failed. Despite this, it achieved a complete response in 35% of patients and a partial response in 25% of patients. It managed this while being well tolerated, meaning the company will now proceed with dose expansion studies.
If ADC Therapeutics can guide its candidate successfully through the clinic, it could set up an intriguing faceoff with Gilead's CAR-T cell therapy, Yescarta, which targets B cell non-Hodgkin Lymphoma. ADC Therapeutics is also playing catch up with MorphoSys, which received Breakthrough Designation from the FDA following impressive Phase II results for DLBCL.
There is a lot of hope for the use of ADCs in the treatment of cancer and ADC Therapeutics is working hard to bring its technology through the clinic – two candidates will enter Phase II next year, including ADCT-301, which has already shown impressive preliminary Phase I results. However, the company will have to be wary of new, exciting technologies that are emerging, including Bicycle Therapeutics' developing bicycle-drug conjugates – a potential successor to ADCs – and Complix's alphabodies  that have the potential to "drug the undruggable".
---
Images – LindseyRN / shutterstock.com; ADC Therapeutics