Biotech startups are risky. They need lot of cash to come across the very regulated clinical path and can fail rapidly when bad results show up. Addex Therapeutics, a Swiss Geneva-based Biotech company, has raised more than €200M throughout its existence and signed deals worth more than €1Bn with Merck and J&J. Yet, on the 31st May 2013, the company almost disappeared! At BIO-Europe, I had a talk with Tim Dyer, the co-founder and CEO of Addex Therapeutics. He told me the entire story and how he is getting the company back on its feet.
«We were a 428M Swiss franc market cap Biotech in 2007 and are now worth 35M Swiss francs. It's a disaster for our investors. » Dyer told me.
Dyer co-founded Addex Therapeutics in 2002. The firm specialized in small molecules focused on central nervous system (CNS) diseases. The firm raised 106M Swiss franc privately and IPOed in May 2007 on the Swiss stock market to raise 137M Swiss franc. It signed huge deals with Merck and Johnson & Johnson for more than a total of €1Bn in upfront and milestones. Addex Therapeutics was a world leading platform in CNS and could have become the next Actellion (one of the biggest independent european biotech companies, also based in Switzerland and counting 2000+ employees).
Unfortunately, the previous CEO did not take the best strategic decision (Dyer was CFO at that time). Back then, the company decided not to raise money but to partner with Pharma to further develop its lead molecule for Parkinson's disease. « It would have been a great strategy if the deals had been executed » commented Dyer. The company failed to deliver the promised deals.
The firm tried to get back into the market to raise capital, but only managed to raise €10M. « A negative feedback loop was in place » added Dyer. At that time, the company counted 55 people and had huge fixed costs and could not restructure fast enough and almost went bankrupt.
« The board asked me to lead the company as CEO and save it from Bankruptcy. Not an easy task ». He negotiated with creditors to become solvent again, raised 3.2M Swiss francs for the rescue and went from 18 to 0 employees.
« Did you see the announcement we did this morning? » Dyer asked me. I had not read anything and asked for more information. « We just raised 2.8M (on March 9th) which should allow us to run until the end of 2017 » he concluded on a happy note.
« Our strategy has now completely changed. »  He virtually runs 100% of the company and wants to value the assets and data it generated from the 300M invested so far. « We want to unlock the value for our shareholders and bring high return on investment for new shareholders ». Indeed, new shareholders are investing at a lower level today compared to the amount invested to date, and profit from all the information.
 Dyer then showed me the company's pipeline.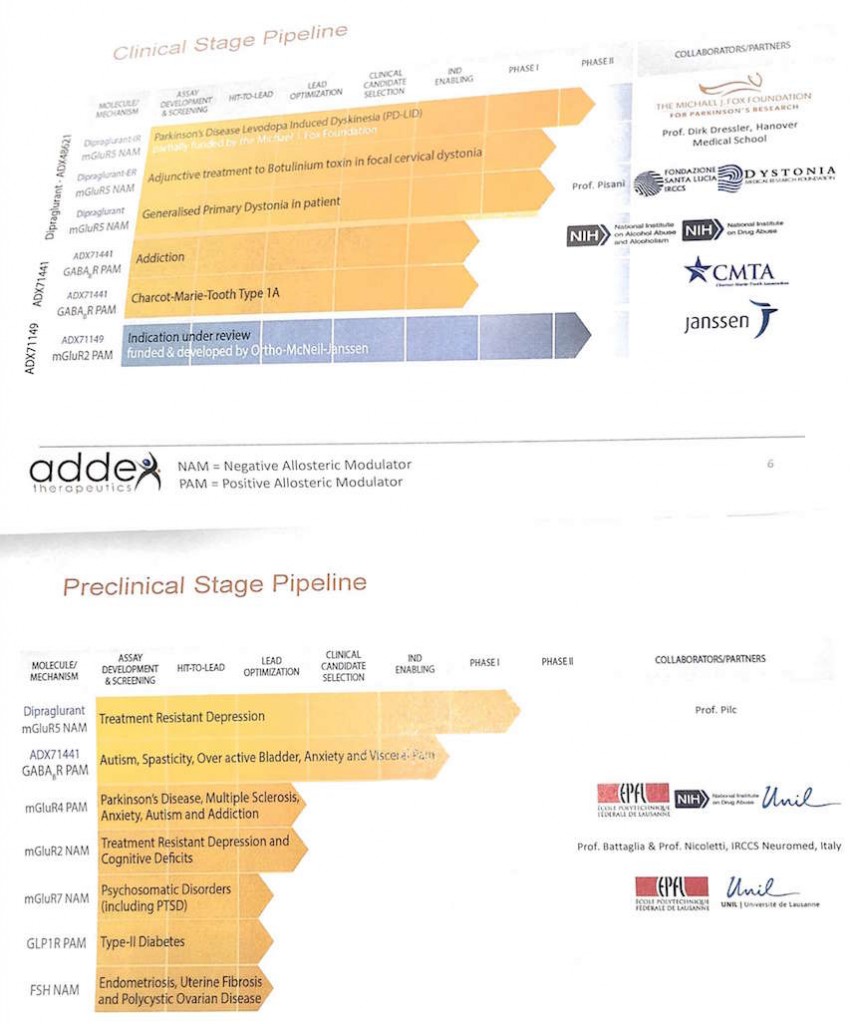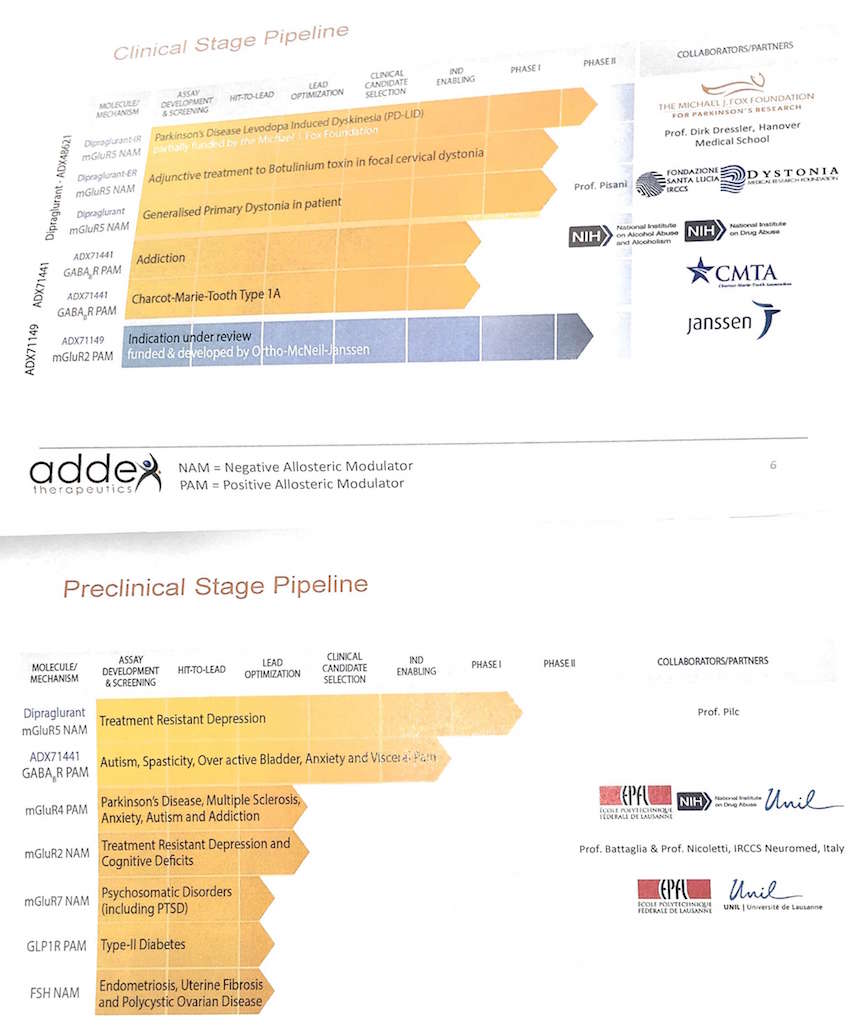 « We are now running all our programs in collaboration with patient advocacy groups, academic institutions or governmental organisations. It is a great way to get access to knowledge and expertise, and lower our development costs. » Dyer told me. He is also outsourcing many activities to low cost providers to keep the cash burn under very tight control.
 « And so what is the disease you are going after? » I asked.
The most advanced compounds are in Parkinson, with the Michael J.Fox Foundation, and Dystonia (involuntary muscle contractions like cramp), in collaboration with the Dystonia Medical Research Foundation. Our second compound ADX71441 is in preparation to start phase 1 and we plan to develop in CMT1a (a genetic form of neuropathy) « all these diseases have high unmet medical needs, and we believe our molecules may provide significant benefit for patients.» A good way to conclude that Addex is again in the arena.
The talk was very interesting. It was crazy for me to see that a Biotech can go bankrupt so fast. It is also interesting to see how the company could be valued with a new virtual strategy. We will see if it will all work out by the end of 2017.