Genticel has announced that not one but two milestones have been achieved in the development of its products,  which focus on immunotherapies for cancers caused by the human papillomavirus.

Genticel is developing  GTL001 (named ProCervix in Europe) to answer an unmet medical need – the eradication of the virus HPV 16 or 18 (high-risk types that can cause cancer) for an infected body.
So far, the vaccines available for this disease are preventive vaccines, not for treating a carrier. The company estimates that over 93 million women are currently infected by those two strains!
The first milestone achieved by Genticel is that the company will be able to use the Roche Molecular Systems' Cobas 4800 test. This worldwide-available test could be used for the recruitment and post-treatment analysis of patients in the planned Phase III program of GTL001. The test efficiency was confirmed on samples from Phase II. Results were equivalent to those generated by a clinical laboratory test.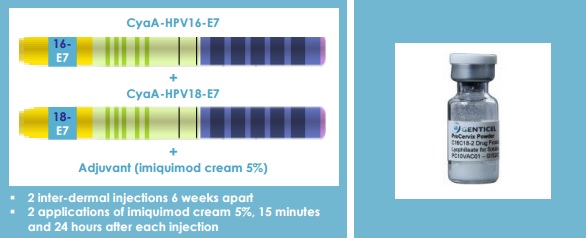 This is also an achievement for Roche, which confirms its leading position as a developer of diagnostics.
Besides this, the stability studies have demonstrated a 5-year shelf life – the maximum time during which it can be kept without undergoing changes in chemical structure and properties. This is a terrific result, regarding the preventive vaccines Gardasil's shelf life is 3 years and Cervarix's is 4.
So these are two good pieces of news for the company, especially after its stock price drop (43%) in January. Since this last release, stocks remain relatively stable. Not a surprise, as no majors outcomes come out of this one.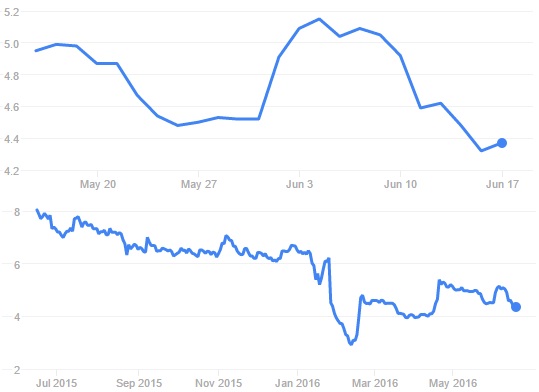 Something that could help the finance is that Genticel will also present today its results regarding GLT001 clinical trials (at the Eurogin 2016 Congress). It was the primary outcomes of Phase II studies, which were optimistically presented but at the end disappointing (primary endpoint only 10% better than placebo!), that caused the drop.
Those trials have been extended, and results of the 12-month analysis will be presented. If they are designing a Phase III, the news should be good!
During this congress, the company will also present the preclinical proof of concept of GTL002, which targets 6 strains of the virus (representing 85% of the infection). That could be useful to 158 millions of infected patients.
I'm curious to see how these new milestones may impact the company's results and if the stock will finally go up again.
---
Feature Image Credit: French Alps (CC 2.0 Capucine Prevots)