AiCuris is a Biotech company based on the Bayer Life Sciences park in Wuppertal (Germany). It is working on new anti-infective drugs and is a former spin-off of Germany's biggest Pharma Company. It's celebrating its 10th birthday this year, which is good reason to interview the CEO…

So AiCuris is working on anti-infective drugs for viral infection. It has 6 different programs in clinical development at the moment, including a Phase III preventative against the Human cytomegalovirus. AiCuris partnered on this specific program with Merck in a €442.5M deal, Germany's largest of 2013 (!).
The company is also backed by the Strüngmann brothers (Andreas and Thomas), two German billionaires who sold their Pharma company and now invest in several Biotech companies. This gives AiCuris enough financing to move forward with their 50 employees.
Holger Zimmerman is the CEO and former CSO of the company. He previously worked at Bayer and was part of the spin-out of AiCuris together with 21 of his colleagues. Infectious disease seemed to have been forgotten over the last ten years but are coming back on the front of the scene.

---
It's pretty rare to have a European Biotech with a Phase III. How is it going?
I cannot disclose too much as we are in a partnership with Merck & Co. (MSD) on its development, but it's fair to say that's its going forward well. Interestingly, our main competitor drug Brincidofovir (by the US Chimerix) failed in December during its phase III SUPPRESS trial after it didn't reach its primary endpoint.
It's obviously a bad news for patients, but good news for AiCuris…Even more so because this competitor drug, which is associated with side effects, doesn't use the same mechanism of action as our molecule.
Letermovir (AIC246/MK-8228) is an oral, once-daily antiviral candidate for prevention and treatment of human cytomegalovirus (HCMV) infection. It is a first in class molecule derived from a novel chemical class and is designed to inhibit the HCMV viral terminase.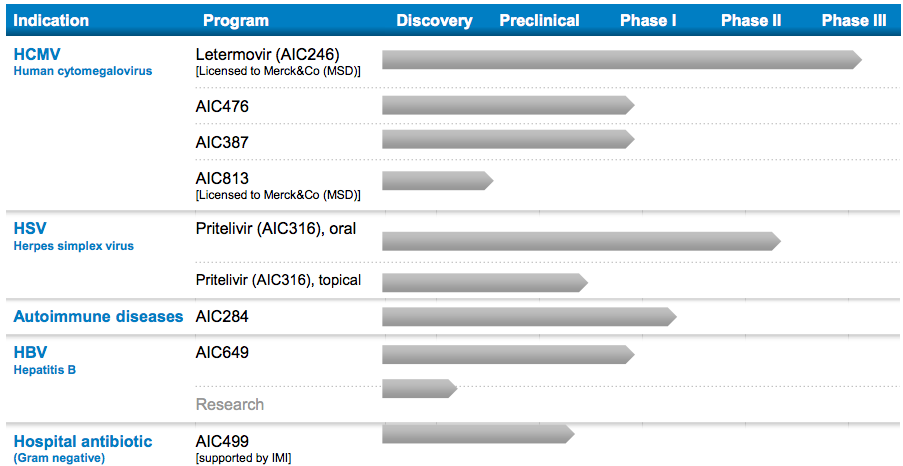 The phase III candidate (Letermovir) targets HCMV, a ubiquitous herpes virus which is generally dormant and asymptomatic.
However, it frequently develops a clinically significant disease in immuno-compromised patients, and has also recently been implicated in a number of population-wide chronic conditions including atherosclerosis, type 1 diabetes, inflammatory bowel diseases, lupus and even cancer.
You also just announced good pre-clinical results for Hepatitis B?
Yes, we just announced positive pre-clinical data of AIC649, a proprietary inactivated parapox virus (iPPVO). It induces a natural, self-limiting immune response, enhancing appropriate immune responses against unrelated viruses.


As a novel biological immune modulator, the candidate has been conceived as curative treatment for HBV and has responded well in the Woodchuck test (a model for Hep B infection). This gives us the possibility to start Phase I to get safety data.
The goal is to get a functional cure, probably by combining antiviral drugs with such an immune-modulator as AIC649. Today, a vaccine is actually already in existence, but it's hard to get the vaccination out in the developing world due to the need of several booster vaccinations.
You just came back from JP Morgan, how was it?
It was very busy, as always. We were at this meeting not for the usual reason of finding investors, but to find partners for our programs. We focused on our resistance-breaking antibiotics (AIC499) as well as on our anti-HBV agent PPVO (AIC649), and another immune modulator against autoimmune diseases (AIC284), as autoimmune diseases are not the focus of the Company's development strategy.
We had some very interesting discussions to find a strategic partner.
Our last pre-clinical data with the anti-HBV compound (AIC649) even interested some key actors and we could be interested in partnering early on, especially if we could combine our drug with an existing one.


Will you do an extra party for this 10th birthday?
Of course. We had a party every year, and this year should be special. It's great to see we have been growing over one decade and I hope we will continue to grow for the next 10 years.
AiCuris has interesting assets as well as extensive experience in the field to solve high-unmet medical needs, and will continue to do so for a long time yet…
---
 Feature Image Credit: Holger Zimmerman (© AiCuris)