Aimee Lax is a British sculptor that explores the bizarre world of microscopic life by making beautiful sculptures that magnify their tiny size.
"There's a whole world out there that we never see, but it's all here, it's all real," says Aimee Lax. Her piece Bacteriophages was included in the permanent exhibition Invisible You – The Human Microbiome in Cornwall, UK, along with the work of talented bioartists like Anna Dumitriu or Rebecca Harris. The artwork shows a group of almost a hundred bacteriophages attacking a bacterial cell and bursting from it after replicating their genetic material.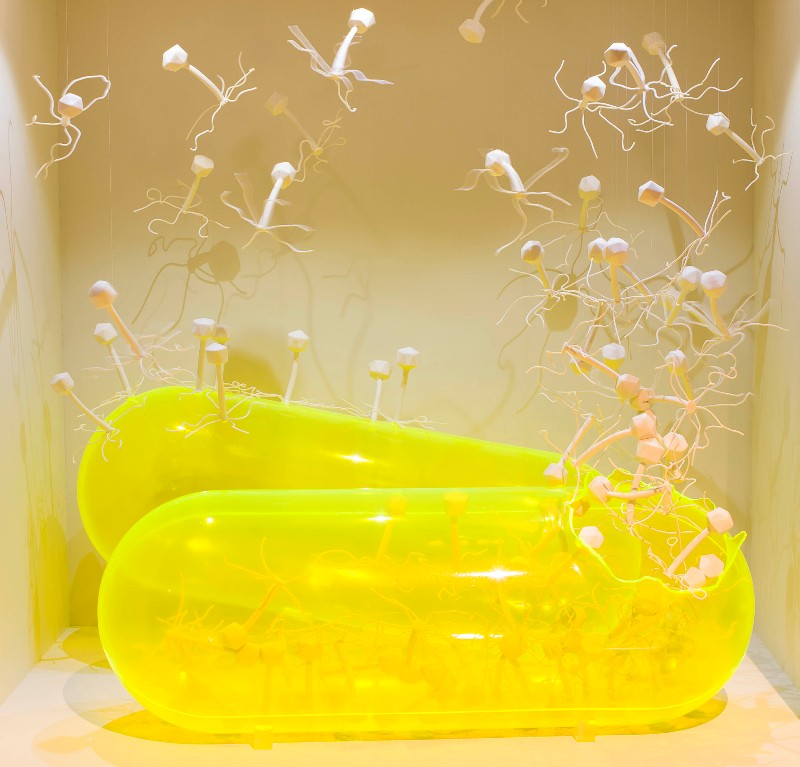 "I'm illustrating phages, viruses that attack bacterial cells, land on the cell, replicate their DNA…" says Lax. "I just think it sounds so extraordinary, like it could be science fiction. That's why I was so wowed by it and needed to illustrate that."
"This sculptural installation is a celebration of these extraordinary creatures," reads the exhibition's guide. "Imperceptible to the human eye, these delicate but tough organisms are extremely abundant and resemble a cross between a spacecraft and an insect."
The work of Aimee Lax recurrently explores how to display nature. Her pieces are often made of porcelain, which she uses as a symbol of the simultaneous fragility and strength that's characteristic to life. She combines it with rubber and metal to create contrast.
With the dramatic speed at which antibiotic resistance is rising, the role of artists like Lax, who put science close to the public, is essential to help everyone understand that such problems, though apparently invisible are very much real.