Aquanos has the solution to expensive and energy intensive waste-water treatment. Having revamped the pre-existing Microalgae technique for sewage remediation to be far more efficient, the Gemini project also generates biomass products and is being trialed on a Northern Israeli kibbutz, with negotiable projections for use in the developing world.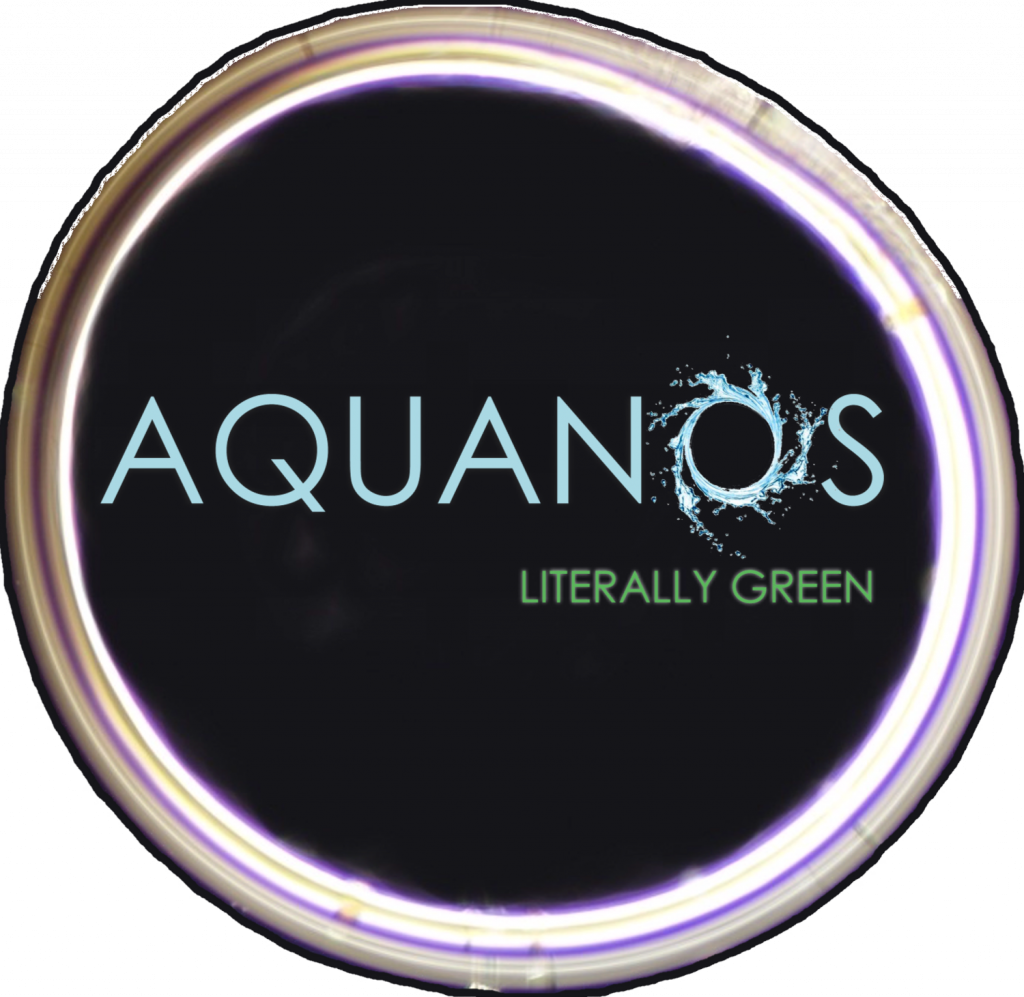 Man, we cannot get enough of Algae here at Labiotech. From aviation fuel to food supplements and fashion, yet again the versatility of Microalgae is proven invaluable to the Biotech industry. One giant global challenge algae can also answer to is the maintenance of access to clean water, a problem particularly faced by the US, China, Dubai and most developing countries.
Infrastructural solutions to sewage include current waste-water management (using algae to oxygenate bacterial bioreators to break-down the organic matter) and desalination, both of which are costly and energetically unsustainable (estimated to take up to 5% of the US electricity demand).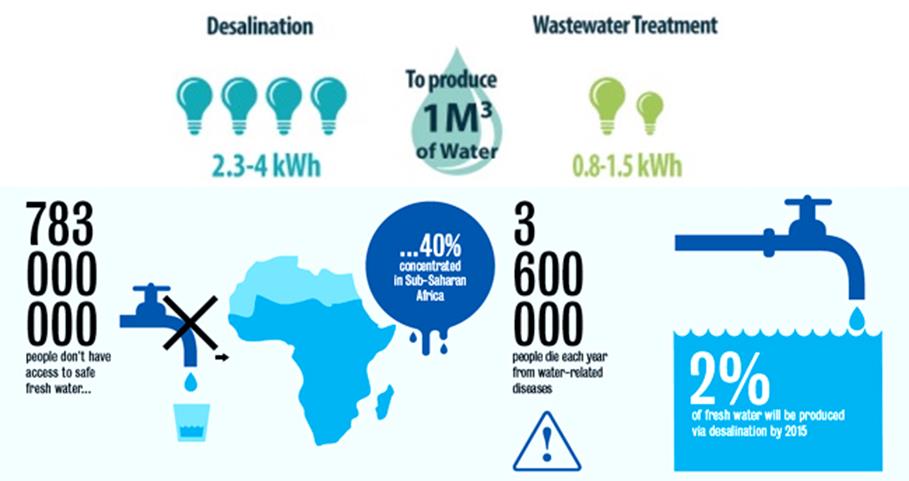 Aquanos' system really does provide the efficiency solution, well ahead of Cambridge researchers looking to do the same. Their two-step bioreactor system (dubbed 'The Gemini') dramatically cleans out organic waste from industry effluence by 70-80% with one run, and up to 95% on the second run – amazing!
CEO Udi Leshem explains that the technology is in fact so effective at cleaning waste water that the product is actually safe for humans to drink, if only the stigma of drinking recycled sewage water wasn't so rooted in Western perceptions – 'if we weren't so fussy'.
Aquanos is pitching its Gemini system for Agricultural use, seeing as only 8-10% of water demand is actually domestic (i.e. including drinking water). Waste-water effluence in agriculture is also heavily restricted in Israel, and the Gemini solution could potentially aid farms in this area with the added bonus of some biogas production on the side, further reducing the agribusiness footprint.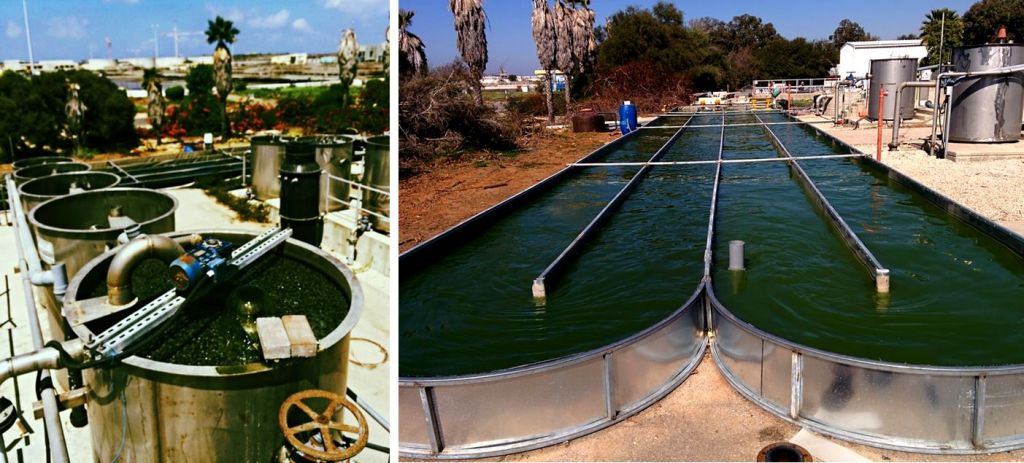 First the water is run through an anaerobic bacterial bioreactor which produces oxygen and biogas, which is then used in the second aerobic algae reactor (followed by cycling on the 'Algae Raceway'). In a kind of biotech symbiosis, the algae cultures produce CO2 for the bacterial reactor, and the bacteria generate O2 for the algae.
Aquanos mainly differ from other such systems by slashing costs by up to 90% thanks to 2 key modifications: First the recycling of O2 in part addresses the cost of aeration. Secondly, cross-contamination between the two cultures is reduced to a minimum by us of a restricted biofilm (built using biomass). This keeps the water-borne algae from mixing with the bacteria when flowing between the two reactors.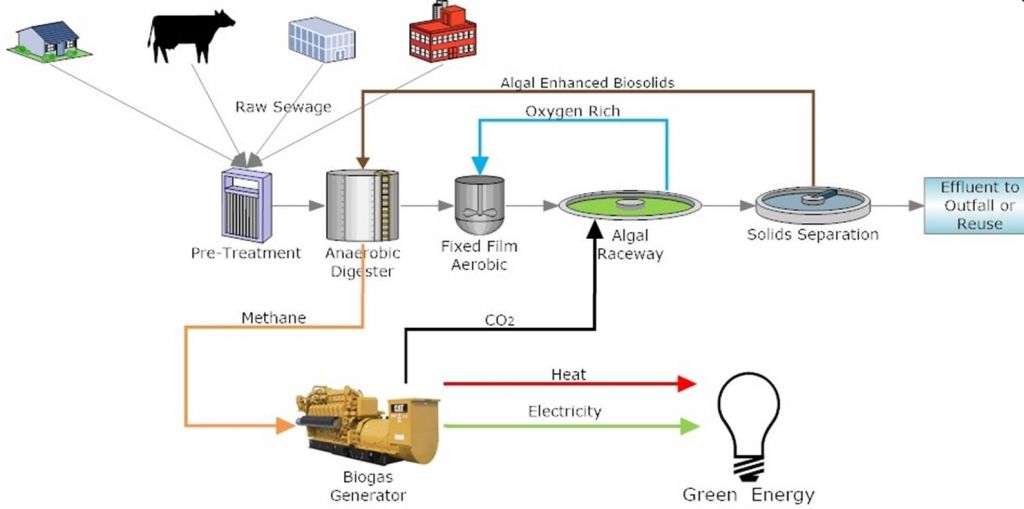 Excess biomass which reaches the end-stage is then filtered out in a solids-separator, which CEO Udi Leshem discusses could be later used to produce fertiliser, animal feed or even biofuels in the long-term scope of the Aquanos project. The biogas produced is also resistant to the carbon-flux conundrum experienced by third-generation biofuel production, meaning scaling-up of the production process is easily achievable.
Aquanos has received significant recognition for their efforts, having been invited to an event on Global Entrepreneurship earlier this year in Washington DC by President Obama, and having won the Cleanvest Cup award 2015 a few days ago at the Water Technology & Environment Control (WATEC) annual conference in Israel.
To date, Aquanos and its 7 employees (2 of which are part-time) has raised around €1.76M from a partnership with the Dutch investor Fortuna-holdings and an R&D collaboration with Oklahoma based World Water Works (US).
However, there is also a rumor of some MAJOR plans to incorporate their tech for cities in various developing countries, the individual project negotiations of which are apparently ongoing…so watch this space.
---
Here, Aquanos' CTO Remy Blanc talks us through the process: