Allergan has entered a clinical collaboration with Novartis to run a Phase IIb study combining its immunomodulator and Novartis' FXR agonist for NASH.
After Allergan snapped up Tobira's  cenicriviroc (CVC) last year in a €1.4B deal, the company is now taking the next step to advance its pipeline in the Non-Alcoholic SteatoHepatitis (NASH) race. The pharma company is going for a multi-therapy treatment approach, by combining its anti-fibrotic drug candidate CVC with Novartis' leading Farnesoid X receptor (FXR) agonist in a Phase IIb trial.
With an estimated €37B annual market, NASH remains a disease with a huge unmet medical need for treatment. NASH refers to the progressive form of non-alcoholic fatty liver disease (NAFLD), which is marked by the accumulation of fat in the liver, resulting from imbalanced diet and exercise rather than alcohol consumption.
The disease is characterized by accumulating liver fat, which causes inflammation within the liver. This pathology, in turn, results in fibrosis (scarring) of the liver and eventually leads to complications such as cirrhosis, portal hypertension, liver cancer, and liver failure.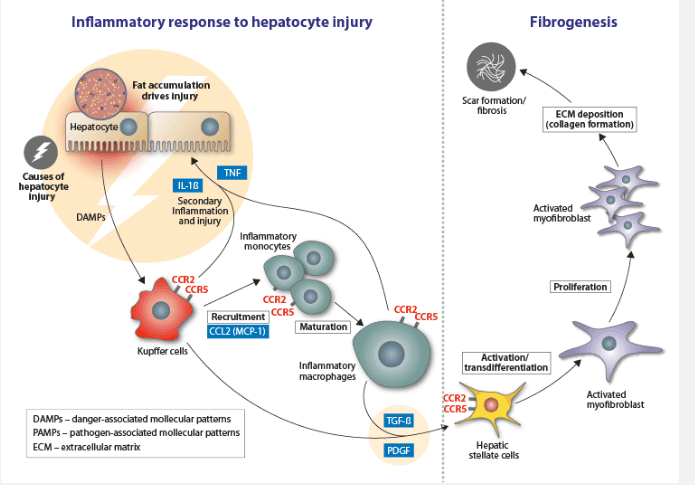 Allergan's CVC is targeting the fibrotic component of the disease. The candidate is an immunomodulatory agent that blocks the two chemokine receptors, CCR2 and CCR5, which are involved in inflammatory and fibrogenic pathways. CVC was able to score a meaningful improvement in fibrosis without worsening of NASH after one year of treatment in a Phase IIb trial.
Allergan is now looking to combine the drug with an FXR agonist. Novartis' leading candidate is a non-bile acid FXR agonist, which recently received Fast Track designation from the FDA and is in Phase II clinical development.
These compounds attack the metabolic stages of NASH and as Marco Boorsma, a partner at Forbion Partners told us in our recent NASH review: FXR has been a target of great interest to biotech and pharma because of its role as a master regulator of carbohydrate and lipid metabolism, bile-acid homeostasis, inflammation and fibrosis," he explains. "All of these are associated with the pathology and progression of NASH."
At the moment, NASH still seems to be one of the few indications where biotech is still ahead of pharma. While Intercepts' FXR agonist, OCA, is currently leading the race and is in Phase III trials for NASH, the compound is known to cause itching and an increase in LDL at higher doses, which limits its applicability. Its main competitor Genfit is also in Phase III trials with its PPAR agonist Elafibranor.
However, due to the multifaceted nature of NASH, a combination treatment seems to be the most promising approach to crack this prevalent disease and as Boorsma told us, "there may be one drug for the fibrosis, one for the metabolic aspect, and one for the inflammation; of course, some affect all three."  
Thus, with their new collaboration, it seems like Allergan and Novartis have made a wise move in the crowded NASH space. 
Images via shutterstock.com /  Magic mine and tobiratx.com