Heptares Therapeutics is licensing its portfolio of novel candidates for neurological diseases, including one for Alzheimer's, to Allergan for up to €3Bn. A good way for Allergan to 'get over' yesterday's failed Pfizer acquisition.
Based in Cambridge, UK, Heptares Therapeutics is creating new therapies with their StaR platform, that allows it to target G protein-coupled receptors (GPCRs), a superfamily of 375 receptors linked to many diseases. The platform is used to mutate the proteins to make them stable without changing their drug-binding behavior. The company then screen for small molecules and biologics that bind them to obtain therapeutic candidates.
The small molecules and biologicals identified by the StaR platform have proven to be quite popular with pharma. First, there was a €350M acquisition by Japanese Sosei. Since then, Heptares has struck some impressive collaborations; It's developing immuno-oncology candidates with AstraZeneca, therapies to cure migraines with Teva, on top of a billion euro deal with Pfizer.

Now, it's the turn of the Irish Allergan. Even though it just failed to merge with Pfizer, the company is anything but paralyzed and has decided to buy the exclusive global rights to some of Heptares' candidates. The company didn't even cherry pick — the deal is for a broad portfolio with potential for the treatment of major neurological disorders, such as Alzheimer's disease. This bundle of small molecule agonists of muscarinic receptors of the brain includes two that are already in Phase I, HTL9936 and HTL18318.
Heptares' compounds selectively target two types of receptors (M1 and M4) that are present in the central nervous system. This avoids stimulation of others (M2 and M3), which are involved in the regulation of cardiac rhythm, and if accidentally targeted could risk to provoke dangerous sides effects.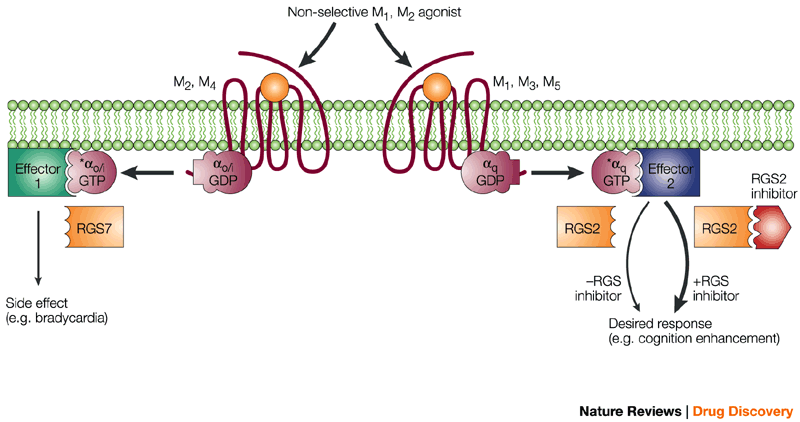 Allergan is known for its biotech 'shopping sprees', but this new deal is massive. Heptares will receive €110M ($125M) upfront, plus potentially €586M ($665) in milestones from clinical development. In addition, €2.2Bn ($2.5Bn) will also change hands if the licensed drugs meet certain sales objectives during the years following launch, and even two-digit royalties on sales!
Allergan is also committing €44M ($50M) to a joint R&D programme, focused on advancing several candidates to phase II trials. Allergan will be responsible for clinical development from phase IIb, as well as manufacturing and commercialization.
Neurological diseases are making a comeback in biotech. With 45 million people with dementia worldwide, it makes sense that Allergan would bet big on the field.
---
Featured image credit: Heptares Therapeutics
Figure 1 credit: Neubig and Siderovski (2002) Enhancing agonist specificity by RGS inhibition. Nature Reviews Drug Discovery (doi: 10.1038/nrd747)