The allergy specialist Circassia will acquire two asthma-expert companies: Aerocrine and Prosonix. The British company, which performed the biggest of the fifteen European biotech IPOs in 2014, intends to become a self-sustaining biopharma by focusing on allergies and asthma. The purchases will optimize the launch of CAT-Spire, which represents Circassia's first drug of a new class of allergy treatments.
Circassia will disburse a total amount of €190.2 M (SEK 1.78 billion) to acquire Swedish Aerocrine and up to €138.1 M (£100 M) for British Prosonix, whose portfolio complements Circassia's pipeline. Prosonix's near-term products targeting asthma and other respiratory diseases will benefit from Aerocrine's established commercial network.
Circassia will also use Aerocrine's commercial infrastructure to launch CAT-Spire, its most advanced new class of allergy treatments. The drug was developed using Circassia's ToleroMune technology and is currently undergoing the final phase of clinical testing.
ToleroMune technology, a unique approach to developing allergy immunotherapy treatments, was initially developed at the Imperial College London by Professors Mark Larché and Barry Kay, which Circassia acquired back in 2006. ToleroMune technology creates mixtures of synthetic peptides specifically designed to induce immunological tolerance quickly.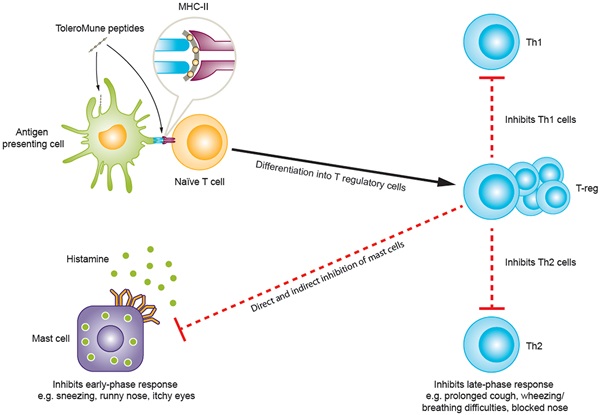 Rather than using whole allergens, SPIREs (Synthetic Peptide Immuno-Regulatory Epitopes) are based on short peptides identified from sequenced allergens. ToleroMune synthetic peptide immuno-regulatory epitopes stimulate naïve T-cells to differentiate into regulatory T-cells (T-reg), which have an inhibitory effect on various cells involved in triggering an allergic response. Regulatory T-cells inhibit mast cells, stopping histamine from being released and thereby effectively blocking the inflammatory cascade that leads to the early-phase allergic response characterized by sneezing, having a runny nose and itchy eyes.
Aerocrine's Board of Directors already released a statement unanimously recommending its shareholders to accept the offer by Circassia. The acceptance period of the offer is expected to expire on June 11th. If Circassia's plan goes as expected, a new leading allergy expert could emerge from this acquisition.