Alnylam and its partner Sanofi are starting a Phase III program to enter its RNAi drug fitusiran in the competitive hemophilia market. 
Sanofi and its partner Alnylam have announced the start of a Phase III program that seeks to recruit 250 patients to test its RNAi drug fitusiran in patients with both hemophilia A and B, including those that have become unresponsive to standard therapy. Results are expected in the second half of 2019.
The program includes three trials. One will test fitusiran in 100 patients that receive the standard prophylactic therapy and will transition into fitusiran to compare how many times per year the patients bleed with each therapy. The other two will enroll patients that only receive on-demand therapy to measure their annual bleeding rate.
Fitusiran is an RNA molecule that blocks the expression of the anticoagulant molecule antithrombin, therefore compensating for the absence of clotting factor VIII (hemophilia A) or IX (hemophilia B). Besides improving bleeding rates, fitusiran could bring a great advantage as a drug that could still be effective in the 30% of patients that develop antibodies against the standard therapy, consisting of recombinant clotting factors.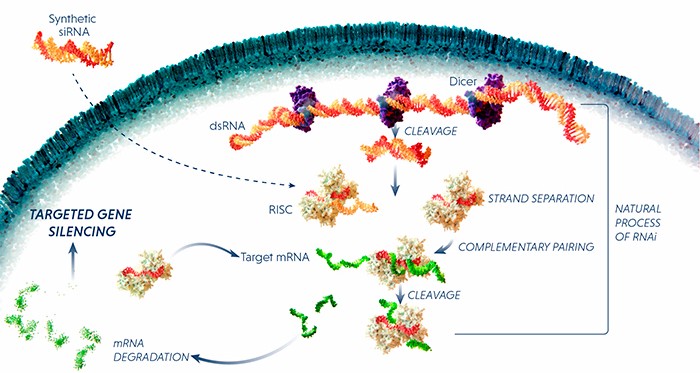 RNAi has been coming for a long time, but over 10 years after the technology was awarded the Nobel Prize, its projected success has not materialized. Many companies, including Roche, Merck and Abbott canceled their RNAi programs, and Alnylam itself had to end a Phase III trial with its RNAi candidate revusiran last October, after 18 patients died.
Despite the bleak situation, Sanofi, which had been working with Alnylam since 2014, decided to opt in for the co-development and co-commercialization of fitusiran last November. If the new trial goes well, it could initiate a resurgence of the RNAi field. But given the history of the field, the team could also encounter similar efficacy and safety issues to those that have plagued previous RNAi trials.
Meanwhile, Roche is taking the lead in the development of new treatments for hemophilia. Its antibody emicizumab has already proved to reduce bleeding episodes in children and adults with hemophilia A in Phase III. However, Shire announced yesterday a court in Hamburg granted it an injunction to restrain Roche from claiming misleading statements about side effects observed in the trial, which Roche blamed on bypassing agents used to treat bleeding episodes, instead of the antibody.
Shire and Novo Nordisk currently dominate the hemophilia market, so there's definitely a big interest from Shire to bring emicizumab use down. If Sanofi and Alnylam succeed in Phase III, they will have to deal with the strong competition in the hemophilia market, expected to reach €14Bn by 2024.
---
Images via Iaremenko Sergii / Shutterstock; Alnylam