Apogenix's lead candidate APG101, which has shown great results in a phase II study to treat Glioblastoma, has a new target in line. But this time, it's not against cancer…
Apogenix is a Germany-based company developing innovative immuno-oncology therapeutics for cancer and other malignant diseases. It was founded in 2005 and has raised over €90M until now.
Its lead candidate APG101 is a fusion protein that consists of the Fc domain of an IgG antibody and the extracellular domain of the CD95 receptor, which is present in many tumor cells. Once the CD95 ligand is blocked, it induces the death of the malignant cell. This first success had guaranteed €3M from the CancerMark project, which was initiated earlier this year.

But as in many other cases, this ligand is involved in more than one biological process. For instance, blocking the CD95 ligand results in an increased production of erythrocytes (red blood cells), which can be useful in some cases of Myelodysplastic Syndromes (MDS).
The Myelodysplastic Syndrome is a bone marrow disorder characterized by ineffective hematopoiesis (formation of blood cells). This can lead to severe anemia, coagulation disorder, immunodeficiency or even blood cancer. It is usually treated with blood transfusion, but this therapy can result in an iron overload, directly damaging organs such as the liver…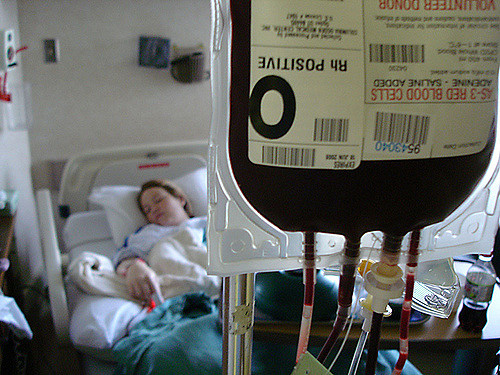 Therefore, using APG101 can be a good alternative to transfusions. The Phase I trial was conducted on 20 patients with low to intermediate-1 risk of MDS who were transfusion dependent. These patients had already been treated with erythropoietin-stimulating agents (to try to increase red blood cell production) but without success.
Results show a good safety and tolerability profile (which is the first aim of a Phase I study). But it was also observed a significant decrease in transfusion frequency for more than six months in 44% of the patients.
So far, Phase II is still in design, but this milestone is securing another indication for Apogenix's lead candidate… Besides this, the protein is currently in preclinical studies for a variety of cancer indications (solid and liquid).
 With such a pipeline, we really look forward to seeing its future achievements.
---
We interviewed Apogenix's CEO during German LabiotechTour…
---
Feature Image Source: Magic Dorian
---