Ascendis aims to raise €103M ($112M) for Phase III trials in Growth Hormone Deficiency (GHD) that offer children a weekly alternative to daily injections.
After its IPO on NASDAQ last year, the Danish Ascendis is making an underwritten public offering in the US that aims to raise €103M ($112M) to advance its TransCon pipeline. The funds will be directed to its Phase III trial for growth hormone deficiency (GHD) and preclinical candidates for hypothyroidism and achondroplasia.
The TransCon technology combines the desired drug with a carrier that stores the inactive molecules and releases the active form over time. The carrier can be tailored to react to pH and temperature to precisely control the release rate, which can be sustained for as long as 6 months. The main benefit is a big reduction in the dosing frequency, which minimizes risks of infection and inflammation due to injections.

Through several funding series and public offerings, the company has managed to advance its leading candidate to late-stage without support from large partners. The trial is expected to be completed in 2018, and if results are positive Ascendis would have full rights to its first product in the market.
This product targets GHD, which affects 1 in 3,800 births and results in abnormal development of bone, muscle and fat that has severe physical and psychological effects in children. Ascendis seems to be aiming to take over its main competitor in growth hormone therapy, Pfizer's Genotropin, by offering children a weekly delivery instead of daily.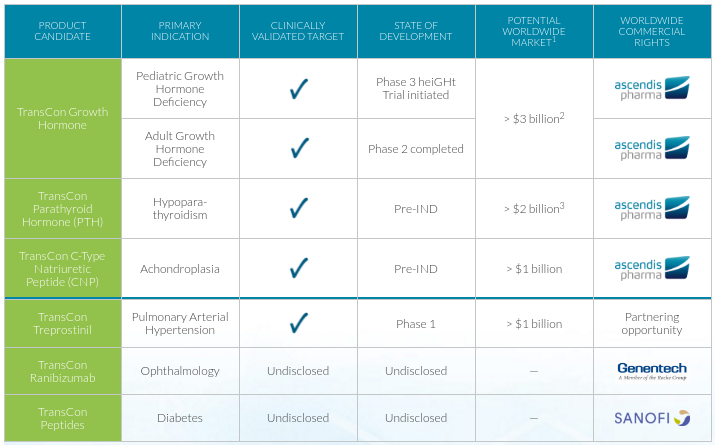 Ascendis is also going after Age-Related Macular Degeneration (AMD) through a partnership with Roche's Genentech. Its candidate only requires a dose every 6 months, which is a clear advantage over current AMD drugs that are delivered every 1-2 months using invasive intravitreal injections.
Meanwhile, Sanofi is using the TransCon technology to develop a new ultra-long-acting insulin that aims at maintaining basal levels over 24h in diabetic patients without any dangerous peaks.
With such good results and partners, it seems that Ascendis might successfully access the market soon. As the company grows, it will be able to use its technology to improve many treatments out there and make life easier for the patients.
---
Featured image: BlueOrange Studio/shutterstock.com
Figures 1 & 2 courtesy of Ascendis
---