AstraZeneca has announced its Phase III trial with durvalumab and tremelimumab has failed to achieve better results than standard chemotherapy in lung cancer. 
AstraZeneca's MYSTIC study was evaluating a combination of checkpoint inhibitors as a first-line treatment for metastatic non-small cell lung cancer. The therapy couldn't improve progression-free survival when compared with the standard of care chemotherapy in untreated patients. The company will continue the trial to obtain results on overall survival next year, but the approval of the combo as a first line therapy doesn't seem likely now, leaving the big firm out of a €10Bn market.
With checkpoint inhibitor combos exploding in popularity, many in the field were waiting to see whether AstraZeneca's would yield good results. Imfinzi (durmalumab) is the fifth and latest checkpoint inhibitor targeting PD-1 or PD-L1 approved by the FDA, behind drugs from all major global pharma. In order to aim for a big indication, AstraZeneca decided to test it in combination with tremelimumab, an investigational checkpoint inhibitor licensed from Pfizer that targets CTLA-4 instead.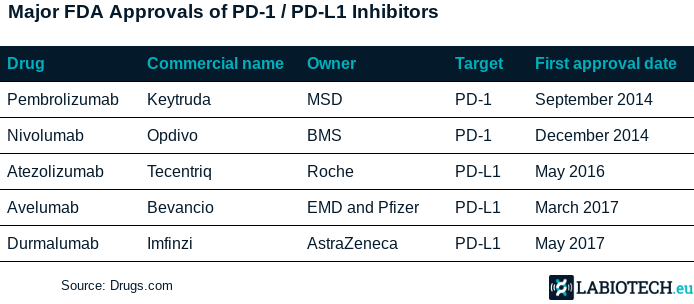 Importantly, AstraZeneca also announced that, although not formally tested, tremelimumab alone also failed to bring any benefit to the patients compared to chemo. Last year, the drug also failed to prove efficacy in mesothelioma as a monotherapy.
BMS' Yervoy (ipilimumab), which also targets CTLA-4, was the first checkpoint inhibitor to ever be approved. The drug is approved for use in combination with PD-1 inhibitor Opdivo (nivolumab) to treat metastatic melanoma. AstraZeneca wanted to push its own version of the successful PD-(L)1-CTLA-4 combo, but it doesn't seem to be working as well.
The adverse side effects of Yervoy have led most pharma to go after PD-1 and PD-L1 instead of CTLA-4, and AstraZeneca's results will likely take a final hit to CTLA-4 combos. The company is running another seven Phase III trials with durmalumab and tremelimumab, whose results seem now less promising. Consequently, the stock dropped by 14% when the stock market opened this morning.
---
Image via Pachai Leknettip / Shutterstock