AstraZeneca has announced it will create a new Centre for Genomics Research in Cambridge (UK) – joining the Wellcome Sanger, a Craig Venter Biotech and a Finnish specialist Institute to do so.

AstraZeneca is betting on genomics to transform drug discovery and support its R&D pipeline.
The idea is to create a 'biobank' with genome analysis, integrated with data from clinical trials – such as response to particular drugs and other clinical data.
Using this genomic data will deliver more insights into the biology of diseases and identify novel medicine targets, AstraZeneca believes.
It will also help support the selection of patients for clinical trials, by matching patients with treatments more likely to be effective.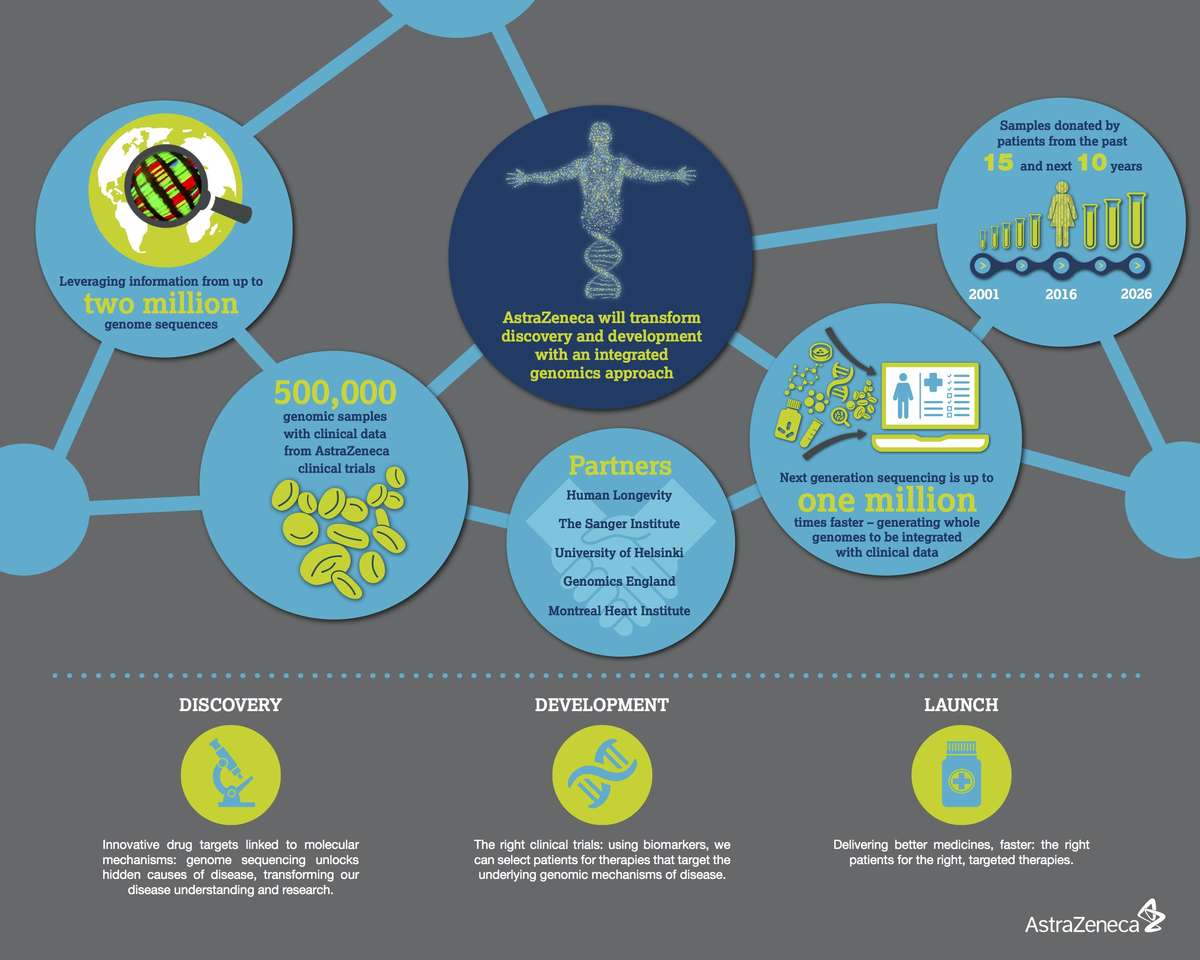 In order to achieve this, AstraZeneca is creating an in-house Centre for Genomics Research,  located in the company's headquarters in Cambridge – near major academic research in the genomics field.
The resulting database will have the 500,000 genome sequences and clinical data donated by patients in its clinical trials over the past 15 years, and will be updated with data from coming trials.
But the database will be pumped up by AstraZeneca's new partnerships.

These include Human Longevity, a biotech in the US run by Craig Venter (one of the Genomics A-listers), which will be sharing access to its database of up to 1 million integrated genomic and health records. HL's genome sequencing and state-of-the-art analysis technology will also be included – such as machine learning and pattern recognition.
Close to home, the Wellcome Trust Sanger Institute will share the data to identify new targets and biomarkers with potential use in diagnostic tests.

Another academic partnership is with the Institute for Molecular Medicine Finland (FIMM). AstraZeneca's Genomic Centre will study genes of interest in the Finnish population – known to carry a higher than normal frequency of rare variants.
AstraZeneca's move to Cambridge and strategy to be close to top research seems to be paying off – and collaborating with such prestigious leaders in the field is sure to speed up their progress.
---
Here's a short clip by AZN with Craig Venter on their Genomics initiative for the future of Medicine…
---
Featured image credit: AstraZeneca