Last December, Axovant acquired for €4.5M ($5 million) the drug candidate SB742457 from GlaxoSmithKline. Four months later, the company announced its initial public offering to raise up to €154M ($173 million). Why is this newly funded company betting on the leftovers of the Big Pharma?
The drug candidate SB742457 is a selective 5-HT6 receptor antagonist, developed as an oral treatment for patients suffering from Alzheimer's disease at a mild-to-moderate stage. The clinical data suggested a potential additive effect to improve cognition when 5-HT6 antagonists are added to acetylcholinesterase inhibitors, one of the two classes of drugs approved by the FDA for Alzheimer's treatment. The most famous and commonly used is Donepezil, an acetylcholinesterase inhibitor developed by Eisai and its partner Pfizer.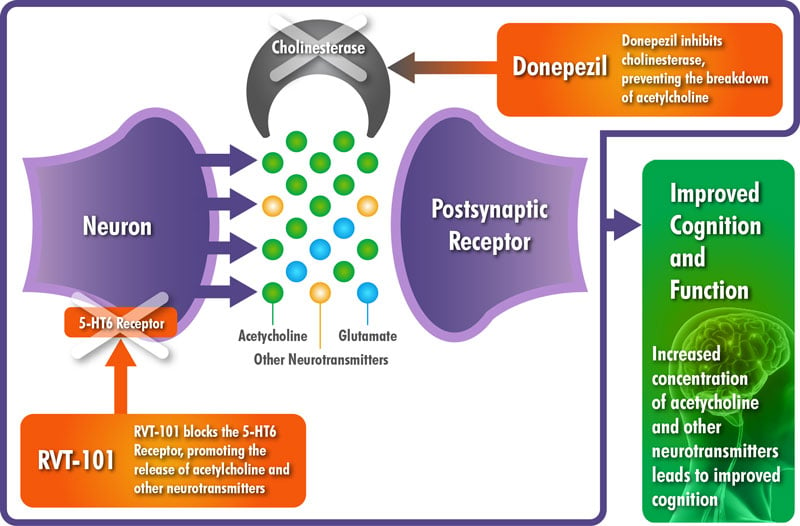 RVT-101 mechanism of Action with Donepezil. Source: Axovant
Back in July 2011, at the AAIC conference, GSK presented the results from two six-month trials. These trials missed their primary endpoints of significant improvement of the cognition. Looking at these results and at other additional outcomes that GSK lead between 2008 and 2012, the Big Pharma decided to abandon the project.
To everybody's surprise (including the company), the drug came out of the closet after Axovant decided to acquired the product for itself last December. Today, Axovant intends to commence Phase III clinical trials in Alzheimer's disease. In fact, on Monday, Axovant launched an IPO hoping to raise up to €154M and obviously counts on the current fiery market of the Biotech stocks.
It seems that Axovant has the gift of the gab and was able to bargain the drug, paying an upfront of only €4.5M to GSK. Pending on the FDA's approval to the Phase III, should the final verdict be positive, Axovant will have to pay an additional €4.5M. Further approvals in the U.S., Europe and Japan would amount to payments of €62.4M ($70 million), along with an €75.5M ($85 million) bonus if the drug reaches €1.07Bn in revenues. Lost in the numbers? That makes a €146.6M purchase for a Phase III drug… Fingers crossed, it does bring €1.07Bn per year to the company in revenues… if everything goes according to plan of course.
Axovant is fully owned by Roivant Sciences, which looks like an empty-shell company that buys opportunistic drugs. The mother-company is backed by the investment firm QVT Financial and the pharmaceutical company, Dexcel Pharma. Vivek Ramaswamy, founder and director of Roivant and Axovant is a former hedge fund partner. Axovant also seems to have a trump card: Lawrence Friedhoff, development team leader for Aricept, also known as Donepezil. Yes, the most commonly used treatment for Alzheimer I already mentioned.
This strange drug acquisition looks like an attempt to separate investors from their money, for product which doesn't seem worth the investment. I hope my impressions are wrong… but seeing the bad results of this drug during its clinical phases, there is a big chance of failure in Phase III. Besides, putting a drug on the market with such low benefits, one can only wonder what is the company playing at, taking the healthcare system and people relying on it for fools.
In the end, the real winner seems to be GSK… The company just picked up a generous pay cheque with many numbers on it for a product they thought worthless. Not to mention, more zeros will be added should Axovant's plan works.