Axovant Sciences has announced positive preliminary results from a Phase II trial directed at reducing hallucinations in patients with dementia.
Axovant Sciences is a biotech located in Bermuda, a British tropical island in the Atlantic ocean. From there, the company develops drugs against dementia. The company was founded by young biotech entrepreneur Vivek Ramaswamy, which has been featured in Forbes repeatedly.
Axovant's latest news concern nelotanserin (RVT-102), which is proving safe and effective in Phase II trial as a treatment for visual hallucinations in dementia with Lewy bodies (DLB) and Parkinson's disease dementia (PDD). Based on these positive preliminary results, the biotech is getting ready to recruit more patients and prepare for Phase III, which is expected to start in the second half of this year.
The candidate, nelotanserin, targets the 5HT2A receptor for serotonin in cells from the central nervous system. Its activation is the basis of psychedelic drugs such as LSD. Nelotanserin does the opposite, blocking its activity to reduce hallucinations in patients with DLB and PDD.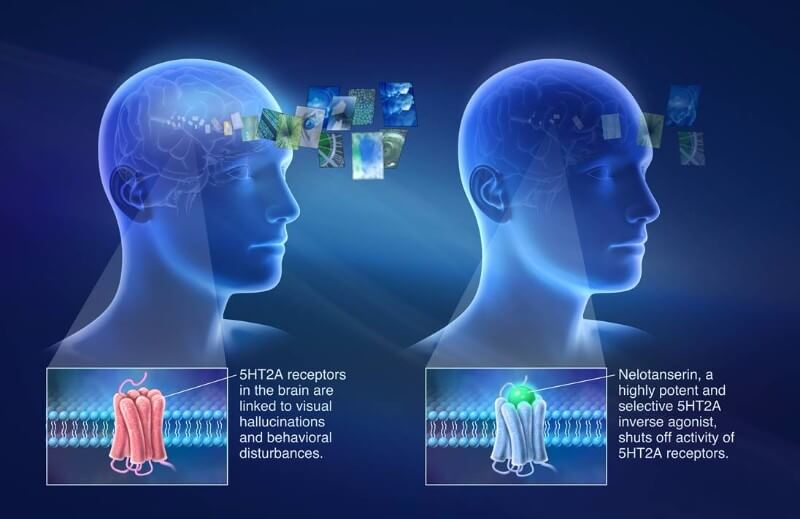 The drug candidate was initially developed by Arena Pharmaceuticals in Switzerland, then acquired by Axovant's parent company Roivant Sciences. In 2015, Axovant acquired the global rights for nelotanserin, and so far it seems to be paying off. The drug is in Phase II for REM sleep behavior disorder (RBD), and the company intends to initiate programs for psychosis in Alzheimer's and Parkinson's.
The company's lead candidate, intepirdine (RVT-101), was also acquired from an external company in an unusual deal. Commonly, smaller biotechs develop drugs that are acquired by or licensed to big pharma. In this case, Axovant bought the drug from GSK and has managed to enter Phase III as a therapy for Alzheimer's.
Axovant's pipeline looks promising since treatments for dementia are scarce and usually present limited effects. However, nelotanserin will compete with Acadia Pharmaceuticals' Nuplazid (pimavanserin), a drug approved for psychosis in Parkinson's with the same mechanism of action.
---
Cover picture: Horseshoe Bay in Bermuda by Andrew F. Kazmierski /Shutterstock; Image from Axovant Sciences