Bento Bio is a London SynBio start-up founded around the Bento Lab; designed to include all the major components needed for a field laboratory, but with a sleek (and frankly, very good looking) interface. 
I met Philipp Boeing at a 'Digital Biology' (Do-it-yourself) meet-up in Berlin a couple months back, where the biohacking community would come together to share project ideas and brainstorm.
The Bento Lab is one such example of how Biohackers have broken into the Biotech business, through collaborative and open-source innovation. And today, Bento Bio launched their first Kickstarter Campaign, which raises funds through pre-ordering of Bento Lab devices, as well as through donations.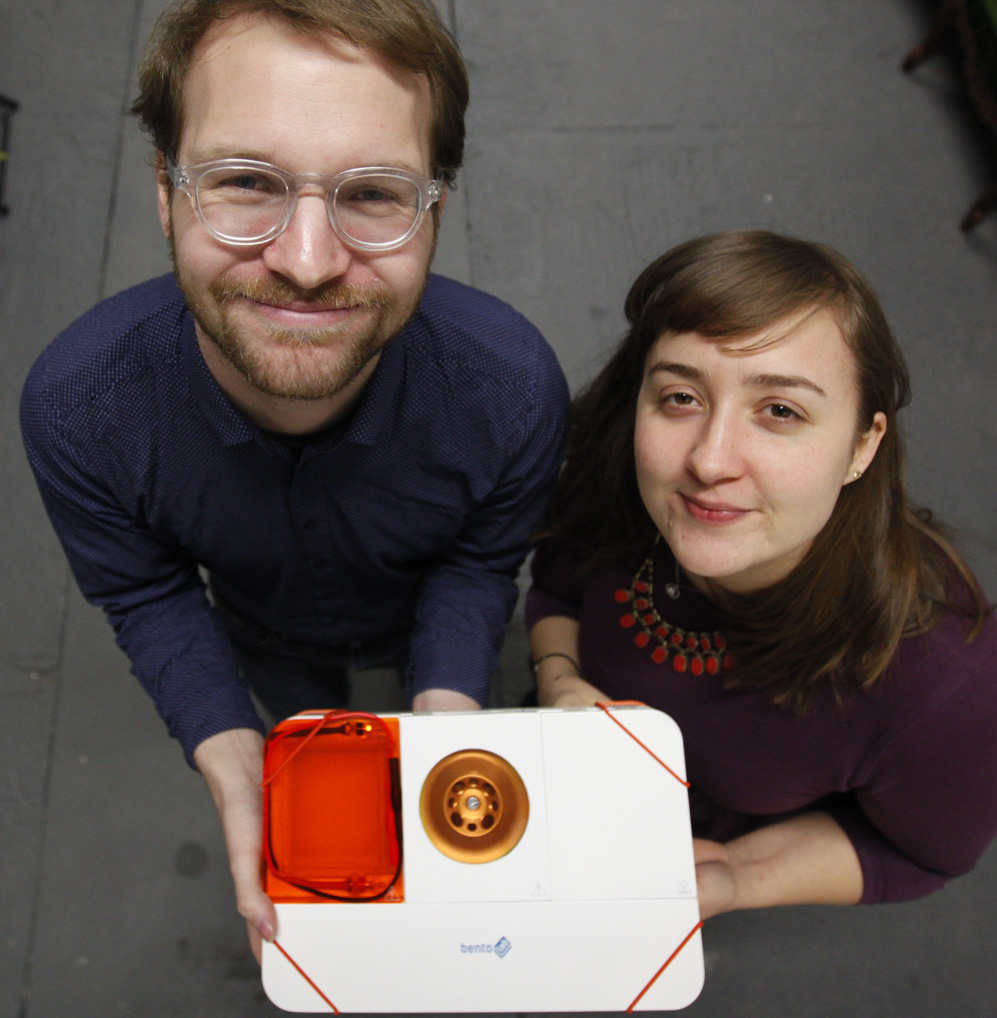 ---
So how did the concept for Bento Lab come about?
Well, the initial idea came to Philipp and Bento Bio's co-founder Bethan Wolfenden in 2013. During their time at University College London, they both participated in a biohacking community at the London Hackspace in Hackney (nice pun…).
The concept, however, is not necessarily a new one. As Philipp explained at the Bio-Fiction conference in Vienna last year, the idea of a DIY PCR machine is already out there.
In fact, the issue is that the niche is so saturated with this kind of open source equipment, that the community to which such a design might appeal feels a little overwhelmed.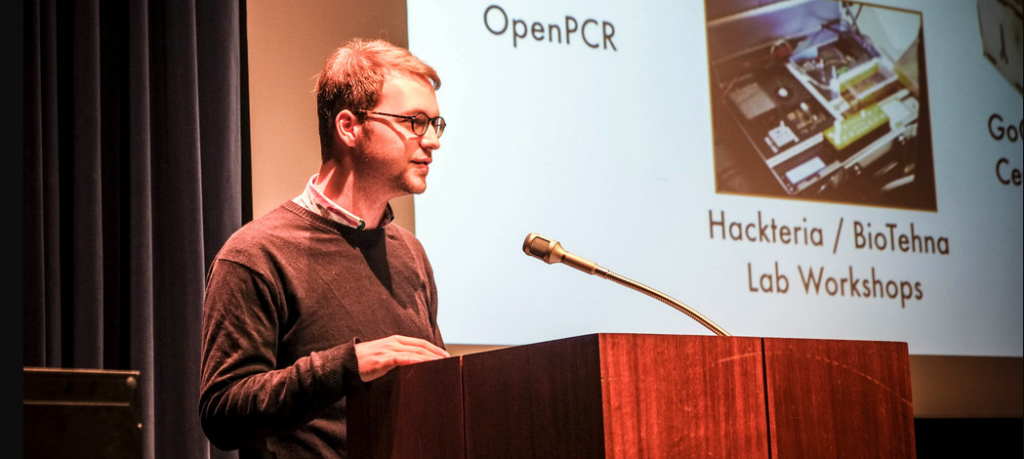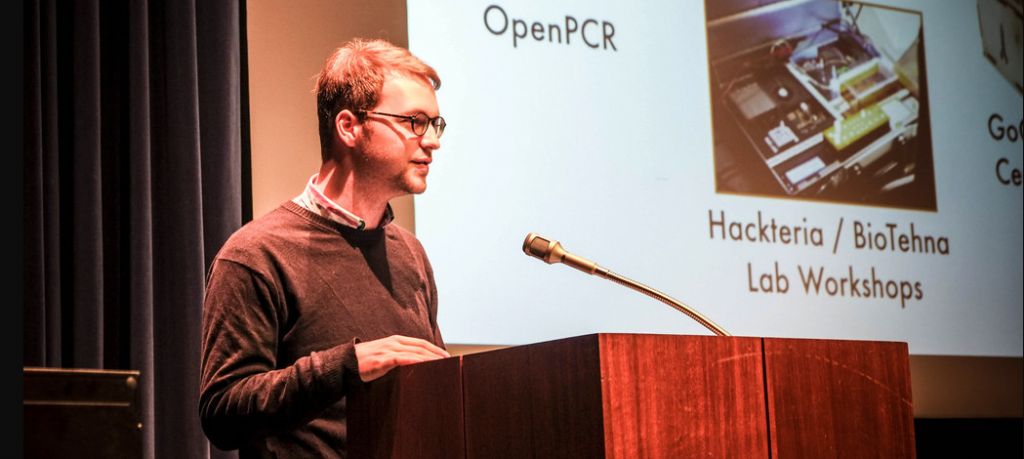 And this is where Bento Lab aims to differ, as the first multiple-component DNA lab, complete with thermocycler, centrifuge and DNA electrophoresis box (and power supply).
Philipp also told Wired in January that the trade-off in a decimal place of accuracy (99.9% to 99%) could be more than satisfactory if it meant such a kit could be made affordable.
And it is, with the prototype being set at just £549 (€695) for the 'super early bird' price and £699 (€885) for the regular – a dramatic improvement to the potential cost of a standard laboratory PCR machine (€8,000). The hope is that in the future, with a higher volume order this price could be set even lower.
We were both really excited by the potential of the maker movement and citizen science, but we saw a lack of easy-to-use equipment and kits for biology, when compared to Arduino for electronics, or Raspberry Pi for computing"
The Bento Lab project therefore quickly grew into something tangible, with Bethan and Philipp further developing a prototype with the iGEM team at UCL.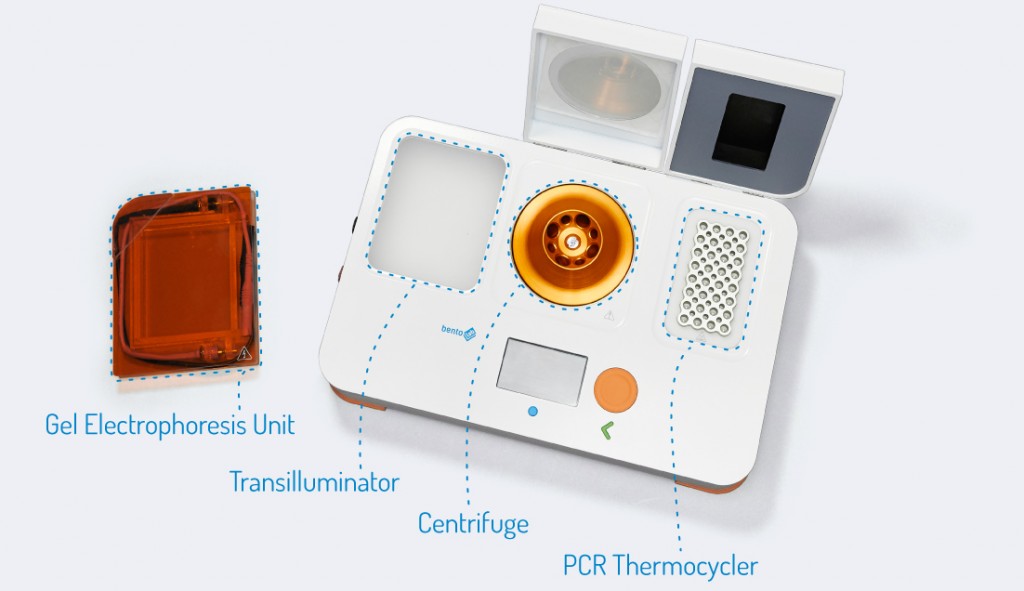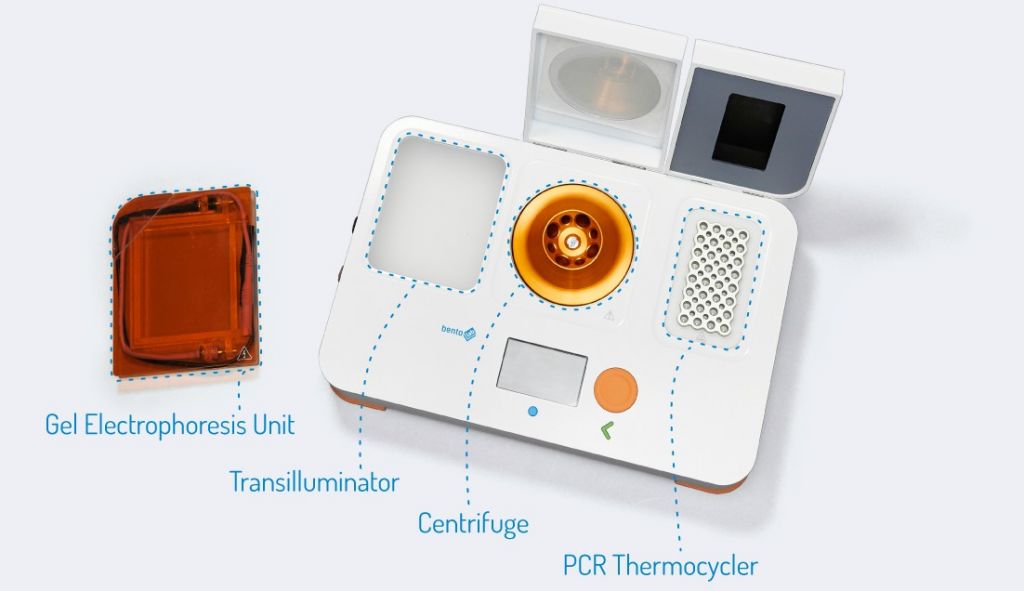 So who EXACTLY is the Bento Box for?
That's the big question. Asides the interest of home-learning expressed during presentations of the Bento Lab at expos in Boston and Rome, there a strong appeal for formal education in schools (due to the price and simple design). And I think it's easy to see the demand for such a transportable toolkit, particularly for field work (such as collection and quick analysis of eDNA in conservation of species).
Then there are citizen science projects, DIY biology hobbyists, city farms and academics also interested in the versatility of the Bento Lab. There is even great appeal to the BioArt community, who wish to explore synthetic biology techniques with the Human microbiome.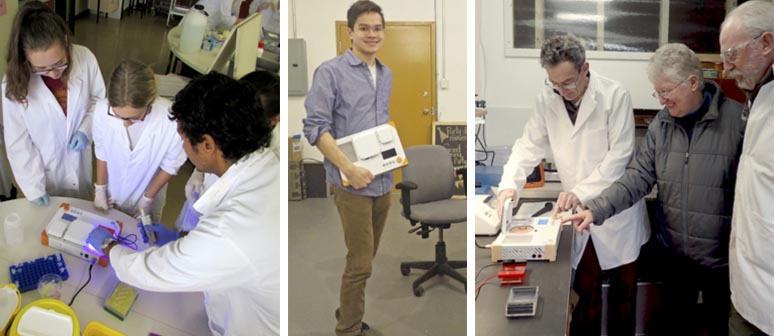 What sort of technical barriers did the Bento Lab Project face?
Well, the main issue isn't so much the supply of the hardware, but the need for an online software to share protocols for use online. And then there is the wetware materials needed, which is a real challenge if you don't have institutional access (e.g. access to taq polymerase needed in PCR).
There is no Amazon for DIY Bio. So supply is an issue"
So this is in part why they decided to launch a beta-testing campaign, issuing around 30 prototypes out to universities, biotech companies and qualified individuals, aspiring to work like a 'Google Glass Explorer Program' (but without the scary price tag).
This trial run therefore worked as a time to further streamline the concept of who the Bento Lab can really benefit in particular. And more importantly, weaker areas of design and usability that can be improved on before general commercial launch.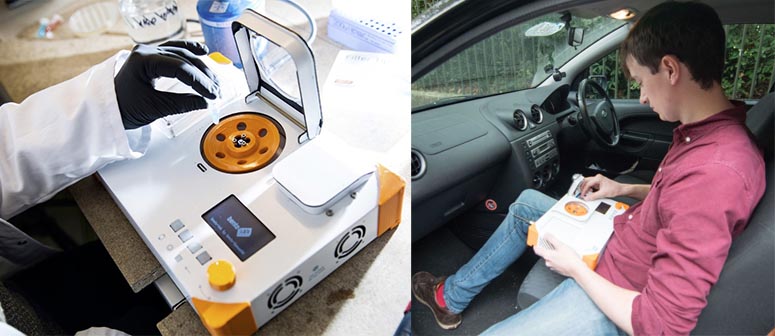 Then there is the obvious concern of containment and safety with a Lap-top laboratory…?
The truth is, if someone truly wanted to use biotechnology to do harm, the technology and access already exists outside of the Bento Lab project. So in reality, in the unlikely event this could happen, this piece of tech would not in any way enable such individuals to do what they couldn't already.
And besides, the restricted availability of the wet-ware components does serve as some additional control as to who can use the Bento Lab.

---
But of course, as Rüdiger Trojok pointed out (one of the most famous European Biohackers – who also just launched a book on the subject in January), one of the main barriers the community faces is complicated and restrictive legislation.
This is mostly due to the dated perception that tools like these are dangerous, and in response, European law makers can be heavy handed when enforcing restrictions on Microbiology education.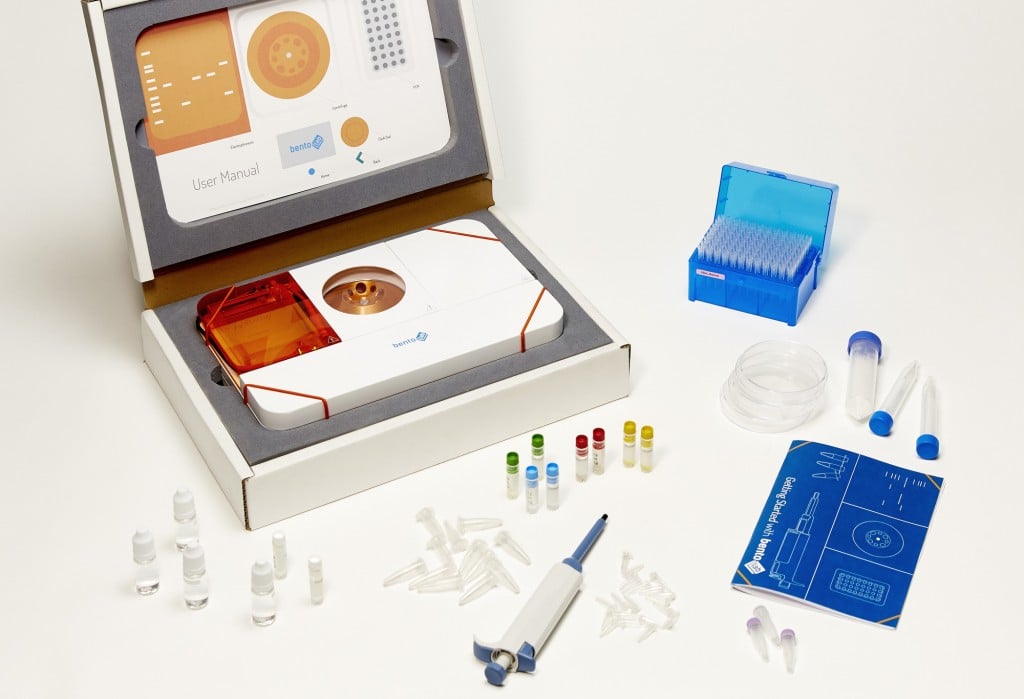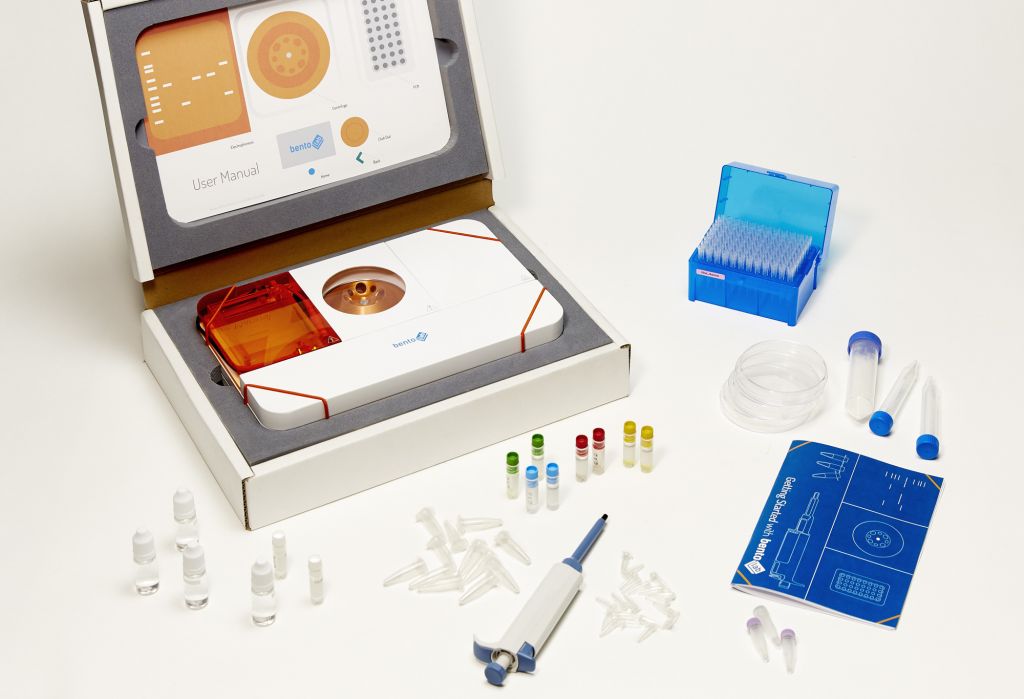 For example, to analyse bacteria which you find in soil samples, at home it is okay – but in a formal education, public or laboratory setting, suddenly a security level 2 (out of 3) license is needed.
This is one problem faced by the BioArtist Tarsh Bates from Perth (Australia). Her petri dishes of Candida albicans were not able to be displayed to the public because of level 2 containment, even though it is a common yeast found to be growing between our toes.
I suppose it's all about finding the balance, and helping policy makers and legislation catch up (and overcome) such misperceptions. However, the main challenge for now, is the launch of funding to get the Bento Lab out there in an 'all or nothing' model. As Philipp explained:
We need to raise at least £35,000 towards the production cost of the units, but the more funds we raise the more we can invest in educational resources and sustainability"
I'm loving the concept and it's vast potential for multiple fields – particularly in Citizen science, and I wish Philipp and the team all the best!
You can also fill out a survey on their Kickstarter Campaign and have the chance to win a uBiome kit (which lets you sequence your microbiome).
UPDATE at 16.53pm on the 22nd: After just being launched at 3, they have already raised 25% of their 40K target! Ahhhhhh!
---
---
Feature Image Credit: The Bento Lab (Credit: Remix of Graphics by Labiotech sourced from Bento Bioworks www.bento.bio)