Bicycle Therapeutics has closed a massive fundraising round, raking in £40M (€46M) from American investors to launch clinical trials. 
Bicycle Therapeutics, the most recent company founded by the legendary academic-entrepreneur Greg Winter, is making a name for itself as a money magnet. Hot on the heels of a €1B deal with AstraZeneca last fall, the biotech has now raised a massive £40M (€46M) in Series B. The cash will propel its lead candidate, BT1718, into the clinic towards the end of this year, and the trials will be conducted in partnership with Cancer Research UK.
If it succeeds, BT1718 will be a first-in-class cancer therapy targeting solid tumors. As CEO Kevin Lee explained to me an interview earlier this year, the drug behaves like an antibody-drug conjugate with an engineered bicyclic peptide instead of an antibody. BT1718's small size of 1.5 to 2 kDa allows it to enter a solid tumor rapidly and be cleared much more quickly than ADCs.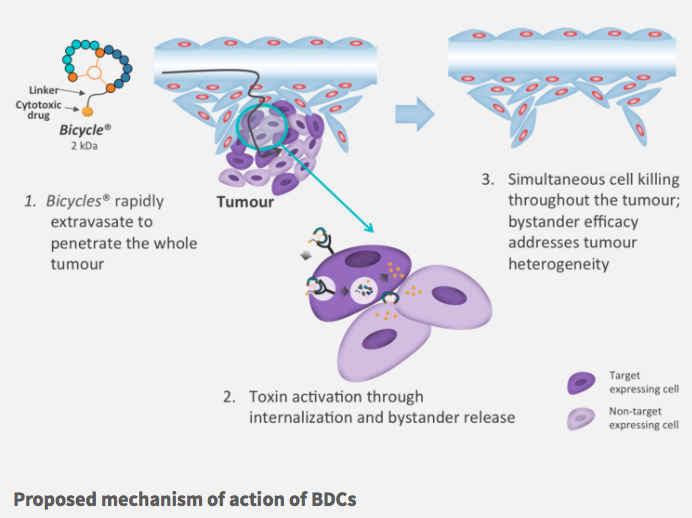 Winter says the idea was born out of his investigation into protein evolution, when he and a postdoc discovered a peptide structure that might be able to mimic an antibody. The "nugget" could then be coupled to a toxin to form a "bicycle-drug conjugate," or BDC; BT1718 is attached to the same as that of the FDA-approved ADC Kadcyla, and it will target an antigen present in many solid tumors, including those of lung, breast, ovarian and colon cancers, known as MT1.
While Bicycle will focus on oncology, and the cash infusion will fuel its expansion into other indications. "The fundraising isn't for BT1718 or oncology alone," Lee told me. "It will be used to push a number of molecules into the clinic. We have an embarrassment of riches at the moment, as we have a lot of exciting molecules for high-value targets in urgent-need indications." Beyond those in cancer, Bicycle has revealed it is exploring applications in ophthalmology as part of a collaboration with Thrombogenics and respiratory disease in its deal with AstraZeneca.

Despite the fact that the company and its technology are still in a very early stage of development, Bicycle has attracted not just AstraZeneca but a number of American investors — a challenge for European biotechs that drives a large disparity between in amounts raised by American and European companies. Lee and Winter mentioned that gaining access to American capital was one of the motivations for Bicycle to open a US office in Boston, because, as Winter explained, "it's much more convenient if [US investors] can invest from the US, whether West Coast or East Coast."
This round, the company managed to not only keep its previous investors but also reel in Cambridge Innovation Capital, the Longwood Fund, and the healthcare arm of Vertex Ventures, which led the round. The Silicon Valley-based fund is headed by a former VP at Facebook, and since it debuted Vertex Ventures HC in 2013, the medical branch has already achieved a $458M exit when Twelve was acquired by Medtronic in 2015.
ADC fever has taken off in recent years with the success of companies like Seattle Genetics and ADC Therapeutics, but no one has developed anything similar to a bicycle for the same purposes. With a promising technology, solid investor base, supportive pharma partner and lots of market room, Bicycle seems destined for success!
---
Images from yhelfman / shutterstock.com, Bicycle Therapeutics