Represented by the GV Art Gallery in London, Katharine Dowson is a glass sculptor who is well established in the BioArt community as an Anatomical and medicine specialist.
Katharine studied at the Royal College of Art and Camberwell in London, with a focus spanning to include the anatomical form (particularly the Nervous system) to infectious diseases and developmental research into a vaccine for HIV.
According to the curator of the GV Art Gallery London, Robert Devcic, Katharine likes the use of glass as it serves as a kind of 'Metaphor for cellular membranes, which you can see through'.

---
Beauty on the Brain
Katharine is fascinated by the Brain and its anatomical beauty, which is so functionally complex. In the early noughties, she researched ongoing work at Oxford and Newcastle Universities into Dyslexia.
This is in part through her experience of growing up with dyslexia, which inspired her pieces 'My Soul' (2005) and 'Brain Bricks' (2004). Her My Soul piece was even featured as a central prop in Paul McCartney's music video 'Appreciate'.
As a follow on from this work, Head On: Art with the Brain was an exhibition hosted by the Wellcome Trust and the Science Museum (London) which featured Katharine's 'Chromosome Puzzle' (2005), a self-portrait of her own chromosomes cast into an interactive glass tile piece.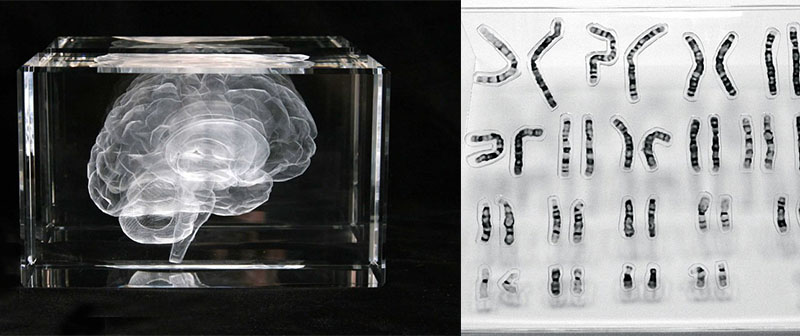 Pia Mater (2000) was exhibited at the Hayward Gallery and Henry Wellcome Building for Neuroecology Newcastle University. Fiber Optic lights were used to create shadows of a 16-metre sculpture of the spinal column and brain (the central nervous system), also made from glass.
Pia Mater means 'Tender Mother' and is the membrane surrounding the spinal column.
Again using her 3D laser etching expertise, in 2013 Katharine teamed up with the Medical Research Council UK to create sculptures of her own anatomy, including a life size glass heart, created from MRI scans. With Parkinson's Research UK, she also cast a life size Brain.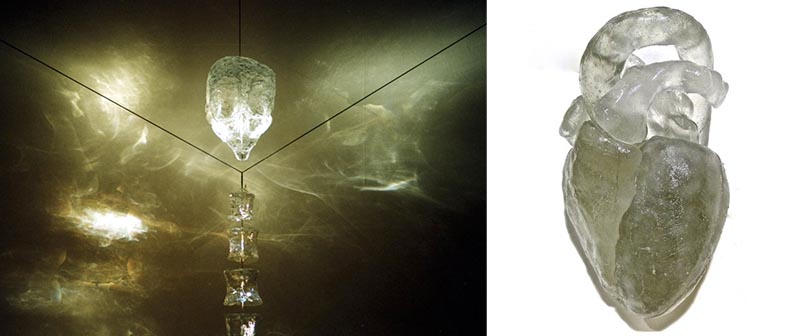 Later on, Katharine was diagnosed with a brain tumor. This difficult time further perpetuated her fascination with Neurological pathologies, and after her cousin gave her a scan of her own brain tumor, she produced the piece 'Memory of a Brain Malformation' (2006).
This was displayed as part of the TRAUMA: BUILT TO BREAK exhibition earlier this year at Trinity College's Science Gallery in Dublin (Ireland), and also in Project Daejon 2014: 'The Brain' at the Daejon Museum of Art in South Korea.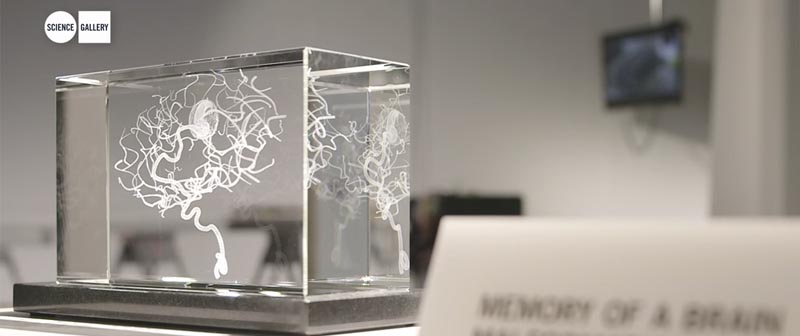 ---
Infectious Diseases?
On a completely different note, Katharine is currently involved with 'The Art of Saving a Life' – a collective project to 'tell the stories behind Vaccine research'. This is through paint, sculpture and other media forms commissioned by the Bill & Melinda Gates Foundation.
As part of the project, she sculpted 8 modules (or 'blocks') out of crystal. These contain the forms of trimers – the molecular 'spike' protein structure which sits on the HIV virus envelope (also known as the Env protein).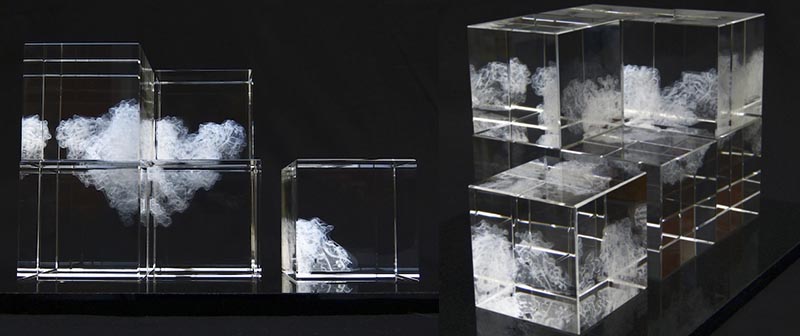 Trimers (coded by the env gene) are of particular interest in the HIV research field, as they represent a potential target for antibodies to attack the virus with.
It aims to raise awareness for those working in vaccine research, including the World Health Organisation and the Center for Disease Control in the US.
I think Katharine's Trimer blocks are some of the most stunning examples of BioArt i've ever seen, and i'm equally in awe of the skill employed and cause behind their creation.
---
Behind the Scenes of 'The Art of Saving a Life' Vaccine project with Katharine Dowson…
---
Feature Image Credit: 'Memory of a Brain Malformation' (2006) – Courtesy of the Science Gallery, Dublin Trinity College (Credit: Katharine Dowson)