Rebecca Harris is a British artist that uses handmade embroidery to visually communicate the huge diversity of microbes that form part of our bodies. 
Trillions of microbes live on us and inside us. "Microbes are essential for our well-being and development. The microbes stimulate and develop the immune response, and they detoxify harmful carcinogenic compounds in our diet to protect us against cancer. We die without them, there's no doubt about it," explains Mike Wilson, a professor at University College London.
Wilson worked with artist Rebecca Harris to create a map that represents the huge variety of microbes that live on us. The result was Symbiosis, an embroidered piece where each type of microbe is represented by colorful hand-sewn knots. To create an accurate map, the team took swab samples from the skin of volunteers and cultured their microbes to determine which microorganisms were found where.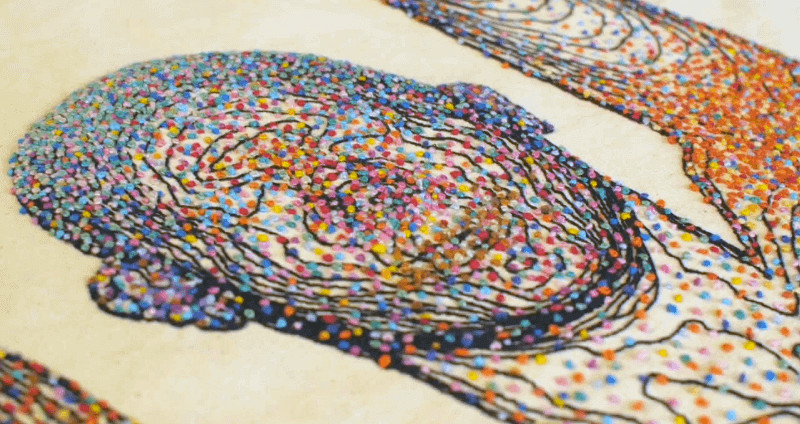 The body figure on which the microbes are sewn was created using MRI scans to create a 2D representation of the 3D topography of the body. Representing a pregnant woman, the piece aims to highlight the clear difference from the microbe-covered adult body and the microorganism-free body of an unborn baby. In a way, acquiring our own unique microbiome is part of growing up.
The piece is now part of the permanent exhibition Invisible You – The Human Microbiome in Cornwall, UK, which is supported by the Wellcome Trust. It is placed so that visitors can touch and interact with the artwork directly.
"[The knots] are bright and tactile, and so, enable the viewer to engage with the positive aspects of our microbial colonies," explains Harris. "All too often the focus is placed on the microbes that harm us. Our bodies are not blemished by the microbes, but like what the artist is doing with the embroideries, they are embellishments, a way to seeing the positive side of the microbes we share our existence with, and more so, owe our existence to."


---
Images via Eden Project