Zim & Zou are a French duo making colourful 3D models. Their vibrant art raises awareness of the food industry, healthy eating and children's vaccination.
Zim & Zou is the graphic design studio of Thibaut Zimmerman and Lucie Thomas, based in Nancy (France).
After studying design, the two 28-year olds moved away from digital work to focus on tangible installations made out of thread, wood and paper. Their impressive list of clients has included IBM and TIME magazine, amongst others.
Recently their work has veered into the BioArt field through a project integrating a Gates Foundation initiative ('The Art of Saving a Life'), which covers the stories behind Vaccine development and research into infectious disease – including works of bioartists like Katherine Dowson.

For The Art of Saving a Life, the pair created intricate paper sculptures of needles, syringes and droppers with which vaccines are administered. Their pastel colours and playfulness makes them look a bit like children's toys.
The many sculptures were then neatly organised, to convey the sense of the order and professionalism behind the vaccination cause – which has the goal of reaching every child in the world by 2020.
For the occasion of EXPO Milano 2015, the duo made several sculptures for an exhibition under the theme of 'Feeding the planet, Energy for life'. Zim & Zou wanted to do a creative and humorous take on the excesses of the food industry.
So, 'Edible Monsters' illustrated the use of insecticides with carnivorous sunflowers, battery farming with an apartment building of chickens, and GMO controversy with a five-eyed corn knob. Another set of BioArtists exploring this field is at the Center for Genomic Gastronomy (check them out, they're also really cool).
Another of their food-related projects is 'Vitamins and Placebo', created for the German magazine Der Spiegel Wissen and an article about the industry of vitamin tablets. The installation had two capsules – a Vitamin and a Placebo.
The Vitamin contained colourful models of fruits, which naturally have nutrients. The placebo portion, however, reflected the darker world of vitamin pills.
These pills are often useless, pushed by the industry just for money and rely on the placebo effect – which was illustrated by the empty boxes of fake medicines.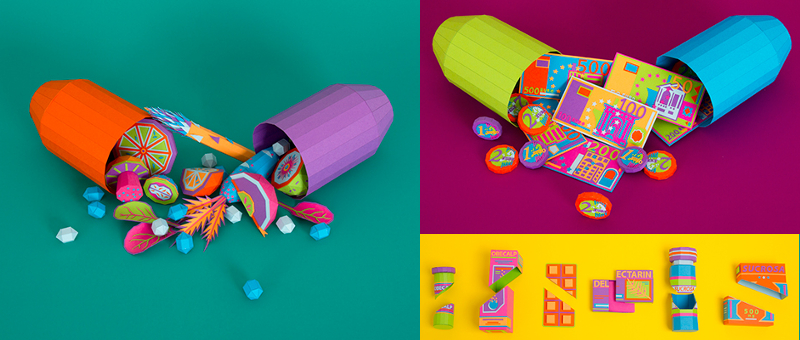 Zim & Zou also have other projects involving science, including about the value of recycling (Paper Rebirth), models of jungle animals (The Eternal Jungle), and a representation of the Higgs Boson. 
So although not strictly 'BioArt' in this case, they are still creating a form of engagement with the public and sciences through their art.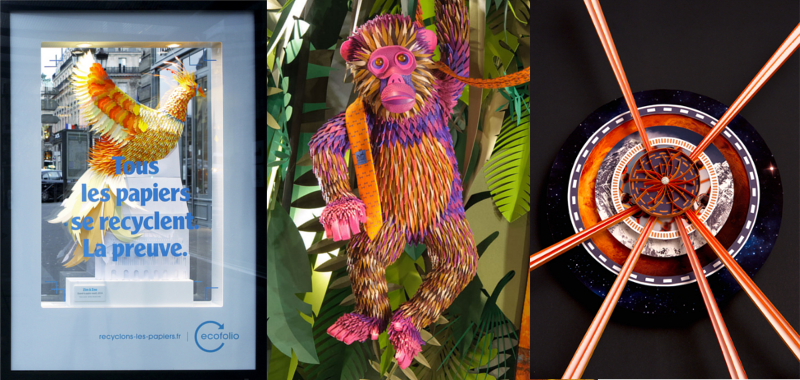 We were talking in the office, and Nuria (our Events manager) particularly liked the use of the colours, and bright contrasts to make the pieces so eye-catching.
Zim&Zou handcrafted works are full of joy – and the ideal vehicle to raise awareness for important ideas.
---
Watch the making of the Edible Monsters…
---
 Feature Image Credit: Mix of photo of Zim&Zou duo (left) and works of Zim&Zou – 'The Art of Saving a Life' (top right) and 'Edible Monsters' (bottom right)
---