Biom'Up is a Lyon (Fr) Med-tech company which produces biopolymer devices to improve surgery. Launch of their new product Hemoblast has triggered a series C investment round from a large syndicate of European venture capitals.
Biom'Up was founded in 2005, experiencing exponential growth since with their biopolymer tech development which achieved a €3M turnover in 2014. Predicted portfolio sales growth is currently set 30% per year, making Bio'Up an attractive investment for many health venture capital specialists.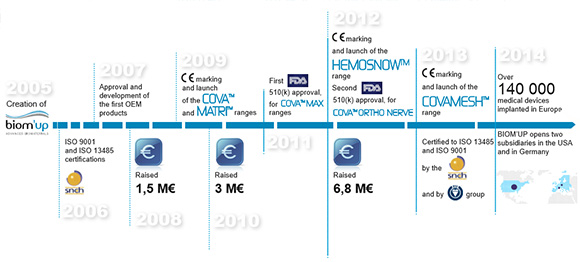 Established Biom'Up products already include a broad range of absorbable medical devices manufactured from collagen, which triggers the clotting cascade and therefore can stem bleeding during surgery.
Products such as Hemosnow, CovaMesh and MatriBone (a hemostatic synthetic bone substitute with a similar concept Industrie Biomediche Insubri's SmartBone) are developed as artificial tissue membranes which prevent organ adhesion during tissue regeneration after surgery.

A comprehensive EU syndicate has come together from some of Europe's largest venture capitals, including Gimv (Belgium), Bpifrance (France) and Lundbeckfond Ventures (Denmark). Their belief is that Hemoblast could be the new go-to medtech for controlling hemostasis in surgery, a target market worth up to €1.77BN in the US.
Hemoblast is therefore the new product on the block, and this recent capital investment is hoped to further develop Hemoblast in preparation for an EU & US market launch.