As legal frameworks and regulatory pathways for biosimilars are in evolving all around the world, how will they affect the future of biosimilars?
A biosimilar is a biological medicine that is similar to another already authorized for use, and they enter the market after the end of the patent of a biological drug. Biosimilars are launched with the aim of wresting from their patented predecessors a share of their massive global market: it will likely expand to €250Bn by 2020.
Biosimilars are attractive because they strike a balance between maintaining a high level of patient access to advanced treatments and saving money as OECD countries try to cut spending in the wake of the 2008 financial crisis. It's in pharma's interest too: with sales for the top 50 companies forecast to decline by 1.6% since 2010, many leading drug makers are looking to expand into a market like biosimilars for its long-term growth, limited competition, and relatively low risk.
The European Union represents the most advanced market for biosimilars, accounting for 80% of global spending on these therapies. At present, 23 biosimilars are authorized in Europe, and they represent 7 actives substances. Four years after the launch in 2007, the market share of biosimilars in Europe grew to 11% of total biologics sales in 2011. This market will grow as the patents for several biological medicines like Anti-TNF expire over the next 5 years. The biosimilars market will expand 10-fold in the future as the American market becomes an important driver.
The overall market penetration of biosimilars is forecast to reach up to 50% by 2020, assuming a price discount in the range of 20-30% to project a $26.5Bn market. Individual market penetration of a biosimilar is the key metric of its success. So what determines its fate as a success or failure? A walk down the life path of a biosimilar shows us the major milestones to success.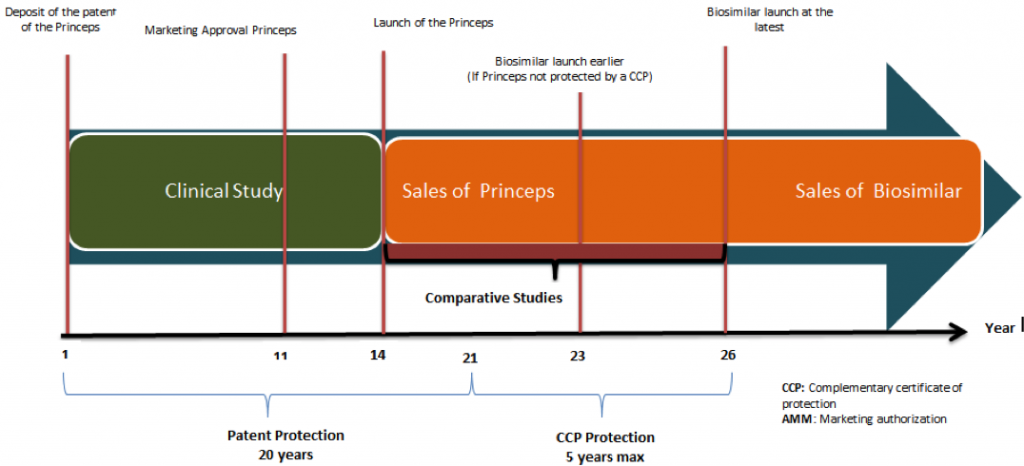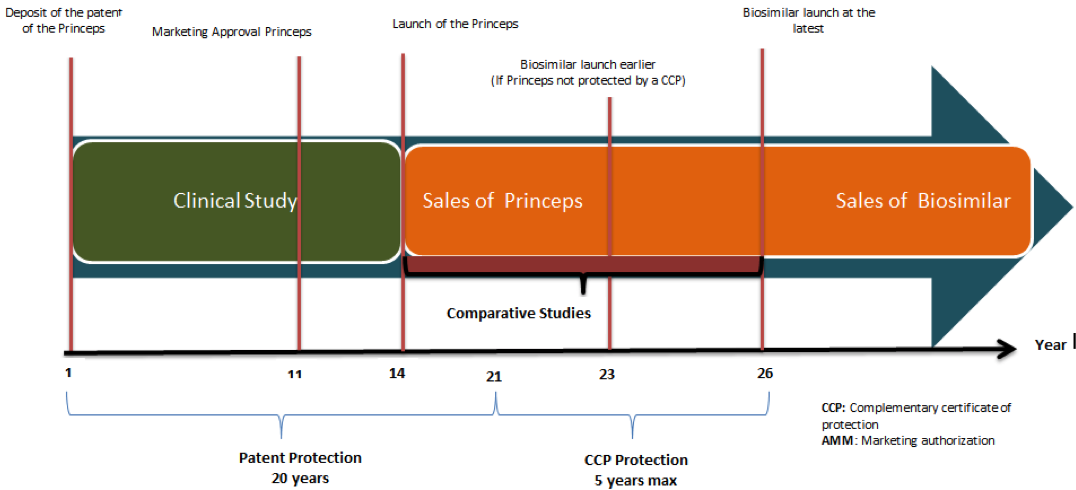 As with any new drug, a biosimilar must first obtain marketing authorization in order to launch; once the Biosimilar is out for public consumption, 6 important factors will determine what happens to it: these are regulations, manufacturers, market trends, buyers, physicians and patients.
Of these topics, biosimilar regulations may be the most important as they represent a major bottleneck for market access. Their evolution is influenced mostly by market trends but also politics; because biosimilars are so new, the accompanying regulations are still debated in many countries.
The most relevant regulations to market penetration govern substitution, in which a pharmacy substitutes one medicine for another that is supposedly equivalent and interchangeable but without consulting the prescriber. The UK and Italy have prohibited this practice, but it is approved in Germany; France is still deciding how to proceed.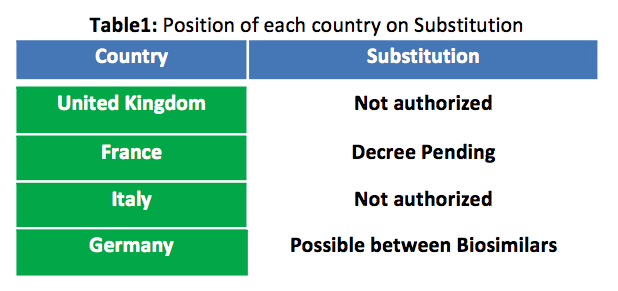 Market penetration is much tougher in countries where substitution and interchangeability aren't approved; because Germany is the only country in this group to approve substitution and interchangeability, it has become the most important market for biosimilars. Once a biosimilar clears regulatory hurdles, it's then up to the manufacturers to provide affordable products, create trust, and educate patients and physicians in order for the biosimilar to continue on its journey to success.
Norway and Poland have been leading the manufacturing charge by providing affordable products and consequently have important market shares in the biosimilar space, despite the high financial and temporal cost of manufacturing these products. Development alone takes 5-7 years and between $200M and $300M; scaling up the process quickly builds up to another astronomical expense.


Manufacturers then hand biosimilars off to distributing buyers, who need to set up a biosimilar for the best performance possible. If they don't give a drug opportunities to prove itself, it will almost certainly fail. In order to avoid this outcome, CVS gave Abasaglar, a biosimilar of Lantus, an inroad to the market share by dropping Sanofi's competing diabetes drugs, which allowed Abasaglar to succeed.
Once the drug is present on the market, it is the job of prescribing physicians to see that the treatments reach patients not only by treating them but also by educating them and growing trust. Patients, in turn, must be receptive to new therapeutic options and adhere to their regimens to ensure the success of the treatment for their own sake but also that of the biosimilar. Such compliance makes for a more sustainable healthcare system in all countries.
As patents expire for drugs like Humira with huge global revenues, the most interesting and exciting time is just starting. We will soon learn more about the impact of biosimilars on global health spending and the impacts of buyer and authority on biosimilars. Further, new actors like Samsung, Biogen and Amgen are continuously entering the game. This new phase of the development of biosimilars will really make a difference on access to drug and global spending. With so much progress happening, there is surely a bright future for Biosimilars.
---
Joseph Pategou is a consultant at Wavestone specializing in the pharmaceutical industry. He is fascinated by healthcare and the experience of many companies in the development of new types of drugs with the aim of saving lives around the world. His focus rests on strategy, digital, innovation and biosimilars.
---
Image from Miriam-Doerr-Martin-Frommherz / shutterstock.com